Another Woman Comes Forward And Is Speaking Out Against R. Kelly
Posted On : July 19, 2017

Hmmm…another woman is speaking out with claims that R. Kelly almost persuaded her to be apart of his alleged harem.
Another Woman Is Speaking Out:
A woman by the name of Dominique has decided to come forward and share an encounter she says she experienced with R. Kelly. With a desire to make her story public, the woman claims that at the young age of 18, R. Kelly allegedly tried to pursue her.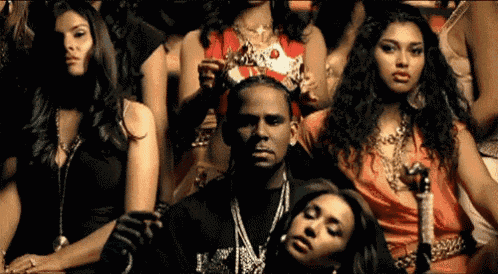 Dominique wrote:
"I believe what they're saying about R. Kelly and he needs to be stopped. As some of you know, when I was 18 I waited outside of one of his Richmond concerts to get a pic. I got it and immediately after, one of the men from his entourage told me "He wants your number." When I asked him who he meant, he said "Robert." I was skeptical that he was just messing with me bc what are the chances right? Anyway, I gave it to him and fast forward a week. He had been calling me on a daily basis. Asked my age (18), and invited me to be flown out to Detroit for an upcoming show. I won't lie, at the time, I actually did give it some thought. I visited a trusted adult and spoke about it with him. Luckily, he saw what I couldn't and talked me out of going. In the following days, as I tried to come up with a way to tell him I wasn't going (I felt too intimidated and pressured by him to just come out and say no – he was a "star" after all, right? 🙄), he began calling me when he was in private places, telling me to go somewhere where I could talk to him alone. It made me extremely uncomfortable, especially after having a long talk with the trusted adult. It wasn't until he began asking me for "gym motivation" (nude pictures) that I cut all contact with this creep. Under stardom he was just a disgusting old man. I thank God that at a point in time when I already had such a vulnerable mind (from a similar situation prior to that), I had the right people/enough common sense to listen to my gut feeling. Who knows what could have happened? I say all this to say, I'm sick of y'all defending Chris Brown, R. Kelly, and other abusive celebrities and their acts just because they're "talented." Cut the sh*t.
Fameolous.com shared a picture of Dominique as she claims that she too was vulnerable but her intuition prevented her from being involved with the 'Pied Piper.'
R. Kelly is under fire once again for his involvement with young women, except this time the ladies are sad to all be of legal age. A woman claiming to be R. Kelly's former personal assistant, along with two women who used to live with Kellz, claimed, on Monday, that he was operating two 'cult-like' homes for young women. Parents of one of the young ladies, 21 year old Jocelyn Savage, has spoken out against Kelly claiming that he is holding their daughter hostage against her will. As of late, the grandmother of Jocelyn told Daily Mail that she was deeply worried about her granddaughter after she missed her beloved grandfather's funeral.
Grandmother Speaks Out
Shirley Savage, 72, revealed to Daily Mail, that before her husband's death, he spoke to Jocelyn and begged her to come home. Despite his pleas, Jocelyn never returned home. Jocelyn's grandfather, Howard Savage, 75, passed away on June 14 (2017) in Memphis, Tennessee after a long battle with prostate cancer.
"He talked to Jocelyn before he died and he begged her to come home. She wouldn't and it really hurt him," Mrs Savage said. "She didn't come to his funeral. She was very close to her grandfather and close to me. It really hurts us to see this happening to her."
Daughter Says Dad Sent Her Two Live w/R.Kelly
After Jocelyn's parents conducted a press conference, Jocelyn conducted a couple of conferences of her own with TMZ to dispute the claims that she was being brainwashed. In speaking with TMZ, Jocelyn revealed that she was 21 and about to be 22 in a few days. She revealed that the situation was getting out of hand at that she was in a happy place. Despite Jocelyn saying that she was in a happy place, she failed to answer when asked if she was free to come and go from the house. She also refused to answer when asked if she was still in Atlanta, Georgia. Also, she stated that the reason she hasn't returned home is because she has some issues with her parents and says that her parents have been going overboard with their accusations and that her DAD was the one who arranged for her to live with R. Kelly two years ago.
As we previously reported, R. Kelly has repeatedly denied the accusations against him and has threatened to take legal actions against those making 'false' claims about him.
Join us on Facebook for the most engaging discussions from the Old School! Old School News With A New Point Of View!