Blanket Now Taller Than His Older Jackson Siblings & MJ's Fans Surprised By New Photo
Posted On : December 29, 2017
Ever since Michael Jackson's kids were born, they've been in the spotlight. During the first few years of their lives, their iconic dad tried to protect their identities, by covering their faces in public. As the years went by, Paris, Blanket, and Prince slowly became unveiled for all of the world to see. After Michael's untimely passing in 2009, his three offsprings really began to spread their wings and let their true essence show.
— Bigi. (@BlanketMjj) May 24, 2013
They spread it so much that, MJ's 19 year old daughter, Paris, has become a very outspoken philanthropist and model. His 20 year old son, Prince, has become a Loyola Marymount University college student, who tries his best to blend in with his peers and live a normal, non-pop star life. Then there's 15 year old Blanket "Bigi" Jackson, the most reclusive kid of the bunch. Blanket pretty much never speaks publicly and unlike most teens his age, he has little, to no social media presence of his own. He does not post selfies and it seems that his siblings success with getting him to pose for group photos are few and far between.
As we previously reported though, Blanket has gotten big as hell, but the last time we saw him, he was still shorter than his eldest siblings and looked like this…
poppa joe pic.twitter.com/buzFZhor2a

— Bigi. (@BlanketMjj) June 1, 2015
Sure, that was still a big difference from this Blanket…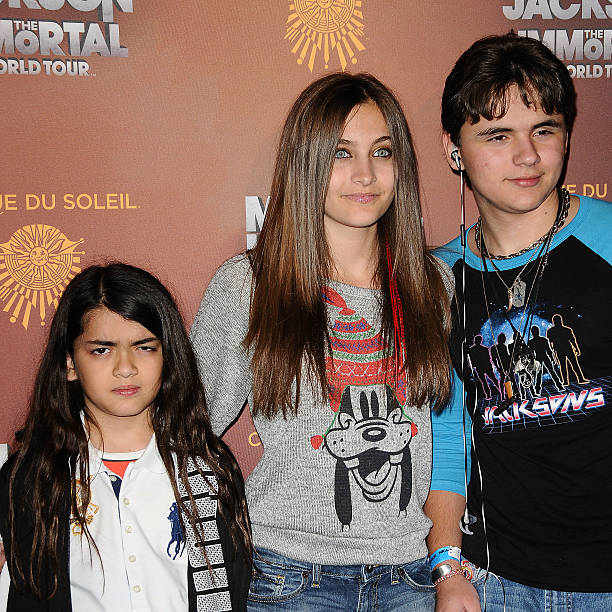 The LATEST Photo Of Blanket Jackson
However, the new photo his big sister, Paris, has just shared in a rarely seen sibling pose, shows the new growth spurt the youngest Jackson mini-me has had recently. He is now slightly taller than both of his siblings and he still has more growing to do. Check out the young brotha in his cool stance below…
As soon as Paris shared the photo, it spread like wild fire across the social media-verse and many fans expressed how shocked they were by how grown Blanket is now. But there is another suspicious reason folks are talking as well…
Paris' Caption Raises Suspicion About Rumored 4th Sibling
On a side note, Paris' caption is yet again raising suspicion about the fourth cat in the photo, Omer Bhatti, whom has long since been rumored to be Michael Jackson's first born child. In her caption, Paris wrote:
Paris Jackson: "happy christmas from ours to yours," Paris wrote in the photo's caption with the hashtag #brahdas (brothers).
Paris and Prince have posted photos of Omer in the past and both of them repeatedly call him their 'brother.' In case y'all aren't familiar with the similarities between Omer and Michael Jackson, check out a few of them below to get an idea of why people believe this to be his child:
So what say you ILOSM fam'- Is Omer the 1st born son of MJ that no one new existed, or nah?
Join us on Facebook for the most engaging discussions from the Old School! Old School News With A New Point Of View!