Laila Ali Tells How She Really Feels About Colin Kaepernick Getting Award In Her Dad's Name
Posted On : December 8, 2017
The daughter of the late, great Muhammad Ali, Laila Ali, who is also a boxing legend, has just revealed what she really thinks about folks comparing ousted NFL star, Colin Kaepernick, to her Pops. Apparently homegirl ain't really feelin' anyone comparing the two, but she still has much respect for Kaep'…just not as much as she does for her daddy, understandably so.
Colin was recently awarded the 'Sports Illustrated Muhammad Ali Legacy Award'- which was presented to him by Beyonce at the 2017 Sports Illustrated ceremony. The award was granted to Kaepernick because of his unselfish act of sacrificing his entire NFL career as a starting quarterback, in order to stand up against injustice against Black people, by kneeling for justice and equality for his brothas and sistas.
Ever since Kaepernick began his crusade as a true warrior for equality, Sports Illustrated Magazine has stood by him. They did so in the same way they did for Muhammad Ali, when he was ousted from his boxing career, due to his refusal to enter the Vietnam War draft.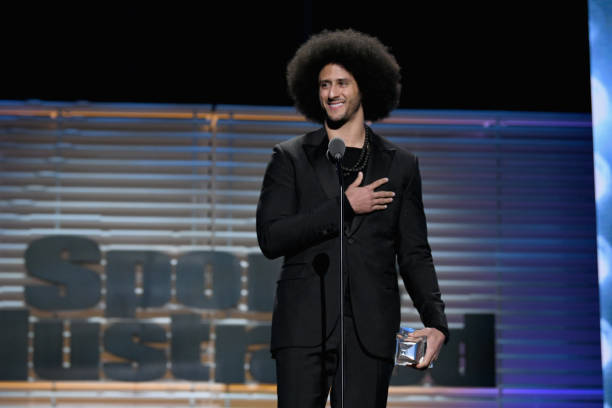 By the way, the Ali family and Sports Illustrated partner up to decide who will receive the Ali award.
Speaking of the Alis, the boxing icon's baby girl, Laila, loves the fact that Kaepernick received the legendary award, but when asked by paparazzi, how she felt about Kaepernick being compared to her pop's, she gave the cameraman a look that said she did not agree with the latter. Check out the video below and let us know if you agree, or disagree with her stance…
Regardless of where you stand on the matter, there's no denying that if anyone deserves the 'S.I. Muhammad Ali Legacy Award' this year, Colin Kaepernick is that dude!
Join us on Facebook for the most engaging discussions from the Old School! Old School News With A New Point Of View!