Vanity's Sister Is A "Coming To America" Actress Who Dated Eddie Murphy
Posted On : March 17, 2017
ILOSM fam' the late former Vanity 6 lead singer, Denise "Vanity" Matthews, has two beautiful sisters. As if that wasn't already surprising enough to those of us who had no clue Vanity had siblings at all, we have another shocker to share. It was brought to our attention, a while back, that one of Vanity's sisters is an actress who was in Coming To America. *SCROLL DOWN TO SEE BOTH OF VANITY'S SISTERS*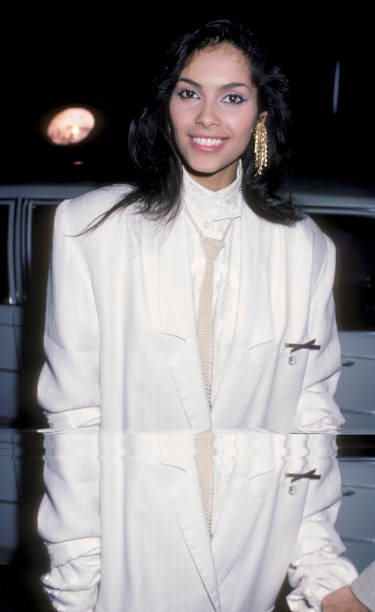 Although I've watched Coming To America more times than I can count, I never put two and two together, that Vanity's sister was actually in the film. If you've seen Coming To America, you will probably be like 'Say what? SHE is Vanity's sister?' Well, at least that was the response of some of us, here at ILOSM. See who she is below…
Meet Vanity's Sister, Patricia
Her Coming To America Role: "I Worship The Devil" Actress
Vanity's sister is actress, Patricia Matthews, the woman who played the devil worshipper in Coming To America. Although her role was brief, it was still hilarious. She's the woman who Eddie's and Arsenio's characters ("Akeem" and "Semmi") met when they went to a nightclub to try to find Eddie's character a "Queen" to take back home to Africa. They struck out big time and Patricia's character ran them away as soon as she said her line, "I've got a secret, I worship the devil." LOL.
Patricia was also a model and she didn't have a long stint in the acting world. She's most known for her roles in Coming To America (1988), She Cried No (1996) and The First of May (1999). We have no idea what Patricia is up to nowadays, but we found an Old School interview she and her beloved sister, Vanity being interviewed on the Arsenio Hall Show in 1986.
She Was Eddie's Girlfriend…
Another Old School fun fact about Patricia, is that she dated Eddie Murphy back in the day, prior to him marrying his now ex-wife, Nicole Murphy. They were even photo'd in Jet Magazine together back in the day.
Watch Vanity and Patricia reveal that info to Arsenio, as Vanity attempts to explain her short jail stint, this is too funny…
Check Out Vanity's Other Sister
One other Old School fun fact about Vanity and Patricia Matthews is that they actually have one more sister named Renee. You can pics of her below…
Renee paid homage to her beloved sister, Denise, on Twitter after she passed away in 2016…
Allegations Regarding Vanity's Will & Her Sisters
Denise's sisters were also the talk of the internet for a brief second, soon after Denise's unfortunate February 15, 2016 passing at the age of 57, from kidney failure. The reason some people were kind of talking about the sisters was because of reports regarding Denise's will. There were unconfirmed reports that the sisters were allegedly left little in Vanity's will, while the bulk of it went to the church.
However, we're not sure if the whole 'will rumor' is true, or not, so y'all can take that part with a grain of salt. However, if it is true, it wouldn't seem far fetched because by the time of her passing, Denise was already 20+ years deep into her changed life as a devout Christian and evangelist.
Denise was very close with her sisters, who seemed to always have her back through the ups, the downs, and the in between times of uncertainties throughout her life. Denise "Vanity" Matthews is sorely missed. The impact she made both in entertainment and in her personal life – as someone who in later years, dedicated herself toward helping others and feeding the homeless- will never be forgotten. Rest on Ms. Matthews.
Join us on Facebook for the most engaging discussions from the Old School! Old School News With A New Point Of View!