Remember Emmanuel Lewis? He's Now 45! See What He Looks Like Now!
Posted On : November 27, 2016
Emmanuel Lewis captured the hearts of America when he played the adorable role as the title character in the 80's sitcom Webster. Lewis was cast to play an adorable six-year-old adopted child while surprisingly he was 12 years old.


So What Has He Been Up To?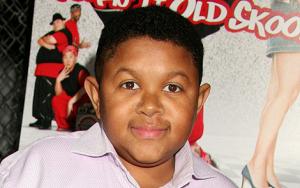 A few years after "Webster" was cancelled, Lewis made guest appearances in a handful of '90s TV shows such as "Family Matters," "Moesha" and "Malcolm & Eddie." In 2003, he starred in the first season of "The Surreal Life," a reality series about celebrity has-beens living together in a mansion for two weeks. Later, 45-year-old star was keeping busy with his own record label, Flex Floss Entertainment. Because Lewis didn't land many stable acting roles after Webster, he decided to expand his talents as an

entrepreneur.

Lewis, at one point, owned a limousine company and a car wash service.
Join us on Facebook for the most engaging discussions from the Old School! Old School News With A New Point Of View!