Roots' Member QuestLove Is Campaigning For Janet Jackson For A Long Overdue Honor
Posted On : February 8, 2018
Many stars and athletes reach pivotal points and milestones in their careers with prestigious awards and accolades commending them for their work. But there's probably nothing like the type of awards that commemorate lifetime success. From the Hall of Fame to the Walk of Fame, celebrities from all areas of entertainment are apart from others when they're honored for their talent, which is why QuestLove is campaigning for Janet Jackson.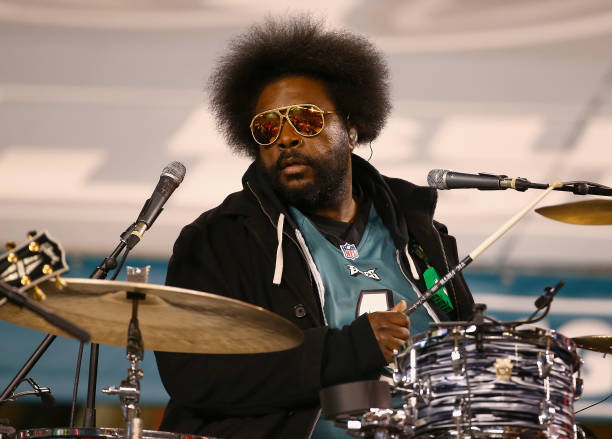 Long Overdue Honor:
According to The Jasmine Brand, QuestLove believes it's high time Janet Jackson be added to the Rock and Roll Hall of Fame. So, how did all of the talk come about? It all started over SuperBowl weekend when fans were praising Jackson with #JanetJacksonAppreciationDay. Like many fans, QuestLove supported the movement, but he also went a step further explaining how he believes Janet should be honored for her impact on music. The famed Roots drummer took to Instagram with a flashback photo of Janet Jackson's Control album cover.
He included a lengthy caption that read, "I'm using my platform for #JanetJacksonAppreciation day for a slightly different reason: as a voting member of the @RockHall its criminal that @JanetJackson has NOT been inducted yet. 32 years ago today #Control dropped AND CHANGED EVERYTHING: including her brother AND the mentor of her producers, Jimmy & Terry. Whether we credit it or not: Control was the first #NewJackSwing album."
He continued, "Yeah, it was breakbeat free, but the young brash attitude made it a first. This was NOONEs kid sister. Prince famously drove to @flytetymejam's house and threw the record at his door zero o'clock in the morning (hey, if you ain't got no haters you ain't poppin') not to take away from her peers in the RRHOF that made marks in the 80s. But half of them can NOT claim they changed music (this is just one album mind you) I know this tag is for other reasons but of all the double standard injustices, her not being inducted is HIGHLY criminal."
Check out his post:
Still On Top:
Despite the debacle over Super Bowl LII, Janet Jackson was and always will be a highly respected performer. Fans everywhere showed appreciation to the singer over Super Bowl weekend. Although there is no talk about Janet being inducted to the Rock and Roll Hall of Fame or the Walk of Fame, given all of the support she has from fans and her industry peers, it may just come much sooner, than later. Only time will tell.
Join us on Facebook for the most engaging discussions from the Old School! Old School News With A New Point Of View!