Terry Crews Hits Sexual Assaulter w/Lawsuit Out Of Fear & Actor Isaiah Washington Speaks Up For Him
Posted On : December 5, 2017
It's been a few weeks since actor, Terry Crews, first came forward to expose Hollywood exec, Adam Venit, for sexually assaulting him at an industry party. Crews blasted Venit all up and down his Twitter timeline for 'grabbing his nuts' in front of everyone.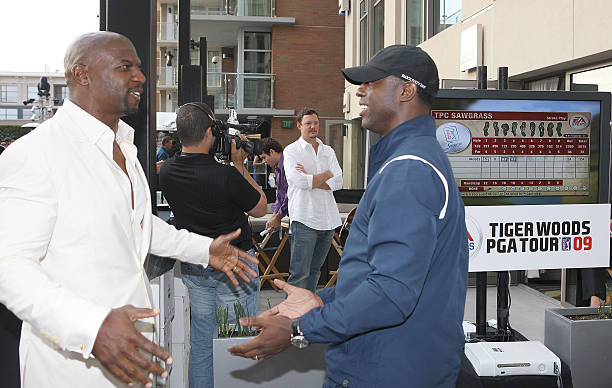 Venit never publicly denied the claims. In fact, according to Crews, Venit even called and tried to apologize for assaulting him. Of course, that's not something any straight man can simply be told 'Oh, my bad…I'm sorry' for and walk away like nothing happened. If Crews' claims are true, Venit is lucky Terry Crews didn't haul off and sock the hell outta him that day. Anyways, now word on the Old School curb is that although Terry didn't deliver a quick jab, uppercut and hook to Venit on the day of the alleged assault, he has, however, just slapped him with a lawsuit.
Apparently Terry's lawsuit is bold, yet driven by anger and fear. What could a 250 pound muscle-bound brotha be fearing from a man whose clearly in far worst physical shape than him, you ask? The fear of being blackballed in Hollywood, which according to his friend/actor, Isaiah Washington, is already being done to Crews as a result of him going public about Venit.
Details Of Crews' New Lawsuit Against Hollywood Exec
Via TMZ: In the lawsuit, Crews says Venit stared at him "like a rabid dog, sticking his tongue in and out of his mouth provocatively." Crews said after the alleged assault he pushed Venit away, and turned to Adam Sandler yelling, "Adam, come get your boy! He's grabbing my nuts."

Crews says on his way home from the event Adam Sandler called and asked if he was ok, and Crews responded that he was surprised he got molested at age 48. He says Sandler expressed shock at Venit's behavior. He says the next day he called his agent at William Morris Endeavor — the same agency where Venit works — telling him of the alleged assault. A few hours later, Crews says Venit called him and apologized, claiming he was just not himself that night.

Crews says he met with WME's chairman Ari Emanuel, who apologized for Venit's behavior. Crews says he told Emanuel he feared retaliation, but Emanuel said Venit "did not have that level of power despite his title as head of the Motion Picture Department." Crews says he's suffered psychologically and says he has never felt more emasculated and objectified. He says he worries about Venit's power in the industry and hurting his career.
Isaiah Washington Speaks Up For His Friend Terry Crews: "I'm No Coward"
An actor who knows all too well what it's like to be blackballed in Hollywood is Isaiah Washington. In 2007, he was fired from the hit TV show, Grey's Anatomy, for spewing a homophobic slur at his then co-star, Patrick Demsey, during their argument. For a few years after that incident, he was ousted behind the scenes in Hollywood. That's why when it came time to speak out for his friend, Terry Crews, he didn't hesitate to do just that. First Isaiah tweeted this:
I didn't want to go here, but I'm no coward and I fully support you .@terrycrews You are a good man and I've experienced exactly how this town gets down & you are doing the right thing brother. Stay the course and know that the truth will always prevail. #ItsTime #NoFear #MeToo pic.twitter.com/dLt6Gk037t

— Isaiah Washington (@IWashington) December 4, 2017
Then when he was later stopped, by papparazzi, in LAX airport, he had this to say about the sexual harassment situation between Terry Crews and Adam Venit:
Thoughts ILOSM fam?'
Join us on Facebook for the most engaging discussions from the Old School! Old School News With A New Point Of View!