Usher Recalled How LA & Babyface Did Him Dirty & What Tevin Campbell Took From Him
Posted On : March 5, 2017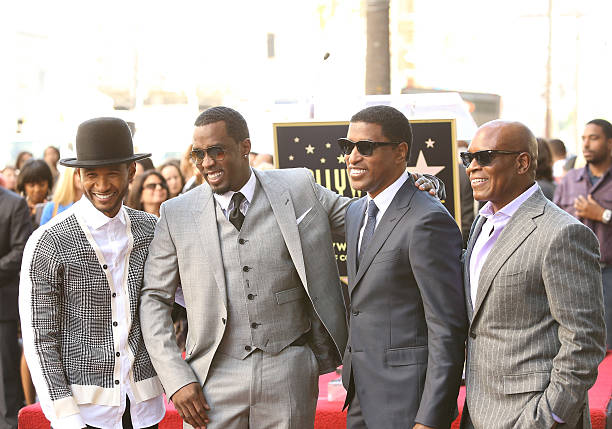 Usher dropped a few unknown tidbits of old school facts about his personal life and his career, which seemed to kinda all be intertwined together. In a previous interview with The Roots' drummer, Questlove, on his Pandora radio show, Questlove Supreme, Usher chopped it up about everything, from how he got caught up in music legends, Antonio 'L.A.' Reid's and Kenny 'Babyface' Edmond's beef back in the day, to how Tevin Campbell ended up getting work that was originally meant for him; to issues with his ex-wife/mother of his two kids, Tameka Raymond, and also his mother/ex-manager, Jonetta.
L.A. Reid & Babyface Drama Led To Tevin Campbell Taking Usher's Songs
It turns out "Can We Talk" was originally Usher's song, until…
Usher: "When I first signed to LaFace Records, I wanted to do an album with Babyface and LA Reid, right? I signed specifically for that reason. So LA Reid wanted Babyface to work on me and they were going through, you know, a lot of drama at the time. They were kinda severing their ties…he got mad…And he built an entire album for me, and he gave the whole album to somebody else…Tevin Campbell! 'Can We Talk'…was my song…"
"Can We Talk" ended up being the biggest song of Tevin's career. It stayed at #1 on the R&B charts for weeks and the entire album, I.m Ready, sold 2 million+ albums. By the way, I dig Usher and Tevin, but I gotta admit that after the way Tevin killed it on "Can We Talk," I couldn't imagine ANY other singer recording that song…not even Usher.
Issues With His Momager vs. His Mother
Usher's mother was his manager for years, until he fired her. But he acknowledges his gratitude for her…
Usher: "I'm a grown man in theory because I've always been the man of the house…I've elected to be the provider of the family even though my mother is the protector…she crippled me a little bit for a minute because my focus wasn't, had nothing to do with business. Had everything to do with art and I thank her for that because I wouldn't of established the focus that I have now…if I was always kind of trying to figure out who's trying to take the money, where the money's coming from, I would've been petty…I would have lost sight of what the goal was…"

Jonetta Patton and her son, Usher Raymond (Photo by Dimitrios Kambouris/WireImage)
Biggest Regret? Denying A Young Chris Brown
Usher: "So there's one thing in my career that I definitely regret, one thing. And to this day I battle with it which is why I always show support of this artist whenever he asks…So his manager comes in…They show him to me…I was working on an album at this time, they wanted him to perform on this album…I was like okay cool…Then I went to my team and they was like 'I don't think you should work with this artist'…Then he left…Chris Brown."
Ex-Wife, Tameka Raymond & Why He Stayed So Long
There were rumors that Usher fired his mother because she didn't approve of him marrying Tameka and that caused tension in their professional life. Usher didn't specify if the firing rumor was was true, but he did acknowledge that his Mom tried to warn him about marrying Tameka…
Usher: "That marriage and that relationship was gonna come to an end…but it served a purpose in my life…And no matter what my mother was attempting to tell me, and a lot of people were trying to tell me about that, I think a lot of it had to do with my lack thereof a father…I did not want to be a person who would just roll out…"
And there ya' have it ILOSM fam.'
Join us on Facebook for the most engaging discussions from the Old School! Old School News With A New Point Of View!