(Video) Man Arrested At LAX Airport w/Serious Weapons Claims He's Samuel Jackson's Nephew
Posted On : December 4, 2017
ILOSM family, sometimes it's always good to kick off your work week with a lil' bit of crazy to spice things up. That would be the case for this weird story you're about to read and it involves a seemingly 'craaazy, deranged' man and Samuel L. Jackson.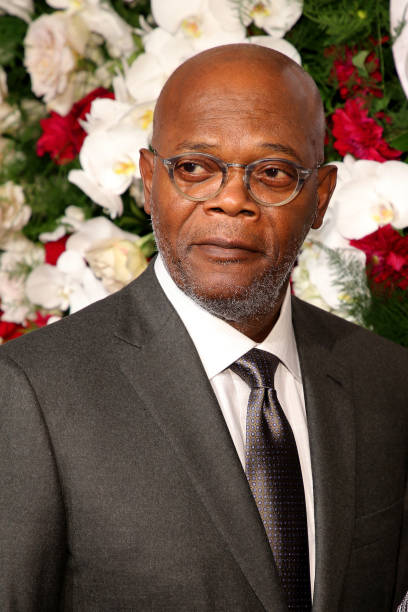 (Video) Airport Disaster
A major fiasco went down at LAX airport on Saturday, after cops had to apprehend a violent suspect, claiming that Samuel Jackson is his uncle. At this point, it's unclear if the man is, or is not, Mr. Jackson's relative, but regardless of who he is, it's a good thing he was caught. Check out the details and video of this disaster below…
Via TMZ: Samuel L. Jackson's name was invoked during a crazy arrest at LAX this weekend, where cops say weapons were found on a guy claiming SLJ's his uncle. An unidentified man got busted at the airport Sunday for carrying what police say were multiple weapons, including knives, a long piece of rebar and a handful of tools. During the arrest, you can hear him say, "My uncle's Samuel Jackson. Samuel L. Jackson!" … Law enforcement sources tell us police were alerted to a suspicious man hanging around the airport with a bow and arrow. When cops approached, we're told he booked it which set off a brief chase … which ended when cops tazed him and took him down. The man was taken to a hospital by ambulance, apparently having suffered injuries during the arrest.
We can only imagine that Samuel Jackson is somewhere looking at his "nephew" wannabe like this…

Meanwhile Back At The Ranch
Despite his name recently getting tossed into the fire by some special individual at LAX, Samuel Jackson is out here making major moves and further expanding his legacy as a legendary actor. It was recently reported by TheHollywoodReporter, that Jackson has officially earned the title of 'the highest grossing actor of ALL time!'
Via THR: According to the Guinness Book of World Records, his films have made more than $7.4 billion. Samuel L. Jackson's movies have made more than $7.4 billion — making him the highest-grossing actor of all time, according to the Guinness Book of World Records.
From a little kid raised by his mother in the small town of Chattanooga, Tennessee; to a Morehouse College graduate; to overcoming drug addiction in the 1980's; to becoming on of the most profound and realist entertainers of all time. That is a beautiful life indeed and we look forward to seeing what else Samuel Leroy Jackson has in store for us at 68 years young. Now, as far as that so called "nephew" of his, dude needs help and hopefully he gets some soon.
Join us on Facebook for the most engaging discussions from the Old School! Old School News With A New Point Of View!