Following Mysterious Brutal Murder Of Their Son, Cosby & Wife Graciously Saved Killer's Life
Posted On : March 12, 2018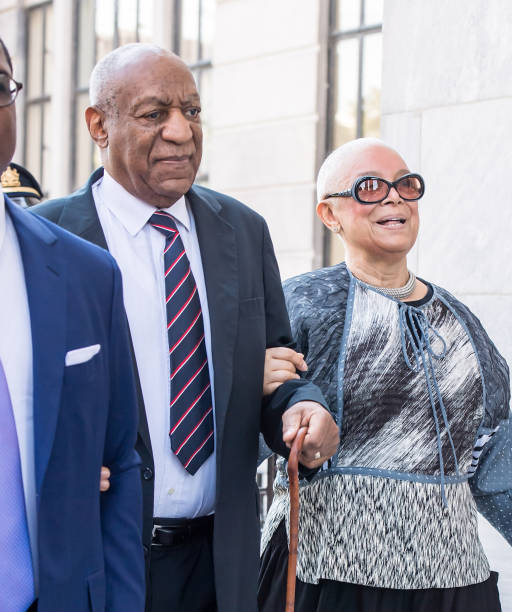 In the tragic wake of Bill and Camille Cosby's 44 year old daughter, Ensa Cosby, information regarding their son, Ennis Cosby's, mysterious 1997 murder resurfaced. What is also commendable is how the Cosbys, in the midst of their extreme grief, chose to spare the life of their son's killer. See details below.
Details Of Ennis Cosby's Murder
At 1:30 a.m. on January 16, 1997, The Cosbys' 27 year old son, Ennis Cosby (whom the Cosby Show character, "Theo," was modeled after), was shot and killed during what reports say was a botched robbery. It happened as Ennis had pulled over on Interstate 405, near the Mulholland Drive exit in Los Angeles, CA, to change his flat tire. According to his friend, Stephanie Crane, he'd called her to come to his location and shine her car lights on his car so that he could change the flat. She said that when she got there, an armed man knocked on her car window, telling her to pull off or he'd kill her. Stephanie said in the police report, that out of fear for her life, she pulled off. Approximately one minute later, she said she returned to see if Ennis was okay, but found him shot in the head and deceased on the side of the road, next to his car.
Why Cosby's Son's Murder Is Mysterious
Ennis' death has been shrouded in mystery for decades, for a few reasons. Although it was reported as a botched robbery, many conspiracy theorists still find it odd that absolutely nothing was taken from Ennis' body, nor the expensive convertible Mercedes Benz he was driving. Ennis was still wearing his expensive Rolex watch and reportedly had a few $20 bills in his pocket. That, along with the reports that Ennis was killed with one shot to the head in a a swift manner, raised further suspicions of it being some sort of targeted Russian mob hit, which it was never proven to be.
How & Why Mr. & Mrs. Cosby Saved Son's Killer's Life
Ultimately, a then 18 year old garden shop employee/Russian immigrant, Mikhail Markhasev, was arrested and convicted for Ennis Cosby's murder. It was later revealed that Camille and Bill Cosby asked the judge (via their attorney) that Markhasev' life be sparred, by not giving him the death penalty. Reportedly, the Cosby's did not want Markhasev's parents to have to endure the same pain that their child had inflicted had on them. Therefore Markhasev was sentenced to life in prison without the possibility of parole.
Killer Confesses & Thanks Cosbys
During the trial, it was reported that a jailhouse confession letter, by Markhasev, was filled with racial hate, but Markhasev claimed it was forged:
"I shot the nig&er … I went to rob a [drug] connection and obviously found something else," the letter stated.
By February 2001, as Markhasev was appealing his life sentence, an odd twist of events took place. He asked that his appeal be stopped in a handwritten confession letter to California Deputy Attorney General Kyle Brodie. Markhasev wrote to Brodie that he murdered killed Ennis Cosby and wanted to do the right thing by coming clean.
"Although my appeal is in its beginning stages, I don't want to continue with it because it's based on falsehood and deceit," wrote Markhasev. "I am guilty, and I want to do the right thing … More than anything, I want to apologize to the victim's family. It is my duty as a Christian, and it's the least I can do, after the great wickedness for which I am responsible."
Soon after Cosby's sex assault scandal broke in 2015, Markhasev wrote another letter to Radar Online, offering words of support to Cosby and the accusers, as well as gratitude to the Cosbys' for sparing his life.
Via RadarOnline: "Ennis' only fault was in being in the path of a wicked idiot like myself," Markhasev…told Radar in a letter sent from the Corcoran State Prison in California. "The senseless tragedy of his untimely death and the sacred sorrow experienced by his family is something that I hope you will never have to experience, and yet it happens daily in the world. … As for Mr. Cosby, he showed me much mercy which I didn't deserve and I'm praying for him, for his family and all of the women," he wrote in the prison letter.
Cosbys Bury 2nd Child In 2018
Bill and Camille Cosby's 44 year old daughter, Ensa Cosby, sadly died at General Hospital in Massachusetts on February 23, 2018 from renal disease. Her funeral was held on February 28th, in a small, brief ceremony at the Cosby family home in Massachusetts. The attendees included Ensa's husband, Martin McLean, the Cosbys' 3 remaining children- Erika, 52, Erinn, 51, and Evin, 41, and a few other family members.
Following the outdoor service, Ensa was buried on the family's MA property, next to her brother, Ennis, in a spacious section of their land, called "Ennis Garden." Bill Cosby reportedly oftentimes sits outside, next to Ennis' grave and have lengthy conversations with him for hours. Now, sadly he will be talking to both his son and his daughter. May they both rest peacefully.