All these years have gone by and most of us, Mary J. Blige fans, have been so caught up into Mary's music, that we totally missed the fact that she has a brother- and a very musical one at that. Throughout the years, we've seen Mary rollin' with her sister, Latonya Blige, on many occasions, probably because Latonya was her long time manager. We've also heard Mary speak on others she loves in interviews, including her Mother, Cora Blige, and close friends like Missy Elliot and Angie Martinez. But rarely have we ever heard her talk about Bruce Miller, her younger brother who is 11 years her junior.
Mary's & Kendu's Viral Smack Down Video Was Over Her Brother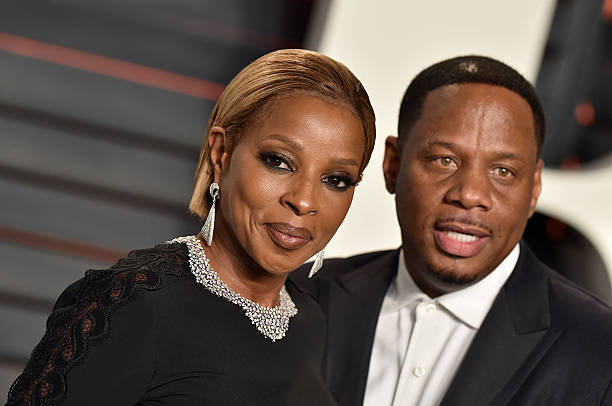 Turns out, Mary and Bruce are very close. So close, that if you recall that infamous viral video- when Mary slapped the hell outta her then husband, Kendu Isaacs, at a public nightclub event a few years ago- it was her brother whom that slap was about. You see, when that video went viral, websites and blogs were reporting that Mary J. must have been mad about a woman that Kendu was messing with that night. So, to clear up the untruths, Mary had her publicist tell the REAL truth- that Mary was actually heated with Kendu for getting into fist fight with Bruce.
The Mary-Kendu smack video only lasted seconds, after Mary said she had broken the two up in front of everyone in the club that night:
Via NYDailyNews: "Mary was not fighting with her husband," said Blige spokeswoman Karynne Tencer. "Her husband and her brother got into an altercation that turned into a fight. Mary went to break up the fight."
Although Mary revealed this at the time of the video surfacing, it kind of went over many folks' heads, because it was the actual slap itself that millions had witnessed online, which overshadowed any explanation Mary gave afterwards. Therefore, many still didn't know Mary had a brother at all.
Well, now we all get to meet Bruce Miller, the 37 year old brother of Mary J. Blige. Here are a few interesting facts about him:
He's a songwriter…Co-wrote Mary J.'s "Family Affair"
You may have spotted him in the popular 2001 video with his two sisters, Mary J. and Latoyna Blige. He co-wrote the song, "Family Affair," for Mary and got 'crunkable in the dancerie' with her in the music video.
Bruce on how Mary used to beat him up & KC (of Jodeci) wanting Mary back
In an interesting interview, Corason did with ThisIs50, he spilled the beans on how Mary used to "kick my a$$…Mary can fight… She's a good person though." He also talked about how his family is still col with Mary's ex, K.C. and how K.C. regrets messing things up with Mary: "He know he F'd sh*t up" with Mary," said Corason. Watch the video below. *Warning: Video contains graphic language*
He's a rapper
He has made a name for himself in music in his own right. Aside from working behind the scenes as a songwriter, Bruce is a rap artist who also goes by his rap name, Corason the Great (a play on him being their mother, Cora Blige's, son). Peep his 2014 video below. *Warning: video contains graphic language*
He's a devoted husband and father
Even though Corason is chasing his musical dreams, his number one priorities seem to be his family. He and his wife/painter artist, Cherie Amour, have two precious children- a son and daughter…
Their daughter apparently has her eye on the Blige family business already- check her out playing the piano and singing her heart out…
https://www.instagram.com/p/BS6dL7OhGW1/
Like we always say family, we learn something new 'round here everyday.