Mary J. Blige Makes Sexual Harassment Confession Amid #MeToo Movement
Posted On : January 8, 2018
Mary J. Blige is best-known for her success as a recording artist who is a master at channeling emotion through song. But her role in the Netflix movie, Mudbound, has the industry abuzz and even garnered her a Golden Globe nomination.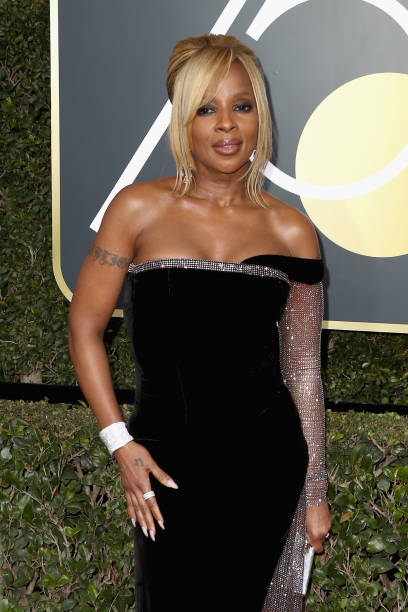 With all of the turmoil in Hollywood stemming from the #MeToo movement, Blige has been asked about her experience as a woman in the entertainment industry. She told a reporter at a British Academy of Film and Television Arts (BAFTA) event this weekend, that all of her #MeToo moments happened long before she joined the business.
"I've had to fight since I was 5 years old … ever since [the ages of] 5 to 17, I've been going through hell with sexual harassment," Blige explained. "By the time I got to the music business it was like, 'Don't touch me or I'll kill you.'"
Blige sat down with The Hollywood Reporter and explained how her experience growing up shaped the way she handled herself as a young woman entering the music industry. She dressed like a tomboy in baggy jeans and boots and donned baseball caps. Mary thought that making herself less attractive to men would help protect her from being molested, harassed, and raped. She said it would be years before she would be comfortable wearing makeup, or tight-fitting clothes.
In 2016, the 'Queen of Hip Hop Soul' took Oprah's camera crew to her old neighborhood in Yonkers, N.Y., to film an episode of Where Are They Now? for OWN. She talked about the rampant violence that she encountered living in her housing project.
"It was being programmed into our psyches that this is the way we're supposed to live as women," Blige said. "It was relentless."
But Mary is grateful for the lessons she learned, including how to fend for herself and set boundaries. She still lives with the memories of the horrors that she suffered, but told the reporter at the BAFTA event that she is very proud of the women for finding the strength to stand up for themselves.
"I'm actually happy and proud of these women," Blige said. "They've been hanging on to these things forever, for God knows how long, and now they're speaking up and being set free. It's a beautiful thing for us to see, and for us to support, because we need each other in that way."
Join us on Facebook for the most engaging discussions from the Old School! Old School News With A New Point Of View!