Actress Lela Rochon Throws Star Studded Bridal Shower For Best Friend Star Jones (Photos)
Posted On : December 3, 2017
As a fan of the talented and beautiful actress Lela Rochon (53), I was surprised to learn this fun fact about her. She and former The View host, Star Jones (55), have been best friends for decades, throughout all of Star's ups and downs. Even more is that Lela actually threw her homegirl a cool bridal shower for her upcoming wedding. That's right "Sunshine" brought a little sunshine to her friend for her special day, and she made sure several of their celebrities friends were present for the celebration.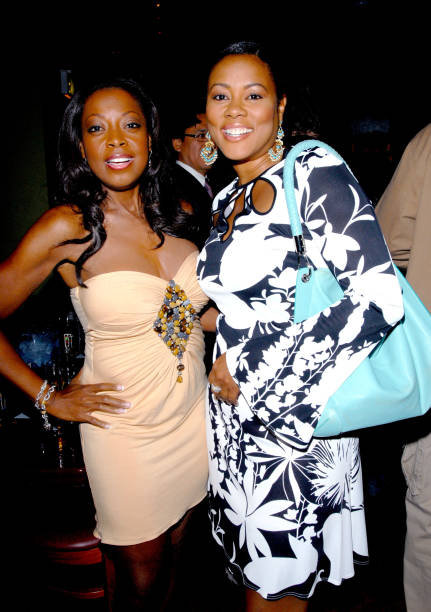 In case you're wondering, Star is about to jump the broom with her man, Ricardo Lugo. They announced their engagement in October of this year (2017). But after her last marriage to Al Reynolds, which ultimately turned into a disastrous media circus, Star has made it clear she will not be letting the public in on her relationship with her new boo-thang much at all. Good for her.


As we previously reported, Star confirmed to US Weekly, 'that she and Richard Lugo are engaged. "We're engaged," Jones, 55, told Us at the event. She added, laughing: "Not talking about it." However, she reluctantly spoke further about the man in her life. "He's wonderful," she told Us on Monday night. "I'm happy and that's all anybody outside of my family needs to know."'
Photos Of Star's Bridal Shower (SWIPE LEFT)
Lela wrote this about her Star's bridal shower:
iamlelarochon:It was such an Amazing day hosting a Bridal Brunch at my home with @litarichardson for our dear friend @starjonesesq Yes she's getting married! Swipe left for pics. It's was a beautiful day.
https://www.instagram.com/p/BbuhVEXFbiU/
Many of their celeb friends were in attendance, including  Angela Bassett, Cookie Johnson (Magic Johnson's wife), Simone Smith (LL Cool J's wife), Vanessa Bell Calloway and more. Check out the pics below and be sure to swipe left on the posts to see all of the photos…
https://www.instagram.com/p/BbuqMTxlmGj/
"B, you old…you better take a chance!"
In a lenghthy Instagram post, Star also revealed how her "best friends for 25+ years," Lela Rochon, Vivica Fox, Lita Richardson, Vanessa Bell Calloway, convinced her to open up her heart again for love to Ricardo:
https://www.instagram.com/p/Ba0AyZbAKRE/
So far there has been no official word as to when Star and Ricardo will be tying the knot, but we wish both of 'em many years of marital bliss! Now that her ex-husband, Al Reynolds, has officially just came out as a gay man and made peace with his truth. Maybe he, too, will find true happiness, like his Star has done.