After Almost Divorcing, T.I. Brought Tiny To Tears With Sentimental Mother's Day Gift
Posted On : May 13, 2018
As we all know, Xscape singer, Tameka "Tiny" Harris (42) and rapper husband, Clifford "T.I." Harris (37), have been through a bit of a rough patch throughout the past year and a half. After being together for 17 years (married for 8 of them), sometimes a rough patch is almost bound to happen. It's how they are working their way through it, that deserves props and what T.I. did for Tiny this Mother's Day, is a great representation of that.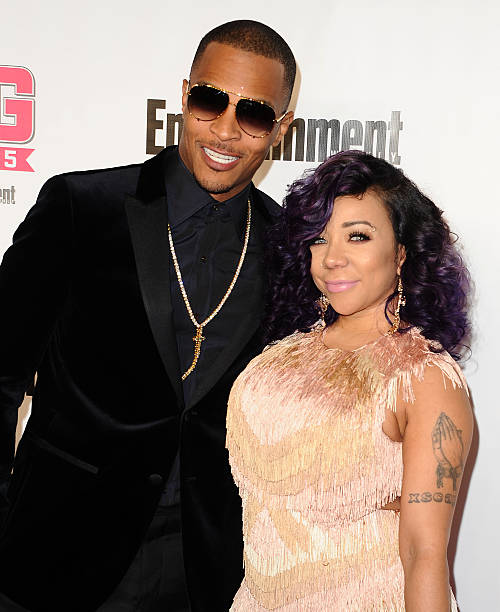 T.I.'s Gift To Tiny & Loving Message
In December 2016, Tiny filed for divorce from T.I. after several cheating allegations and mistress revelations. Although they have yet to go through with the divorce, they've made their issues very public on their reality show, "T.I. and Tiny: The Family Hustle" and also in various interviews. Fast forward to today though, and it's clear to see that Mr. and Mrs. Harris are in a better space than they were last year.
T.I. shared a touching Instagram message for Tiny on Mother's Day, that spoke volumes about the work the brotha has apparently been putting in behind the scenes, to avoid divorce and become a better husband for Tiny. Along with his love message, he shared some of his favorite photos of Tiny with their blended family:
https://www.instagram.com/p/BirMFUYhgvR/
T.I.: Where would we be without you & your love!?!? Mrs H. It's Amazing how much you do so effortlessly. I'm proud of you and your journey,impressed with your resilience,& thankful for your patience with me and my "internal evolution" ….. All your sacrifices don't go unnoticed or unappreciated. We all truly adore you!!! Just a lil reminder that your "living isn't in vein"- get it🌽 Happy Mother's Day @majorgirl👑
With love and appreciation!!! – Mr.H.
BUT WAIT…THERE'S MORE…HERE'S WHAT BROUGHT HER TO TEARS…
It was also reported, by Hollywood Life, that T.I. took the initiative to kick off Tiny's Mother's Day weekend a few days early. According to Tiny's friend, T.I. (Tip) gave Tiny a very sentimental gift that apparently brought her to tears.
https://www.instagram.com/p/BifAd19n_cz/
Tiny and their adorable daughter, Heiress (2), will be featured on the latest cover of Rolling Out Magazine (pictured above), which is something that Tip was reportedly very against. The magazine cover meant a lot to Tiny though. Therefore, in efforts to prove to Tiny that although he's a work in progress, but doing his best to be better for her; T.I. surprised his wife with a gift she definitely didn't expect.
Via HollywoodLife– "Tip knows Tiny loves the [Rolling Out] magazine cover, so Tip had it turned into a canvas for her and he got it framed," a friend of Tiny's shared with HollywoodLife.com EXCLUSIVELY. "He gave it to her as an early Mother's Day gift — he didn't want to wait. She was so overcome with emotion, she started to cry when he gave it to her and he said it was just the start of her Mother's Day gifts. [..] It meant so much because this time last year, things were so bad they were barely speaking," our insider explained. "This year it couldn't be more different, Tip has promised to spoil her rotten and make up for being M.I.A. last Mother's Day."-  HL
So it wasn't the flashy cars and diamonds Tip's been known to gift her, it's the thoughtfulness and sentimental gesture that reduced Tiny to tears…beautiful indeed. Just like the Old School saying goes: 'Time heals all wounds.'