After Halle Berry Revealed Racism She Endured In School, Ex Classmates Called Her Out On It
Posted On : May 11, 2018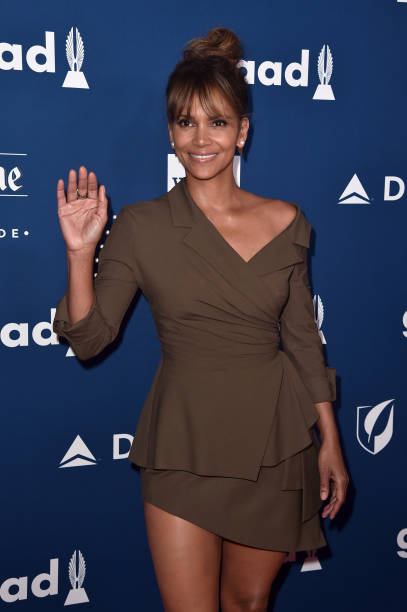 One look at legendary 51 year old actress, Halle Berry (51), and she appears to have a wonderful life. She's a well respected Hollywood star, has two wonderful children, and the last we heard, she also was happily gettin' her groove back with her younger man. Overall, she seems very content with her life now. But what many can't tell just by looking at her today, is that she endured deep pain as a teenager, that she says has a lot to do with why she's such a high achiever to this day.
In a prior interview with People (see below video), Halle opened up about how she and her sister were teased and subjected to racism throughout her high school years in Bedford, Ohio. According to Halle, it all started after they'd switched schools and began attending Bedford High School, which she says was a predominantly White, with "like 3 [Black students] out of 2500 students."
Halle Berry: "Now, all of a sudden we were in an all-white school with all-white kids. I got bullied a little bit…because of the color of my skin and at that time we were 'Oreos,'" Halle said, referencing her and her sister's biracial (half Caucasian, half African American) heritage.

"My need to please and my desire to achieve was because I was constantly trying to prove that I was as good as the other white students," she explained. "I felt very less than and I thought if I could beat them at everything, then I can be as good as them. Subsequently, that taught me how to win in life."
Halle's schoolmates actually viewed her as the opposite of what she's saying. Check out some of Halle's reported classmates' reactions, which were reported by PJ Media…
Rachel W.: "Class of '86 here…..I didn't know Halle personally so while I certainly can't speak to her individual experience I can speak to how I looked at her and how all of my friends looked at her in high school. My female friends (black and white) and I thought she was gorgeous and wanted to look like her while my male friends (black and white) had massive crushes on her and wanted to date her. Curious also that she left out the fact she was elected Prom Queen by the entire student body, black and white."

Rob C.: "She's crazy, Bedford wasn't all white. I grew up in Bedford and Bedford heights 35 years, there are plenty of black folks then and still are."

Shannon T: "I remember everyone always being in awww of Hallie. She was always gorgeous and everyone seemed to look up to her."

James D.: "Bullsh*t, She was in my art class at Bedford HS, I talked to her everyday, she was a cheerleader too and treated like a queen! I always had respect for her until now!"
Who's Lying?
Who's lying – Halle, or her former schoolmates? There's a high possibility the answer is, neither side is lying.
Halle probably did feel like she was "less than" in a world that oftentimes told her she was never good enough for her Black side, nor her White. She also probably did, in fact, experience some form of racism from her peers.
From her schoolmates standpoint, they, too, are probably speaking their truths -keyword being 'their.' It's not always easy to see the pain that lies within the soul of a person, especially when that person's way of fighting that pain, is by becoming an overachiever- at EVERYTHING, just like Halle did in school and beyond. That can create an illusion to the outside world, but not a true transparency.
Moral of the story: Just like the old school saying goes, 'we should never judge a book by it's cover.'