After Kid's Mom Exposed Usher's Ex For Stealing From Her, Tameka Resolves Issue But Blames Fans
Posted On : February 2, 2018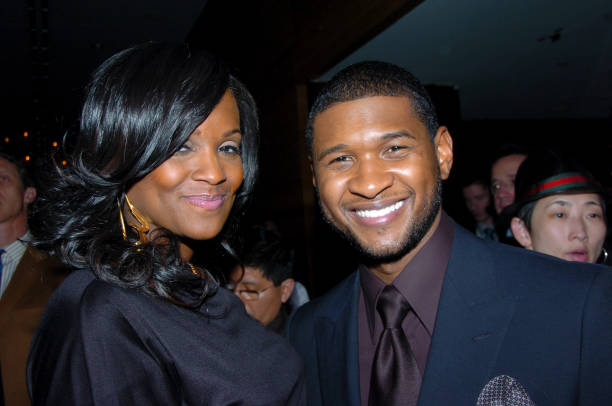 ILOSM fam,' the other day, Tameka Foster -the ex-wife of Usher and mother of his kids- was dragged to smithereens and back on social media. The reason was because a mother of a precious little model, named Lyric, put Ms. Foster on full blast for reportedly stealing her child's likeness and image without her consent and for her own financial gain. It was all sparked after Tameka posted (then deleted after getting blasted) an animated look-alike image of little Lyric, for her upcoming project called, "Damaris."
To most of us, Tameka's animated "Damaris" character appeared to be a direct replication of one of the images Lyric's mother had shared with Lyric's 100K+ Instagram followers a while back.
It only took a few hot seconds before Lyric's Instagram followers brought Tameka's photo to her mom's attention. Lyric's mother proceeded to express how outraged she was by Tameka's reported jack move, in a lengthy Instagram post, in which she received thousands of supportive comments from many.
"I am seriously appalled that as a woman, as a culture, cannot stick together. It was brought to my attention that my daughter, Lyric Hurd, was part of a project that we have no say in. Everyone knows that Lyric is an actress, model, and dancer. We, as a family, have worked so hard to brand her and invest in her talent. … As a co-manager to her own Instagram page, she saw the tags to your page @TamekaFoster and my baby cried! … How could you take my daughter's photo and send it to @dreillustrator and pass it off as your own? How? We can't for the life of us, understand why you would use my daughter's image, her exact face, and call it your own. … And then, to vehemently deny this….I thought you were better than this. … I mean…Instagram help me out here. Tameka Foster I will await an amicable resolve…I pray you do the right thing."
Tameka Foster Finally Responds To Backlash
On the flip side, Tameka, received a ton of backlash and never responded, nor acknowledged what happened…until now. In a new Instagram post, Tameka revealed that she has now resolved the issue with Lyric's mom and get this, Tameka is blaming the fans on social media -not herself- for the "misunderstanding." Here's what she posted…
https://www.instagram.com/p/Beq9ctFnPMq/
https://www.instagram.com/p/BepXdjjHagH/
Foster then commented to a fan and denied that she used Lyric's face for the animated character. However, she's also now saying that she's changing the character's face and that the image she originally promoted on Instagram, was simply a rough draft so to speak. Hmmmm…okay:
Not sure why Ms. Foster is referring to the now apparent indication, that her animated character is in the likeness of, or at least eerily similar to Lyric- as a "misunderstanding." But if I had to take a guess, I'd say it's her attempt to save face after a reportedly unethical business move on her part. We all make mistakes, but it's never a good thing to deny them, just saying. Moving on…
Lyric's Mother Speaks On Resolved Issue With Tameka
Lyric's mother shared an update on Instagram, also stating that she and Tameka had resolved the issue.
As y'all can see, there was a distinct difference between the mother's and Tameka's phrasing though. Lyric's mom did not state that it was a "misunderstanding," like Tameka claimed, and she also did not place blame on the social media followers. At any rate, it's still good to see that the issue was handled, possibly for a financial fee and rightfully so. Wishing little Lyric many years of success with her modeling career, she deserves it. Go be great little lady!