After Much Speculation, Jermaine Dupri Finally Speaks Out On Reuniting w/Ex Janet Jackson
Posted On : January 14, 2018
Ever since Janet Jackson announced that she was saying 'Peace out' to her billionaire baby daddy/husband, Wissam Al Mana, many wondered what was next for the love life of Ms. Jackson. It didn't take long for whispers to start circulating about Janet's reconnection with her long lost boo-thang/So So Def music mogul, Jermaine Dupri.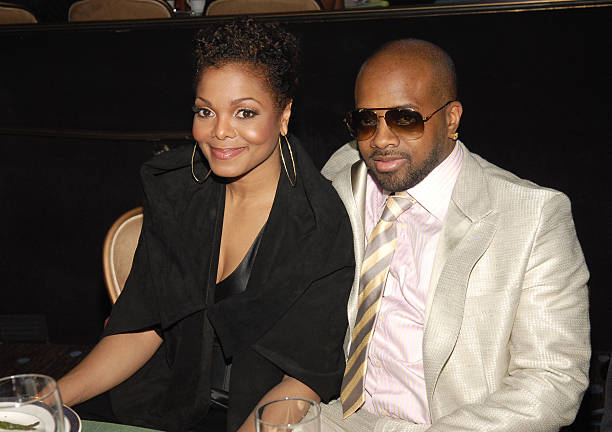 As we all know, they dated for nine years strong and then all of sudden split up. Many people, myself included, were kinda hoping that Janet and Jermaine would've remained together, because they genuinely seemed happy with one another. Welp, fast forward to one pending divorce and a baby later, and now various public sightings of the former couple have been reported.
Word on the Old School curb is that Janet and Jermaine were "reunited and it feels so goood," like Peaches & Herb. Now though, Jermaine has FINALLY spoken out about the reunited rumors to Entertainment Tonight.
(Video) Jermaine Dupri Has A Message About Him & Janet
Dupri attempted to convince the world of the same thing Janet's rep stated a few weeks ago: That he and Janet are and have always remained "friends" after their breakup. However, dude did a horrible job at making his statement believable, because he had a grin on his face the whole time and left a lotta grey areas for interpretation in his response. Therefore, my interpretation (or maybe my wishful thinking) is that something just ain't adding up abut there so called friendship. But out of respect, I'll loosely take Jermaine's word for it…for now. Check out what he had to say in the video below…
Maybe those two dating again wouldn't be such a bad idea, especially for Jermaine, because then he could at least make his huge Janet Jackson torso tattoo make sense again…
Pretty sure he had a tough time explaining that to his other girlfriends after Janet, just saying.
Janet's Song Could Be Used As A Message To Jermaine
Now that I think about Janet and Jermaine's alleged reunion, I wonder if Janet's been privately trying to remind herself of her own lyrics to her 90's hit, "Again." In case y'all hadn't heard, Jermaine publicly admitted that he was the one who destroyed their relationship by allegedly cheating on Janet. Crazy, right? Well, I couldn't help but notice how Janet's lyrics are perfect for their situation, that is if she fears getting hurt heart broken by Jermaine 'again.' So we'll let Janet take us out on this one…
I heard from a friend today
And she said you were in town
Suddenly the memories came back to me in my
Mind

[Chorus]
"How can I be strong?" I've asked myself
Time and time I've said
That I'll never fall in love with you again