Al Sharpton The Latest Icon To Support Meek Mill After Very Harsh Sentence, Here's How…
Posted On : November 26, 2017
Philadelphia rapper Meek Mill's incarceration has sparked outrage nationwide. To many fans, the punishment Meek is facing definitely doesn't fit the crime. Now, public figures everywhere are rallying behind the jailed rapper. From NBA icon Julius "Dr. J" Erving and former NFL star Colin Kaepernick to LeBron James and Jay-Z many have spoken out in support of Meek Mill and according to Philly.com, Al Sharpton is the latest person to reach out to the Maybach Music Group rapper.
A Visit To The Prison: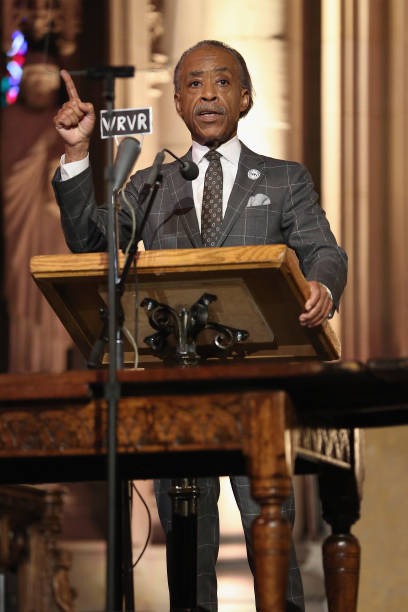 On Monday, November 27, Rev. Al Sharpton is reportedly scheduled to visit Meek Mill at the Chester State Correctional Institution where he is currently serving time for violating his probation. Sharpton is said to be meeting with Meek as part of the criminal justice reform effort by his civil rights organization the National Action Network (NAN). Although Meek Mill did violate his probation, there are quite a few details about his situation that have led many to believe he's wrongfully incarcerated and it looks like Al Sharpton will be working to get to the bottom of it.
According to New York Daily News, Sharpton has released a statement sharing his opinion of the rapper's sentence. "I think this is about an injustice that is representative of many young men of color that face an abuse of a probation or parole system," Sharpton said Saturday at the Harlem headquarters of the National Action Network. "This is not about an artist. This is about a system," Sharpton said. "I think what's happening with Meek Mill is something that the National Action Network has always fought, and I hope that me going there is going to raise the pressure on the issue and help begin a drive-by us in supporting others and demanding a new hearing for him and a new judge."
"Just because someone does something that is wrong, does not give you the right to do wrong to them," Sharpton said to NAN, according to NBC. "The sentence must fit the violation."
A Growing Epidemic:
Sharpton went on to address the bigger problem with this situation. If a high-profile celebrity can be taken down for this type of offense, imagine how a typical black male in America would be treated.  "This has happened to countless young black men, and Meek Mill represents that, and he can be an example of how we correct that," Sharpton said. "If they can do this to someone with the profile of a Meek Mill, imagine what they're doing every day," he added.
Hopefully, Al Sharpton's Nation Action Network can intervene on Meek's behalf and help he get the justice he deserves. Meek Mill is currently serving a two-to-four-year prison sentence for violating his probation.
Join us on Facebook for the most engaging discussions from the Old School! Old School News With A New Point Of View!