Amid Sexual Misconduct Scandal, Russell Simmons Steps Down From Def Jam
Posted On : November 30, 2017
Are the walls caving in on Russell Simmons? If his latest decision is anything to go on, people may be giving him the side eye for a very long time. According to CNN, the famed business magnate has officially announced plans to step down from his companies. Although Russell has adamantly denied the sexual assault allegations brought against him, all of that changed in a matter of minutes. On Thursday, Nov. 30, screenwriter Jenny Lumet also released a column detailing another night back in 1991 when Russell Simmons allegedly forced her to have sex with him.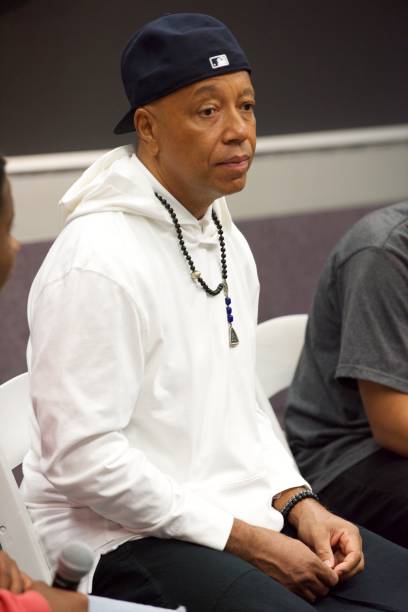 One night circa 1991, when I was around 24, I was at a restaurant called Indochine. I had worked there when I was 17, as the coat check girl, and I enjoyed returning. I still knew some of the staff at this point, and felt quite comfortable there.  I remember I was wearing one of the Azzedine Alaia tops that were everywhere that year. And hoop earrings. I think it was cool enough for a jacket.  Because I remember being glad I had a jacket by the end of that night.

You had a car and a driver that evening. Sometime later, you offered me a ride to my home.  I said, sure. During the making of the RUN DMC movie, I had been in vans with you and other crew members.  I don't recall having accepted a ride home alone with you before that night. "At no time that night did I say: "Russell, I will go home with you".  Or, "Come home with me." Or "I will have sex with you."  Or "I have the desire to have sex with you." – Jenny Lumet via Hollywood Reporter
As a result of the latest allegations, Russell has released a statement.
Stepping Down:
In the statement released, the Def Jam co-founder also discussed that fateful night and offered an apology. "I have been informed with great anguish of Jenny Lumet's recollection about our night together in 1991," Simmons said in a statement. "I know Jenny and her family and have seen her several times over the years since the evening she described. While her memory of that evening is very different from mine, it is now clear to me that her feelings of fear and intimidation are real. While I have never been violent, I have been thoughtless and insensitive in some of my relationships over many decades and I sincerely and humbly apologize."
The statement continued: "This is a time of great transition. The voices of the voiceless, those who have been hurt or shamed, deserve and need to be heard. As the corridors of power inevitably make way for a new generation, I don't want to be a distraction so I am removing myself from the businesses that I founded. The companies will now be run by a new and diverse generation of extraordinary executives who are moving the culture and consciousness forward. I will convert the studio for yogic science into a not-for-profit center of learning and healing. As for me, I will step aside and commit myself to continuing my personal growth, spiritual learning and above all to listening."
Heightened Sexual Misconduct Allegations:
Russell Simmons' decision to step down follows a string of reports about the latest sexual misconduct allegations brought again Russell and his friend and business partner, Brett Ratner. Although both men have denied the allegations, many of the women argue that they were "in it together."
No formal charges have been brought against Russell Simmons or Brett Ratner, but with the way things are going, the charges will probably come in the very near future.