Awkward…Jamie Foxx Walks Off An Interview When Asked About His Longtime Girlfriend
Posted On : February 17, 2018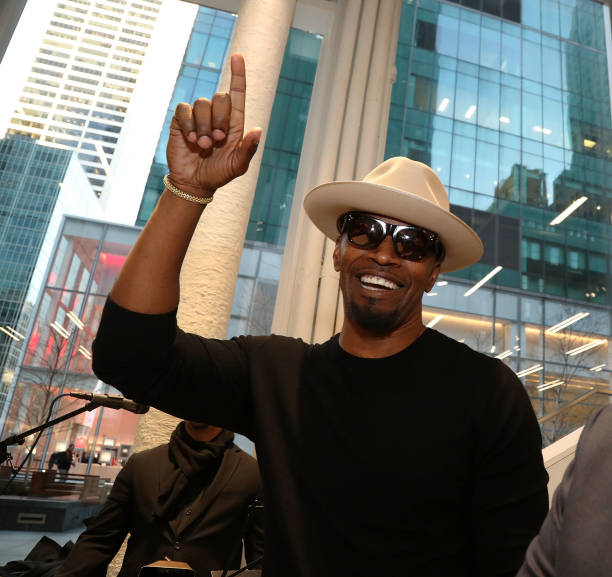 Actor and Oscar winner, Jamie Foxx, was apart of the celebrity lineup for the 2018 NBA All-Star Celebrity Game at the Los Angeles Convention Center on Friday night. Foxx was representing the L.A. Clippers and he spoke with ESPN's, Michael Smith, live on Sports Center, as they discussed the upcoming game. However, during the interview, things became awkward when Smith asked Foxx about playing basketball with Katie Holmes on Valentine's Day. While Jamie Foxx talked about staying ready for basketball, Smith decided to go for it, by addressing the elephant in the room.
"I know you prepared because I saw pictures. Did you and Katie Holmes play basketball for Valentine's Day? Like some real Love and Basketball?" ESPN's Michael Smith asked Foxx live on SportsCenter.
After Smith posed his question, Jamie took off his microphone and simply walked off. Confused by his response, Smith asked on camera if he lost Jamie. In the background, Jamie put on his hood and began jumping around the gym.
In case you're wondering what Smith was referring to, photos surfaced of Holmes and Foxx on Valentine's Day, enjoying a game of basketball. While they have never verbally confirmed their relationship, Foxx and Holmes have been quietly dating for quite some time. They also made things official when they decided to go public on their date together at Clive Davis' 2018 Pre-Grammy event in February. The Dawson's Creek alum, 39, and the Beat Shazam host, 50, were seen headed to the gym, as Jamie carried an orange ball and a large Nike shopping bag. It seems like they were in sync with their attire with both of 'em rockin' similar hats. Both Holmes and Foxx have attempted to keep their relationship private in the past, but it's hard to deny their love now.
Rumors were circulating that Foxx and Holmes were dating back in 2013, however, their relationship seemed to be confirmed when they were spotted holding hands on a Malibu beach. The Hollywood heavyweights were pictured walking hand in hand along the sand barefoot.  Hella romantic, right?!! As we previously reported, Foxx was spotted whispering in the ear of Holmes at  Clive Davis' annual Pre-Grammy Awards  party. They reportedly didn't walk the red carpet together, but they sat at the same table showing public affection.
According to People, Holmes tried to avoid drawing attention to the them by attempting to move to a different seat; however, Clive Davis called her out.
"This lady left the room right when I was going to introduce her, she was sitting at that table right with Jamie Foxx and everyone else," Davis said to People. He then added, "If you're going to sit together what better night than tonight."
https://www.instagram.com/p/Beh5Kb5lL0z/
It's no sense of hiding it now. The world already knows.