Beautiful: Teddy Pendergrass' Mother Turned 100, Cried Tears Of Joy At Birthday Party
Posted On : May 11, 2018
Teddy Pendergrass' mother, Ida Pendergrass -or as her family and friends refer to her as, Mother Pendergrass- was 2 months shy of her 92nd birthday, when she sadly lost her only child, Teddy, on January 13, 2010. As of May 9, 2018, Teddy P. would have been overjoyed to see how his mother celebrated her 100th birthday. **Scroll down for video**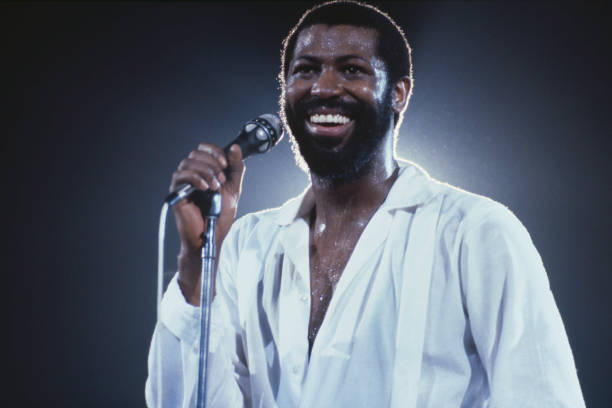 Video Mama Pendergrass' Gets Emotional At 100th Birthday
The century that Mother Pendergrass has lived through, was filled with extreme highs and extreme lows. The highs of seeing her son accomplish his musical childhood dreams, to the extreme lows of watching him become paralyzed from a 1982 car accident, to ultimately losing him in 2010, is enough to make any parent want to perish. But through it all, Mother Pendergrass is still standing and her 100th birthday party was a different type of fulfillment she probably never imagined she'd see.
Teddy's former background singer and longtime family friend, Jerry Cummings, shared video online, of Mother Pendergrass enjoying her party. Cummings serenaded her, as she became emotional, sitting in her wheelchair and decked out in her creme and white dress. Watch her enjoy herself in thebirthday video below…
Teddy's Son Presents Mother Pendergrass With Plaque:
Teddy P. Was All About His Family
Teddy P. was very close to his mother and took great care of her after becoming successful. In an interview with The Washington Post, just two years after his 1982 accident, Teddy said he'd bought his mother a home in the same plush Philadelphia suburb as his own.
At that time, Teddy also revealed it was the love of his mother, his then girlfriend (who ultimately became his 1st wife) Karen Stills (Pendergrass), his children, and family that held him up following his tragic car accident:
Via WP-He's had tremendous support, from his fans, to his production and management companies, from girlfriend Karen Still ("a real good lady I can trust") to his family. "I don't know what it is not to have support," Pendergrass says. "We are a family of support. This was not somebody sitting up just to cushion poor Teddy."
Donate To Mother Pendergrass' GoFundMe

Speaking of Teddy's first wife, that brings us to the current unfortunate situation surrounding Mother Pendergrass. We've recently learned that Jeremy Cummings has started a GoFundMe fundraiser to raise money to help Mother Pendergrass with her expenses (You can click HERE to donate to Mother Pendergrass).


One thing that stood out to us, is that although Teddy was married to his second wife, Joan Pendergrass, at the time of his passing, it is his first wife, Karen, whom Mother Pendergrass obviously trusts with collecting the GoFundMe donations on her behalf. There is probably a very good reason for that though…at least based on our prior report about Joan's legal war against Teddy's kids.
Legal Drama Between Pendergrass' Wife And Kids

A while back, we covered the consistent drama going on between the late Teddy's widow of two years and his three children (from prior relationships). Ever since their father passed, Teddy P. II, LaDonna Hollerway, and Tishia Pendergrass have been battling it out in court with Mrs. Joan Pendergrass. The legal battle is due to what Teddy's kids say is a very suspect will. Teddy's will supposedly left Joan with pretty much everything and damn near nothing to Teddy P.'s mother, nor his kids – all of whom Teddy had close relationships with.
Things got even worse in February 2018, when Mrs. Pendergrass hit Teddy's three kids with a lawsuit for a whopping $850K+! Why? Because according to Joan, their lawsuit filing to dispute her will, with another will they said their dad left behind, was deemed to be falsified by the judge. Therefore Joan, who won everything, including the rights to Teddy's estate and future revenues, now wants Teddy P.'s kids to pay back the $850K she says she lost in legal fees, plus punitive damages, according to court docs. Not sure how this will turn out, but wherever proper justice lies, is the outcome we hope occurs.