Beyonce's Aunt Is 92 But Fans Are Absolutely Stunned By How Young And Beautiful She Looks
Posted On : May 2, 2018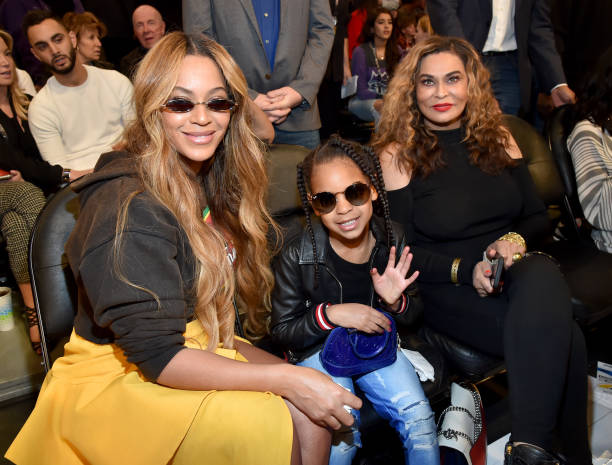 They say you can always tell how stressed a person is by how 'aged' they are. One look at Beyonce's 92 years young aunt and either one of two things have happened: She has never been stressed a day in her life, or she's found the fountain of youth somewhere on the Higher Power's green earth. Maybe it's a combination of both…or it simply could be genetic, which we're sure Bey' probably hopes she'll be graced with as well. Whatever the case, Beyonce's Aunt Selena (92) is a sight to behold…and so is her other 74 years young Auntie Flo. See why fans are shocked as hell by these two lovely aunts below…
Meet Bey's 92 Year Old Aunt
Beyonce's and Solange's moms, Tina Knowles-Lawson, has already proven herself to be a 64 year old bombshell. What we didn't realize though, is that she's not the only gorgeous senior citizen in her fam.' The other day, Mama Tina shared a few photos of her glamorous big sisters, and even SHE couldn't get over how beautiful and youthful they still are. In her posts, she shared her 92 year old sis,' Selena, and captioned the photos with this message:
mstinalawson: If this is what 92 looks like i don't mind it coming! My Beautiful sister Selena is 92 years young ❤️no retouching ! … I am with my big sister Selena ❤️she is 92 years old. I am the baby , i am 64😂
https://www.instagram.com/p/BiQK0f1B9B3/
In Aunt Selena's photo, we couldn't help but notice that not only is she making 92 look like the new 62, she's still got some sassy swag going – her nails were done up and her hairdo was freshly 'did.' Speaking of hair, as y'all can see, Auntie Selena still has a head full of her own! What the…?!!
But there's ANOTHER sister too…
Meet Her 74 Years Young Aunt
As if Aunt Selena wasn't enough beauty for one day, Tina also hit us up with yet another one of her sisters, Aunt Flo (74), and to say that she, too, is aging gracefully, is an understatement…
Tina also joked about how her 74 year old sister, Flo, always told her she 'screwed up' her life, by being born on the same day as she, LOL:
mstinalawson: My two beautiful sisters Selena 92 and Flo 74 looking good❤️ i was born on my sister Flo's 10 the birthday ! (64) She said i came into the world screwing up her life cause her birthday party was cancelled because of me😂
https://www.instagram.com/p/BiQGe5BBkVO/
Mama Tina's Proud Of Her Baby, Bey!'
Of course we couldn't talk about Beyonce's aunts, without talking about how proud they and her mother clearly are of her recent history breaking Coachella 2018 performance. Y'all already know Bey' shut it down and she made history by becoming the first African American woman to headline the Coachella festival. It's a shame it took 18 years, since Coachella's inception, for a Black woman to get that opportunity, but hey…we'll just focus on the positive for now…and the fact that none of the past Coachella headliners probably crushed that stage the way Beyonce did. Moving on…
In case you missed Bey's Coachella performance, or simply wanna watch it again, no worries, we gotchu…here it is in full…
How Beyonce's Mom & Stepdad Are Giving Back
In edition to Beyonce' and Solange making their marks in the word in a major way, their moms is making a mark in hr own way as well, by giving back to the community. She and her husband/actor, Richard Lawson, opened their new WACO Theater Center in Los Angeles, Ca. last year (2017) and it's been on and poppin' ever since. Their latest event was for the mother's and young women in the community and Mama Tina showed that she is very hands on with the event: