Break Up To Make Up: Tiny Finally Put Brakes On Divorce From T.I. With Her Latest Move
Posted On : April 4, 2018
For the past two years, we've been watching Tameka "Tiny" Harris threaten her rapper hubby, Clifford "T.I." Harris Jr., with divorce, even going so far as to file paperwork in December 2016 and proceed with dividing up their dividends and such. In the proceeding months, they've giving fans all kinds of mixed signals.

Recap Of Their Mixed Messages
They've passionately argued with each other about infidelity on their reality show, "T.I. & Tiny: The Family Hustle." Tiny's sat on Wendy Williams' talk show couch and was reduced to tears when discussing T.I.' s then alleged side chick, Bernice Burgos. Then there was the Tiny and Floyd Mayweather dating rumor, which was ultimately followed by what appeared to be a reconciliation of Mr. and Mrs. Harris' marriage. They were photographed being lovey-dovey on a beach somewhere, Tiny serenaded him on stage during the Xscape Tour and they even protested together against Houston's Restaurant (Buckhead, ATL location) for racial discrimination.
Well ILOSM fam,' we guess the couple that protests together, stays together because lo and behold, Tiny just made a new move that points to her trying to legally salvage her marriage.
What Tiny Just Did For Love
Word on the Old School curb is that Tiny ain't ready to leave her man just yet and apparently T.I. is not trying to hearthat either.
Via Bossip: …This week, T.I.'s estranged wife Tameka "Tiny" Harris gave a definite sign that she's in no rush to move forward with the split. It was not clear Tuesday why she needed the extra time or how long the leave of absence is for, but…T.I. used the same tactic in a jeweler's suit against him for nonpayment for bling, effectively stopping the case from going forward for almost a year, according to court records…Rumors have swirled that the exes – who have lived separately for years – were planning to renew their vows. […] Bossip spotted them partying together last Friday at Red Martini in Atlanta.

The mom and reality star filed court docs April 2 asking for a leave of absence from the divorce, upending any chance to resolve the years long case anytime soon.
Not Surprised After Alleged Pregnancy Scare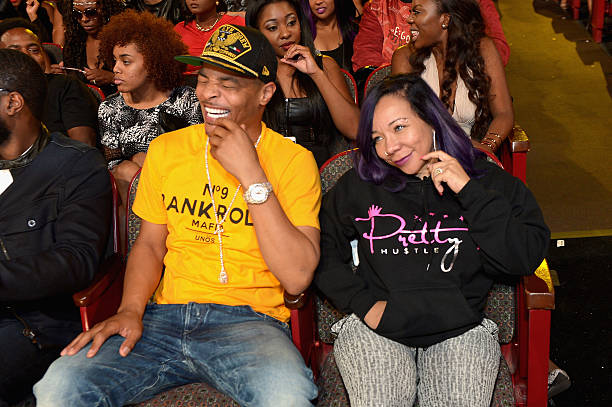 This 'new' news shouldn't be much of surprise, especially following Tiny's past revelations that she and T.I. still love each other and have sex on a continuous basis, because after all, he's still her husband. This divorce halt news also comes a couple months after reports surfaced that Tiny not only had an alleged pregnancy scare recently, but as we previously reported, according to Hollywood Life, Tiny and T.I. are reportedly trying to have another baby!
Via HollywoodLife– "There's definitely a large part of Tiny that believes having another baby with T.I. will bring them closer together," a source close to Tiny EXCLUSIVELY revealed to HollywoodLife.com. "On a rational level Tiny knows that's crazy, but she's coming from an emotional place, so logic and common sense don't really factor in. There's no doubting that Tiny and T.I. make beautiful kids together, and she's aware of her biological clock ticking more and more loudly, so yeah, she would love to have another baby before that choice is taken away from her."
We said it before, and we'll say it again, they clearly still love each other and are probably still IN love with each other as well. Tiny even alluded to that during a recent interview on "The Real" talk show, regarding the status of her and T.I.'s relationship:
"You know, we're working at it," said Tiny. "We're trying to get things on the right path."
Mr. and Mrs. Harris' theme song should definitely be "Break Up To Make Up" by the Stylistics.