Chaka Finally Speaks Out After Many Fans Walk Out On Her For Seeming High & Dazed In Concert
Posted On : March 22, 2018
The past few days have been tough on legendary singer, Chaka Khan (64). If she didn't know beforehand, she learned the hard way, that in the new age of social media, one's downfalls can go viral at lightening speed. As we previously told y'all, that was the case for her on Saturday night (3/17/18).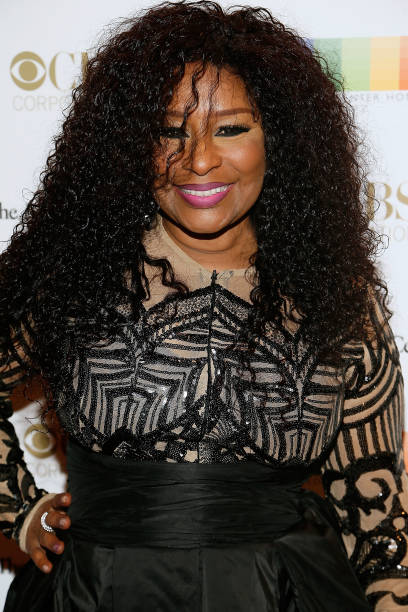 Fans dragged Chaka "through the fire," after she performed at Jazz At The Gardens in Miami, FL, seemingly high or drunk, according to concert goers. Video (below) surfaced of the melee and many fans walked out of the show, while Chaka was still performing and her background singers were picking up the slack for her. It was a sad sight to see and we all hoped that Chaka had not had another relapse into her prior drug struggles.
https://twitter.com/Smackurbanradio/status/975509797599498241
Chaka Explains
Now, Chaka has spoken out -via her reps- about the situation, to explain her side of the story. Simply put, she claims that despite slurring her words, barely moving, barely singing, and forgetting her lyrics that night, she wasn't high, nor inebriated, but there was an issue she says she was battling:
"Chaka Khan has been supporting her scheduled show dates as she has been battling the flu for a number of weeks despite the doctor's orders to cancel these shows and rest. Unfortunately, Chaka not wanting to disappoint her fans has performed, while not totally 100%, and the media has been turning these difficult performances into something else."

"Chaka values her fans and supporters and would never do anything to jeopardize their support and love. Under doctor's orders Chaka will be resting for the remainder of the week until her next performance engagement in Macon, GA, Saturday, March 24th." -via TheJasmineBrand
In case you missed the major backlash concert goers vented online, below is a small sample, which also includes some tweets from hit producer (for Beyonce', Usher, etc.), Rico Love:
She's not even singing at all. She's just standing on stage as THOUSANDS of ppl walk out. Her background singers are killing it though! This really breaks my heart. I'm not posting this to make fun of a legend but I'm genuinely hurt! #TTLO

— Rico Love (@IamRicoLove) March 18, 2018
I love Chaka Khan with my whole heart but she is drunk as hell on stage and Jazz In the Gardens . This makes me so sad #TTLO

— Rico Love (@IamRicoLove) March 18, 2018
I was very disappointed in #chakakhan tonight at #JITG2018 she couldn't remember her songs she looked beautiful but she wasn't able to perform her songs tonight she just was in West Palm Beach at Kravis center she did a nice job tonight in Miami people started walking out pic.twitter.com/4xN1D89yas

— cynthia Traveling Queen (@cynthia33324663) March 18, 2018
Smdh 😢 Chaka Khan's voice is not right tonight! Folks are leaving in droves! She looks good but…. Well, the background singers trying to cover for her. #JITG2018 pic.twitter.com/LRAXRCYkcM

— Conch Fritter Lady (@FeleciaPoitier) March 18, 2018
She just keeps humming the words to this one song and then the poor background singers have to fill in for her. She puts the mic down and just looks at them singing. As if to say, "I use to do that once." #ChakaKhan

— Dee Windt (@billboardcritic) March 18, 2018
Chaka to the crowd: Where would I be without my background singer?

Crowd: Where would you be? Girl! 😔 #ChakaKhan

— Dee Windt (@billboardcritic) March 18, 2018
I was SO looking forward to seeing #ChakaKhan. I was completely disappointed!! She was clearly under the influence of something. https://t.co/dqhicN7S42

— Andrea Watson (@AD_Watson) March 18, 2018
#ChakaKhan forgetting lyrics & singing off key so much that I'm questioning whether I should attend #JITG2018 tonight!

People walked out during her show almost all seats were empty by the end. Tough to watch. If she has close friends, the time to intervene is NOW! #SundayMorning pic.twitter.com/Mb8MuXASPk

— @BlackSoulFood (@BlackSoulFood) March 18, 2018
Chaka's Public Battles With Addiction
As we previously reported, it was just in July 2016, that Chaka confirmed she entered a drug rehab program. At that time, she also admitted her decision was prompted by the death of her good friend, Prince -who died on April 21, 2016 from an overdose of the opioid prescription pain med, fentanyl. Chaka feared that'd be her same fate. She'd released a statement through The Associated Press at that time…
Via Associated Press (July 2016): Chaka Khan and her sister…entered a drug rehabilitation program to battle their addictions to prescription drugs, and Khan says the death of her good friend Prince helped hasten her decision to get help. In a statement released to The Associated Press…the…Grammy-winning singer said she has been battling an addiction to the same medication that led to Prince's death. […] "It's vital that I put my health and well-being first, [Khan said]. I know that I am disappointing some of my fans, but I also know they would want me to recover and be well and healthy." […] Khan…entered an intensive rehabilitation and aftercare program with sister, Yvonne Stevens, also known as Taka Boom. Khan said the pair "agreed we would take this journey together and support each other through the recovery.
Unfortunately, Chaka's 2016 rehab stay was her second one in two years. However, we respect that Chaka has always kept it real about her drug abuse struggles. Prior to her 2016 rehab stint, Chaka appeared on "The Wendy Williams Show" in 2014, and revealed that she was fresh outta rehab. Chaka told Wendy she had "no regrets" about her drug history, because she wouldn't have learned to be the stronger person she is today, had she not fallen and fought her way out.
In her autobiography, "Through The Fire," Chaka explained that her addictions began in the 1970s and legendary singer, Etta James, tried to help her:
Chaka wrote: "[Etta James] said to me, 'Whatever you do, if you wanna be in this business…' showing me the tracks on her arm,… 'do not do this.' I said, 'Oh my God! Don't worry, I won't.' And I didn't. I snorted heroin for a good 10 years and I did cocaine, but I never injected."
Get well soon Chaka.