Deion Sanders Checks Fan After Many Call Him Out For His Message About Girlfriend,Tracey Edmonds
Posted On : March 25, 2018
NFL Hall of Famer, Deion Sanders had to defend himself against fans who are calling the legend a hypocrite. Fans damn near made Deion lose his religion this Sunday morning, after they responded to his relationship message on Instagram.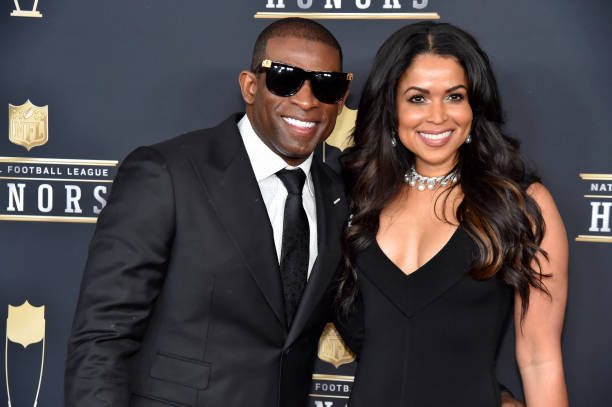 What Sparked The Backlash
The 50 year old NFL'er-turned-commentator has been dating legendary music producer, Kenneth "Babyface" Edmonds,' ex-wife, Tracey Edmonds (50), for some years now. He oftentimes posts religion-inspired messages about their love and how to maintain a relationship on social media. Typically many fans love his posts, but on Sunday morning, many of them were sick n' tired of them for one reason- hypocrisy. Here is Deion's post that sparked the online debate…
deionsanders: This is called 1 accord. That's what's God is talking about when it comes to your special someone. We men tend to chose by sight meaning looks,hips,lips booty and fingertips. That's mess will keep u in dysfunctional situation whereas your PEACE will never find your address. Choose a person for where you're headed not where u are because if u any type of man,woman,hustler,go getta,doer,boss or leader you're on your way somewhere bigger and better so that person u chose for that moment aint gone fit in that luxury seat of your journey especially if they aint willing to be all of the before mentioned with you. Take inventory now! Either they're adding and helping u multiply which is a blessing or they're subtracting & dividing therefore they gots to go!!!!!!! #ThinkAboutthat its 2018 time for games are gone! Live baby Live the life u supposed to live with the Peace you supposed to have. I GOTS MINE! @Traceyeedmonds we're smiling for real on the Steve Harvey Show because we are truly at a place of happiness and security. #Truth #PrimeSpeak #21reasons #21dayswithPrime #50goingon21 #Alrightnow #Wegonwalkdownthatisle1daywehaveaplan #Webothgotsabag #comettothetablewithmorethanafork&knife #MyPeaceisEverything #AintforfietingmyPeace4nodrawz #Ididntlikeproblemsinschool #TooGrowntoplaygameswithgrownfolk #Findsomeonewhotrulyhasyobackandnotlookingforyowalletbackthere #Truth
Fans' Mixed Reactions
Although fans have love for Deion, they made it clear that just because he's a celebrity, that doesn't grant him an automatic pass when it comes to constructive criticism. Following Deion's post about Tracey Edmonds, many fans questioned why he has yet to marry her after so many years together. They also accused the brotha of being hypocritical, because he isn't fully practicing what he preaches. One fan in particular, must've pissed off Deion, because after the fan called him out for referencing the Bible but not following it, Deion did something he rarely does- commented back to defend himself.
Fan calls out Deion Sanders:
mrgotti7:  I hear you talking, but when will you honor what God truly wants and marry this queen he has placed before you. It's time to make it official bruh. When GOD! Spoke of 1 accord he also meant marriage. Ijs ‍♂️
Deion responds:
deionsanders:  @mrgotti7 how u gon tell me this or that when i have a straight line to God. #Wehaveaplan. Lolol. Much love regardless. Sometimes lets consider some folks really know God.
After seeing Deion's reaction to the fan, many more fans began to chime in on the convo' with mixed reactions…
Many more fans call him out:

More fans show love to Deion & Tracey:
His New Hairline Also Had Fans Talking
And of course there were some fans who disregarded the topic at hand and jumped right back to that new elephant in theroom- Deion's new hairline. They noticed the difference in his old hair, versus his new hair.
Deion's Old Hair…
In case y'all missed the difference, Deion has had to rock a shaved head for many years, due to his thinning and/or receding hairline, which is understandable. But fans are diggin' his new and improved hairline, which has him looking like the 1989 "Primetime" from back in the day.
That wasn't the first time fans reacted to Deion's new hairline though. As we previously told y'all, fans REALLY reacted to it after Deion first surfaced with his new hair in late 2017.
Deion Sanders is loving his new self and his girlfriend, Tracey is obviously loving it too. Do you think his fans have a point though, or nah?