Dru Hill Reveals Terrifying Gun Fight That Caused Woody To Finally Leave Group For Good
Posted On : January 12, 2018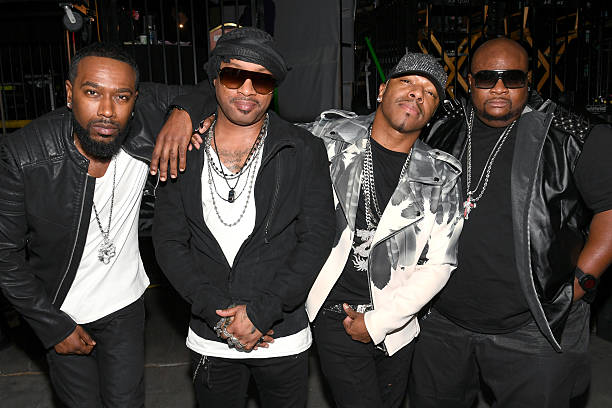 Dru Hill gave us some classic R&B joints, like "Five Steps," "We're Not Making Love No More," "Tell Me," "In My Bed" and many more, still give us that much needed 90's nostalgia to this day. At the heights of their careers, members Sisqo, Nokio, Larry, and Woody were dominating the game. Then seemingly outta nowhere, Woody decided to say 'Peace out' and then two-stepped his way off the stage and out of the spotlight.
After Woody's initial departure some years ago, he rejoined the group again to the rejoice of many fans. Then came that infamous announcement when Woody blindsided his group members, live on the radio, with news that he was once again quitting yet again, to pursue his true passion of being a gospel singer. That resulted in a sloppy fist fight right there in the radio station and Dru Hill fans never heard from Woody again.
Fast forward to today, and the remaining original members, Sisqo, Nokio, and Jazz along with their newest member, Tao (who became Woody's permanent replacement in 2010), have recently revealed the REAL reason Woody left the group. It was due to a very life threatening incident that almost cost them their lives.
The Gun Battle That Caused Woody To Leave For Good
During a recent interview on Power 105's 'The Breakfast Club,' Dru Hill revealed that Woody had been threatening to leave the group to do his own thing for a while, but he ultimately left because of one reason: They were almost shot and killed by a deranged fan. *Scroll down to see video of them recounting what really happened**
Nokio, Larry, and Sisqo broke the whole story down. When they were performing in Paris, they got into a fist fight with a random group of guys after their show. Next thing they knew, things went left in like 0.6 seconds and one of the guys pulled out a gun to shoot them. In efforts to protect them, Dru Hill's security guards grabbed the singers and forced them into their awaiting van. Then the shooter ran up to their van's window, pulled the trigger and thankfully his aim was off, because the bullets flew right past Dru Hill's heads, as they ducked down in the vehicle.
Afterwards, the U.S. Embassy sent massive security to their hotel rooms to protect them for the duration of the trip. When Dru Hill finally headed back home to Baltimore, MD, Woody was like 'To hell with all of this, I'm out for real this time' and that was the end of that. "That was the first time that I knew like, this dude [Woody] is ready to go," said Nokio.
The dumbest part of it all was that the beef started simply because the shooter originally wanted a photo of the group for his girlfriend, but felt that Dru Hill was taking too long to give him one. Check out what else they said about this horrifying disaster in the video above, because there's a lot more (they start talking about this at the at the 29:36 mark).
FYI: If y'all missed Dru Hill's new Christmas album, Christmas in Baltimore, it's been getting great reviews, so it's never too late to cop one for yourself HERE.