Elderly Woman Who Danced With Obamas Turns 110 Years Old, And Has A New Plan
Posted On : March 14, 2019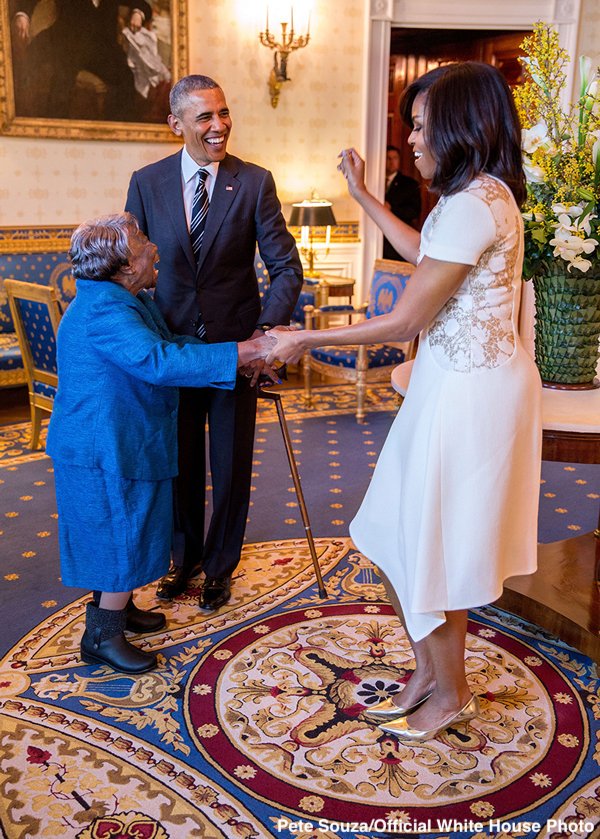 'I Wanna Be Like You When I Grow Up,' Michelle Obama Tells McLaurin…
Those are words that stick with Virginia to this day. According to the source, she remembers letting Mrs. Obama know, "You can."
Likewise, First Lady Michelle hasn't forgotten about McLaurin's impact on her as well. Via Instagram, she commented: "Still dancing at 110 years old—happy birthday, Virginia!" The post has garnered nearly 2.2 million likes already.
Moreover, regarding McLaurin's new plans, she hopes to celebrate many more birthdays in years to come.
"I'm not getting younger. As far as I can see I'm the oldest thing in the District," Virginia says, while laughing during an interview with ABC-7. "I've come a long way. I didn't think I'd ever live to see 110."
According to ABC-7, Virginia McLaurin celebrated her 109th birthday with the Harlem Globetrotters. However, this year, loved ones thought she should calm it down a little.
The source says she was going to celebrate her 110th birthday at T.G.I. Fridays with family and church members.
Nevertheless, after meeting the Obamas, she now wants to meet D.C.'s mayor — Muriel Bowser. While blowing out her b-day candles, it was one of her wishes. She says they both, each, adopted a child.
"She adopted a girl, and I adopted a boy," McLaurin elaborates.
Note: Virginia was born in Cheraw, South Carolina in 1909. She moved to D.C. in 1941, according to CNN. McLaurin has seen 18 presidents come and go!
If you're interested in her full interview, check the video below.
https://www.facebook.com/wjlatv/videos/1666310497001010/
All in all, help us celebrate life and wish our elder Virginia McLaurin a happy 110th! And as always, if you have any comments, feel free to share them via our Facebook page.