"Empire" Actress Has Debate w/Fan Over Her Light Skin & Hair Texture After Fan Shades Her
Posted On : November 30, 2017
If you're a fan of the hit musical series, Empire, then you're probably familiar with it's ever-so-graceful, yet conniving character, "Anika." Although "Anika" is the arch-enemy of "Cookie" (Taraji P. Henson) and the whole "Lyon" family on the show, in real life the only trait actress, Grace Byers, shares with her character, is her high level of poise and grace. Well, that and the fact that she's romantically involved with a "Lyon" son…in real life. In case y'all haven't heard by now, Grace married her Empire co-star, "Andre" a.k.a. actor, Trai Beyers, in 2016.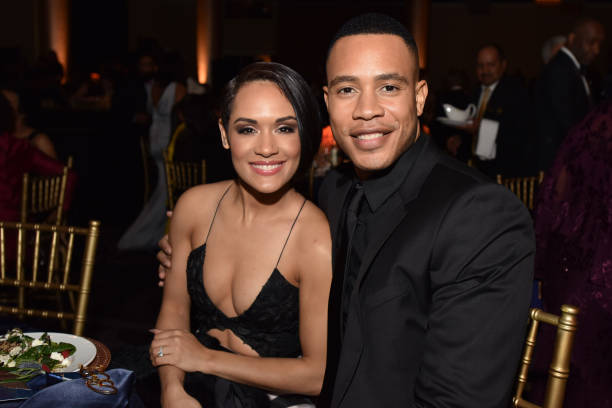 Back to Grace's gracious ways though. She recently displayed much grace and poise during an online debate she had with a fan on Instagram. The debate was over Grace's lighter complexion and her hair texture. The debate was one that is both unfortunate, but understandable at the same time.
Why Grace Had To School A Fan
It all started after Grace's celebrity hairstylist, Ursula Stephen, posted a photo of Grace's latest natural hairdo on social media, with a caption that read, "It's a beautiful thing when you embrace your natural texture!" That's when a debate about society's standard of beauty was sparked in the comments underneath her post.
https://www.instagram.com/p/BbXQ7-uh9Sh/
One fan brought up the sensitive topic of colorism within our society. The brainwashed belief that dates back to slavery and gives the message that 'light is right and black is wack.' And also the ridiculous, psychologically embedded notion that the closer a Black person's features- facial, skin complexion, hair texture, etc.- are to Caucasian, the closer they are to being "beautiful." Those notions are what sparked the fan to point out the insecurities that are oftentimes created from such messages within American culture:
urbanhippeyy: It's a lot easier to embrace your natural texture, skin tone, complexion, body size etc when it is society friendly. But I understand.
Grace's hairstylist soon replied to the fan with this:
ursulastephen: @urbanhippeyy darlin, Beauty is individual. If YOU allow society to decide what that means for you then you have work to do….
To which the fan replied:
urbanhippeyy: @ursulastephen I'm not speaking of myself. My comment is not negative, she looks amazing. I'm speaking in general. It is easy for a person to say I embrace myself when everyone around you is already saying you are beautiful as suppose to when there are no images associated with your beauty. Is that not true?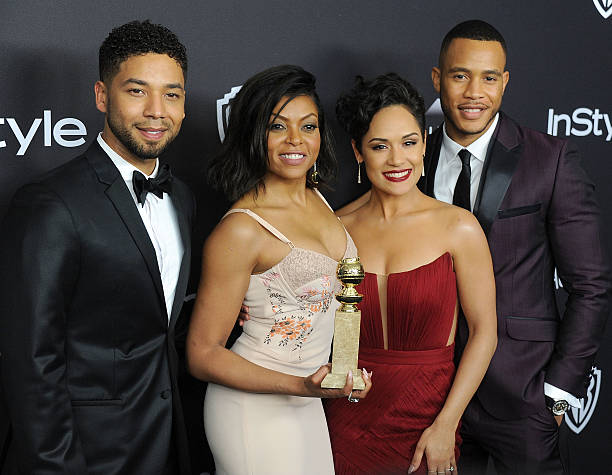 Grace's Reply:
That's when Grace stepped into the debate and gave a more poised reply to the commenter, regarding the dark skin/light skin/good – hair/bad hair debate:
ladygracebyers: @urbanhippeyy Hi Lovely 🙂 Allow me challenge that mindset: those who have a hard time embracing themselves will continue to have a difficult time doing so – with or without society's praises or accolades. This is because someone embracing themselves is never contingent upon the outside world. It's, instead, a struggle within. Seeing reflections and parallels of those who look like you on large scales is absolutely encouraging and motivational – it can even be life-changing. But it should neither confirm nor define who you are. If it does, then when society wants to degrade these same images, we will feel discounted too. True embracing of self happens outside of society and if society happens to jump on the boat; alright. If not, we know that we are fearfully and wonderfully made in God's image so we can always celebrate our own beauty – whether or not society does. Love and light to you, Beauty. ❤️
All three of the ladies made great point. So ILOSM family, which side do you think is most beneficial to helping young children of color build their inner worth?
1. Changing the many external images and negative stereotypes about themselves that our society is constantly feeding them?
2. Or waiting until they're old enough to truly understand the concept of colorism and then encouraging them to recondition themselves to unlearn all of the BS they were force fed through our society?