Fans Slam Ex-Wife Of Will Smith After Her Recent Post Of Her And Will Smith
Posted On : May 13, 2018
Will Smith and his ex-wife, Sheree Fletcher spent only two years together as husband and wife (1992-1995), but they created a lifelong bond through the birth of they're son, Trey Smith (25). Even though Jada Pinkett-Smith, Will, and Sheree have a beautiful friendship today, Jada and Sheree made it no secret, during their recent "Red Table Talk" discussion, that it took a LOT for them to reach that space. Well, after seeing the new online post Sheree just shared, fans now believe she wants Will back, which has forced Sheree to defend herself amid the drama…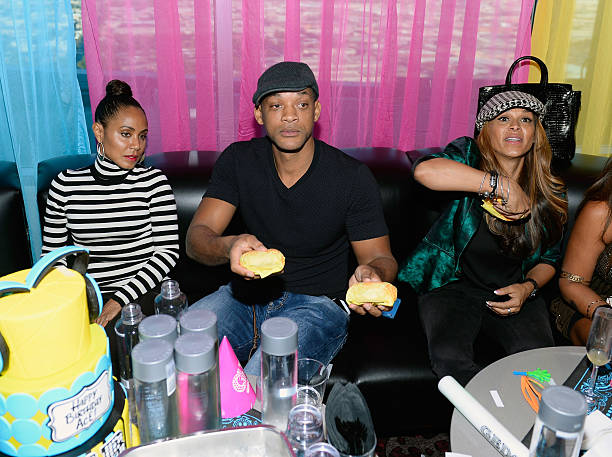 The Post That Sparked The Drama
The reason fans are dragging Sheree to 'the land of Thirsty-ville' and back, is because of a new Instagram post she shared of herself, Will, and their then baby son, Trey. After seeing Sheree's IG trip down memory lane, many are accusing her of thirsting after Will and disrespecting Jada, by sending subliminal messages that she misses living in marital bliss with Will Smith and their son.
https://www.instagram.com/p/BimeVkTHsKY/
Fans Drag Ex-Wife
Although there were fans who supported Sheree's throwback post, there were also many other Will & Jada fans who called her out over it. Below are just a few of the comments fans left for Sheree on Instagram:
One fan wrote, "She definitely wish she didn't fu*k up with that rich ni%&a!!!Nothing wrong with having sweet memories lol."

Another one commented, "Sure about that Sheree ? Not for nothing but for whatever reason you made the decision to leave and you came to terms with that , however there was a bit of sadness in your eyes watching you on the red table talking about the unwinding of your marriage. Plus you love the father of your child but not Jada's man ?!! Anyway stay blessed.

And another one said, "@shereefletcher well get back on that ship sis, i love it. I feel like y'all talking isn't genuine.. i see it in your face, like you said, it still hurts. GO GET HIM."

One commenter also accused Sheree of attention grabbing, "It is absolutely wrong, disrespectful and messy. It looks like you need fame attention."
Smith's Ex-Wife Claps Back
https://www.instagram.com/p/Birr2OKHqfN/
As several commenters pointed out, during Jada's and Sheree's emotional "Red Table Talks" chat, Sheree cried while boldly admitting she regrets leaving Will because it robbed their son, Trey (pictured above), of the opportunity to have the family unit that Jada and Will have with their kids, Jaden and Willow. Although that was very big of Sheree to admit that to not only to Jada, but to the world, she is adamant that she does not want Jada's man. In fact, that's the very sentiment she stated in her clap-back response to the current backlash she's getting over her throwback post of her and Will:
Sheree Fletcher: "This is a great and interesting discussion – I can't post a picture of my SON's parents without criticism – for the record, I LOVE the father of my child but I DO NOT want @jadapinkettsmith MAN!"
Sheree then tagged Jada in the comments to ask her thoughts on the backlash and suggested that this be their next topic of discussion on Jada's Facebook Watch series, "Red Table Talks":
"@jadapinkettsmith This has to be a part of our next discussion! Is it inappropriate for me to post a picture of @willsmith & I with @treysmith0011"

Needless to say, after Sheree's reply, many fans still didn't believe her and told her so.
What say you ILOSM family? Did Sheree cross the line, or no?
Join us on Facebook for the most engaging discussions from the Old School! Old School News With A New Point Of View!