Fans Stunned By The Many Things Hugh Hefner Did For African Americans
Posted On : February 13, 2021
Hugh Hefner died in September 2017, at his home at the age of 91. We all know Hefner for creating Playboy Magazine, the Playboy Clubs, and living in the Playboy Mansion. However, many of us didn't know that he bravely helped African Americans, as well as other oppressed groups, during eras when White people were socially and personally ostracized for doing so…and sadly, sometimes even killed.
Some Of The Ways Hefner Fought For Civil Rights
Hefner contributed to many civil rights causes and worked with many civil rights legends who ultimately became some of his closest friends throughout the years.
1. He funded the PUSH Coalition, which was spearheaded by Rev. Jesse Jackson and largely dedicated to fighting for civil rights for African American people.
Hugh Hefner was a strong supporter of the civil rights movement. We shall never forget him. May he Rest In Peace. pic.twitter.com/oL3lKLZRQ5

— Rev Jesse Jackson Sr (@RevJJackson) September 28, 2017
2. Hefner was a very loyal supporter of Martin Luther King Jr. during the civil rights era. He also risked losing a large part of his fan base, by publishing interviews with Black civil rights icons in Playboy Magazine, including Muhammad Ali, Martin Luther King Jr. and Malcolm X at a time when that was deemed 'too controversial' to do so.
3. The late Dick Gregory, who died on August 19th 2017, also revealed that back in the day, it was Hefner who gave a $25,000 reward to help solve one of the most brutal murders of the civil rights era: three young civil rights activists killed in Meridian, MS.
4. Hefner revealed, in a 2011 CBS interview, that when he franchised his Playboy Club back in the day, he had to check the franchise buyers for making Black performers go through the back entrances of the venues:
"I felt from a very early age that there were things in society that were wrong, and that I might play some small part in changing them […]When we started franchising, when they refused our members, the black members, entrance, I said, 'You can't do that, these are members of our club.' And we literally bought back the franchised clubs," Hefner said.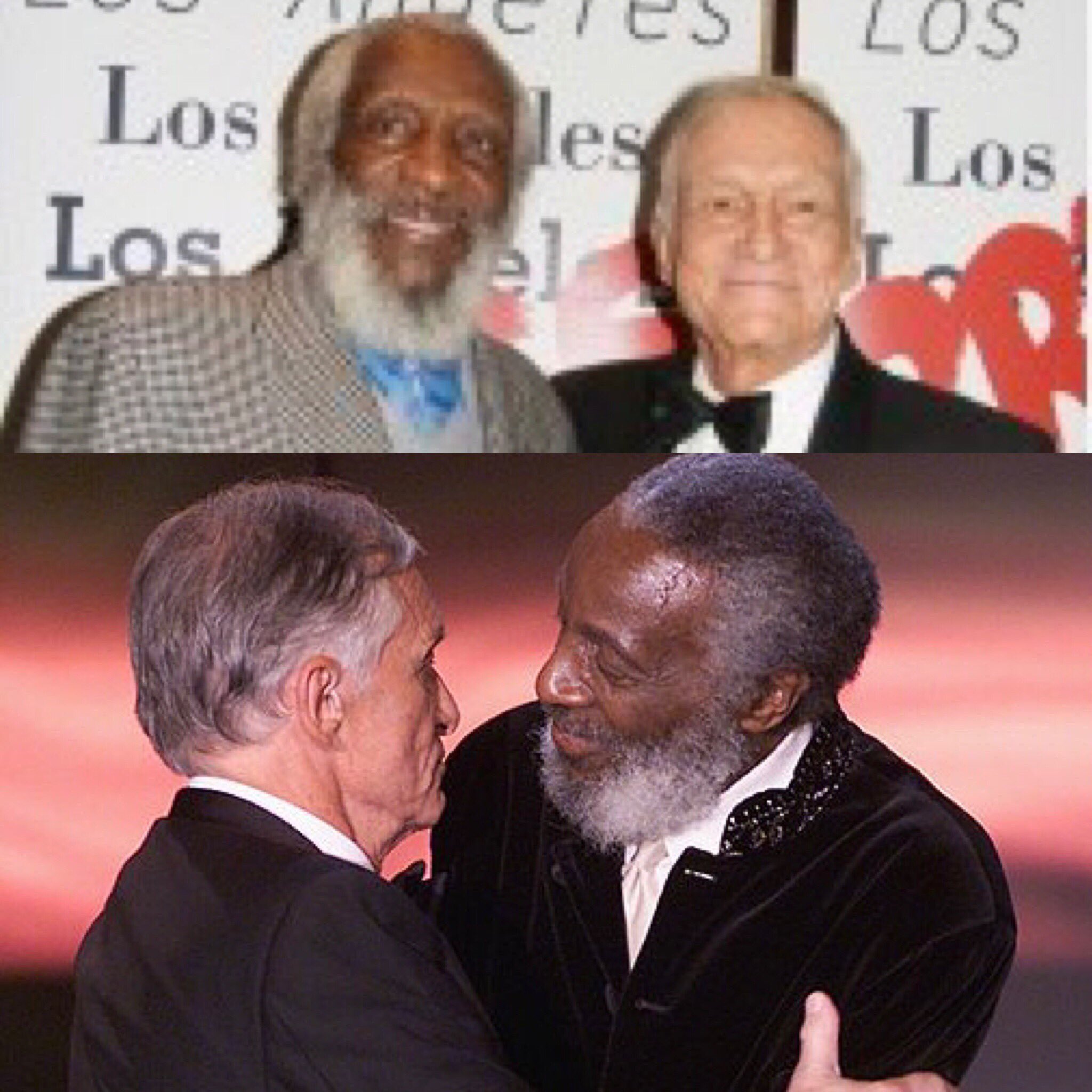 5. In 2001, during a Comedy Central roast of Hefner, his friend, Dick Gregory, got choked up when talking about how Hefner helped him. Gregory credited Hefner for having the courage to push back against the social norm for White America during the segregation era. Gregory said Hefner opened the doors for him and many other Black entertainers, by using his iconic Playboy Clubs to do so:
Gregory to Hefner- "You had a courage when no one was bringing in blacks and minorities, and let you stand flat-footed in America and just talk, you brought me in. […] You didn't give me a lecture. You gave me no instructions. […] I come here tonight not to roast you, but to say that had you not had the guts back then, we black comics that the world has been able to look at and understand our genius, we would be in some pot, roasting in debt, knowing we were never going to make it. [..] So I say I love you. We thank you. Gold bless you, my brother."
Watch Dick Gregory Show Gratitude To Friend, Hugh Hefner
The above video was a beautiful thing to see for several reasons: (1) In a world that is seeing hatred spewed in every realm of our society, the colorblind love among many -such as that between Gregory and Hefner- sometimes gets overlooked; and (2) Dick Gregory was sometimes misunderstood and labeled as a racist. Seeing his love for Hefner shows that he clearly was not. Though Mr. Gregory wasn't racist, he was in fact a realist throughout his endless fight for equal rights, and Hugh Hefner understood that. May they both continue to rest peacefully, after an incredible job well done.