Fantasia Gives Great News About Brother Who Almost Died Months Before Her Nephew Was Killed
Posted On : March 3, 2018
The past six months have been filled with heartache and tragedy for Fantasia and the rest of her Barrino family. In September 2017, Fantasia's brother came close to the fate of death in a motorbike accident. Six months later, sadly, her nephew's fate turned out far more tragic than her brother's, he was killed in February 2018. In the midst of the their extreme grief, the Barrino family has just been graced with some light about Fantasia's brother. Hopefully, a light that will help to further motivate them to keep pushing forward.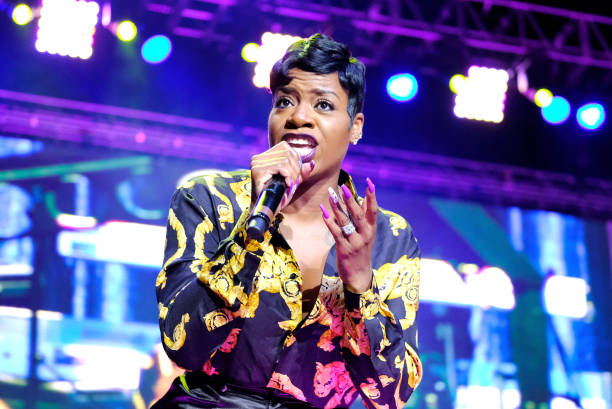 Details On Fantasia's Brother's Severe Accident
As we previously reported, on September 5, 2017, Fantasia's 21 year old brother, Xavier Barrino, was severely injured in a motorcycle accident. At that time, Fantasia immediately took to Instagram to ask for prayer:
"All of you who follow or see this PLEASE PRAY NOW please please please for my baby Bro please he is my Heartbeat PRAY Warriors PRAY."
She later posted another Instagram announcement, stating that Xavier had 6 surgeries in just 7 days and that he would eventually have to learn to walk again. Now there is some good news…
Great News! Fantasia Gives Update On Brother's Progress
As of March 2nd, 6 months after Xavier's accident, Fantasia has taken to Instagram with a very inspiring video update about her baby bro. He's just stood up for the first time since the accident and their mother, Diane Barrino, caught it all on camera. Although Xavier needed the assistance of both his mother and his physical therapist to stand up, the sheer determination and will to recover was very evident in his face. In Fantasia's caption, she wrote:
"My Father is Awesome 👏🏾😢 @xavierbarrino I'm so proud of you baby You never gave up the fight I TOLD YALL HE WOULD WALK AGAIN AND IM STANDING ON THAT "HE WILL" Father THANK YOU 🙏🏾
Watch that young brotha finally stand in the video below…
https://www.instagram.com/p/Bf1wPe3hyir/
As you can see, standing up is very painful for Xavier and requires a lot of his energy, but he is not quitting and that means he's already won half the battle. There's still grief in the Barrino family though…
Nephew Of Fantasia Tragically Killed Weeks Before Brother's Accident
On February 13, 2018, the tragic news that Fantasia's nephew had died, surfaced all over the internet. His name was Tyquan Washington and he was just 18 years old, when he was shot and killed in Greensboro, NC. It was reported that Tyquan had gotten into an argument with a 21 year old suspect, named David Lee White, Jr. and the argument spilled into the streets. During the altercation, White, Jr. allegedly shot Tyquan, who later died at a Greensboro hospital. Fantasia took to Instagram to share the tragic news about her brother/singer, Ricco Barrino's, son:
Ty 😢 Auntie is So Sorry Baby 💔 RIP to my Oldest Nephew Please Pray for his Mother and my Brother @riccobarrino & his Stepdad
https://www.instagram.com/p/BfJ8OZIBwKA/
Ricco Barrino (Fantasia's Brother) Shares Emotional Letter To His Murdered Son

Ricco, who is best known for the recent hit song, "California," is devastated by his son's murder and shortly after Tyquan died, Ricco posted an emotional letter online:
"@riccobarrino: A love letter to my son. dear son I needed to write this sooner but it's funny how life make you aware of your own unconscious procrastinations. I wanted you to know that from the depths of my heart your daddy loves you and he always has. I remember holding you for the first time that's when I knew that I had to do something other than work in somebody's factory so that one day you could look up to me. As I write this letter with tears streaming down my face I want you to know that I showed you tough love because I knew you were something special. I never forget the first time that me and your mother took you to gymnastics for tryouts. I remember the lady walking over to us and telling us that we would have to wait behind a long list of other kids lol I guess she didn't know what my kid was capable of because when she turned around she spotted you turning somersaults as if you were in the US Olympics. I remember her immediately turning around and tell us have your kid here next week! I remember your mother smiling from ear to ear because she knew that the people really didn't want you in their program until they seen what you could do. I knew you were special when you came out the womb I remember watching you run fast and play with your uncle Zay with your little plats in your hair those high cheekbones like your mother and that little raspy chuckle you used to do while you had on your number seven air Jordans that was so small they look like little lightning Rods as you ran across the floor and wrestled with your uncle. I knew you were special when all the older kids wanted to hang with you. I knew you were leader at that moment and All the way up to your first big 18th birthday. I'll never forget that birthday I was smiling from ear to ear telling everybody in the studio that my son is finally becoming a man. I wanted to be there every day for you and there wasn't a day that went by I didn't wonder where you were. Well on this day you became a bigger man when you put on a pair of wings and did what I have yet to do. So you show me your leadership skills. you go join hands with your grandma and kiss for me. You sing loud for me up there.
Love dad🌹 R.i.p T.W"
The Barrino family have been displaying a lot of strength amid such horrific times. We'll continue to keep them in our thoughts and prayers.