Halle Spotted Reunited With Daughter's Dad After He Reportedly Called Her N-Word
Posted On : May 14, 2018
Halle Berry is an exceptional actress, but in her love life, she's had her fair share of unfortunate hiccups. One said hiccup, gave the 51 year old Hollywood legend the biggest blessing of her life though – that is her adorable 10 year old daughter, Nahla, with her ex-boyfriend/model, Gabriel Aubry (41). Following their breakup in 2010, Gabriel was not someone Halle was fond of by far. In fact, she's even had to take dude to court for some horrible reasons. However, on Mothers Day (2018), Halle found a way to peacefully co-exist in the same space with Gabriel, for the sake of their daughter.
Did Halle Really Seem Happy To Be There?
Photos have just surfaced of the used to be happy family, successfully having a pleasant co-parenting moment at at a carnival in Los Angeles, Ca.. Although Halle and Gabriel seemed to have buried the hatchet these days, Halle's body language spoke volumes in a very subtly way. Gabriel Aubry was all smiles during their outing, but Ms. Berry looked like she was just tolerating him and being cordial. Check out the pics below…
Halle Berry, 51, and ex Gabriel Aubry, 41, enjoy day out with daughter Nahla, 10, at carnival https://t.co/MKwUxk7NLw pic.twitter.com/a0fflEoim6

— thecelebdiary (@thecelebdiary2) May 14, 2018
Halle Berry, 51, and ex Gabriel Aubry take daughter Nahla to carnival  https://t.co/qlpWW9UV6W via @DailyMailCeleb

— Gina Lawriw (@GinaLawriw) May 14, 2018
Now, we don't know where they stand as far as a relationship goes, but we DO know they had some crazy drama surrounding the many allegations Halle unleashed about Gabriel over their daughter and her race. Read on for that scoop…
Halle Claims Ex Used N-Word Against Her & Tried To Turn Daughter White
A while back, two years after the birth of their daughter, Nahla, Halle and Gabriel parted like the Red Sea in 2010. By 2014, Halle was blasting Gabriel- who is White- in court over racially motivated issues. According to Mail Online, Halle provided the court with a personal note that Gabriel had written her, in which he called her a "nig*er." She and her attorney presented the letter to the L.A. County Superior Court Judge, Mark Juhas, to further prove that Aubrey clearly has some disdain for African Americans, which is part of who their daughter is:
Via MO: [Judge Juhas] said: The racial epithet made by Petitioner [Gabriel Aubry] was and is completely and totally unacceptable. Nahla is a child of both of these parents, making this sort of comment about Respondent [Halle Berry] affect the very core and being of Nahla. And when Petitioner attacked Respondent for what she is and who she is, he was attacking Nahla because Nahla is part Respondent. And Nahla is part Petitioner. So when Petitioner did those things, that does serious damage to Nahla because he is attacking her core being, who she is."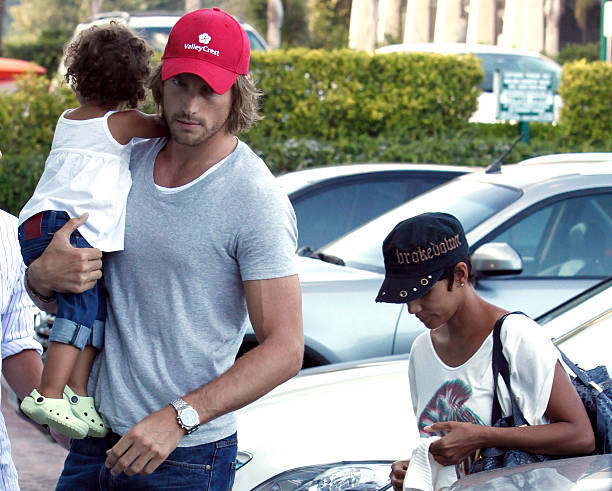 Ex Blamed For Trying To Turn Their Daughter White…
Then came Halle's testimony, where she connected Gabriel's racial slurs to his desire to strip Nahla of her African American heritage as much as possible. She accused him of dying Nahla's hair blonde and straightening her hair texture.:
Via DailyMail– In her testimony, Halle said: "I strongly feel that Gabriel's same underlying attitude is at the root in the changes which only he could have been causing to our daughter's hair." She told how she had secured scientific evidence to prove she is not "delusional," as Gabriel had called her, "about the extensive damage and the changes to the texture and color of Nahla's hair that were observed by me. I was not willing to allow this to be a 'he said-she said' dispute." And she noted: "I continue to worry about the potential psychological and physical damage to Nahla that can be caused by the use of chemical hair treatments and the psychological message that it conveys to Nahla, and to implore the court to put a stop to Gabriel's attempts to alter our daughter's appearance and most probably cause her to wonder why her natural appearance is not good enough."
Some women would have told Gabriel Aubry to kick rocks…forever! But at least it now seems that Halle and Gabriel are trying to mend the broken fences for Nahla. Wishing them luck with that.