Jada Has Proud Mom Moment: Shows Off Son's New Cool Business Venture & Performs w/Daughter
Posted On : October 16, 2017
There are two things we love about Jada Pinkett-Smith here at ILOSM- her impeccable acting the fact that she is a ride or die chick when it comes to her and her man, actor Will Smith. That's why it comes as no surprise that when it came to what she and Will's daughter, Willow, and son, Jaden, just did, Jada was their biggest cheerleader. Pretty sure Will is cheering them on too, but since he pretty much keeps his personal life outta the public's eye, we have no concrete evidence to show y'all. Anywho, Jada sometimes shares a few updates about her life and kids. So let us show you why she's probably having a Klump movie "Hercules, Hercules" flashback for her babies…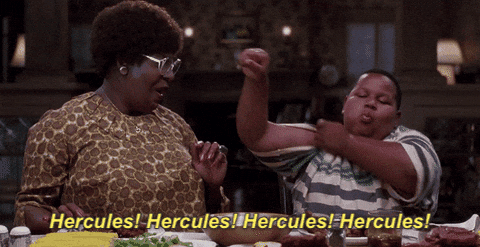 (VIDEO) Jada's Super Proud Of Jaden's New Business Venture
Jaden Smith has entered into a new business that's totally different from his acting and music careers, but still requires a certain level of creativity nonetheless. He's become serious about helping to save the earth and eliminate toxic pollutions.
One way he's doing so, is through his new sustainable water bottle company, called JUST Water. In other words, Jaden's company created a new line of bottles from upcycled, reusable goods that help eliminate the dangerous amounts of plastic typically used. Jaden's JUST Water bottles are made up of 80% renewable materials, which he says means that they are "not made of plastic." In a video Jada recently posted online, her son spoke about why he felt compelled to create the environment friendly water bottles and it's evident that he is passionate as hell about it. Check it out below:
It's now become widely known that plastic pollution is a serious problem that is causing harmful, life threatening illnesses to humans and is killing off wildlife. So it's impressive to see Jaden doing his part to help curve that. Most 19 year old dudes could care less about 'saving the planet.' C'mon now, y'all know at that stage of their lives, getting women (or men…whichever they prefer) is a much more typical point of interest, just sayin.' Moving on…
Jada Cuts Up On Stage With Daughter, Willow
We already know that both Jada and her 16 year old daughter, Willow, are cut from the same clothe when it comes to their love for the stage. Jada once had her rock band, Wicked Wisdom, and Willow has her solo thing going on. So it was only natural that when Willow recently performed at the AfroPunk Fest in Atlanta, she showed up to support her baby. Not only did she show up though, Mrs. Smith stepped on stage and showed out with Willow for a hot second. Watch it below…
And just so we know it's real, Willow took to Instagram to put her singing and guitar plying skills to work.
https://www.instagram.com/p/BaSAKbmgfmR/
For a while, many of us were starting to get worried about the Will and Jada's kids. The red flags were that emotional breakdown Jaden posted on Instagram Live a while ago, and the controversial grown up photoshoot Willow did, which had folks talking. As of now though, the Smith's kids -who are still just as creative and eclectic as they ever were- seem to have their minds right and are accomplishing some great feats in life. Big ups to the Smith family!