Jill Scott's Ex-Husband Demands $500,000 For What He Claims Are 'Her Unspeakable Actions'
Posted On : January 23, 2018
Jill Scott and Michael Dobson initially seemed like a match made in heaven when they tied the knot back in June of 2017. But unfortunately, their honeymoon was short-lived because the two filed for divorce less than six months later. In fact, the divorce has escalated into a nasty legal battle. Now, Dobson has filed legal documents detailing his nightmarish marriage to Jill Scott and he also has another demand he's hoping the court will approve.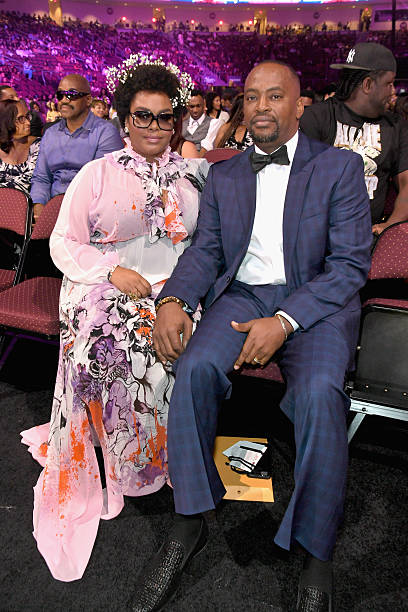 A Hell Of A Life:
According to Bossip, Dobson now claims his marriage to the "Gettin' In The Way" singer was a disaster from the very beginning. In the documents, he detailed how he was treated while married to Scott. He also claims she never made an attempt to save their marriage and played a major role in destroying their relationship. "To (Scott), marriage is a matter of trivial convenience at best and a dispensable annoyance at worst, evidenced by the lightness, dismissiveness, and dehumanization," Dobson's countersuit reads. "(Scott) never attempted to salvage the marriage, which she strenuously endeavored to destroy."
The Signed Prenup:
Dobson's legal team is also requesting that their signed prenup be tossed out. Although Dobson admits that he did sign the document, he now claims his estranged wife and her lawyer pressured him to do so three weeks before the wedding. Then to make matters worse, Dobson reportedly did not have a lawyer to review the paperwork before he signed it. In the countersuit Dobson filed, he is also demanding half of their marital assets and a whopping $500,000 for pain and suffering. "(Scott) has acted and continue to act categorically and diametrically the opposite of her contractual duty of good faith and fair dealing under the marriage contract," the husband's court docs state. "As a result of her unspeakable actions, Dobson has suffered and continues to suffer from her malignant schemes."
"Dobson has been a model of honesty and integrity," his counter complaint states. "He loved and committed himself to (Scott) fully and unconditionally and gave her and her family his entire all. In return, Dobson has been treated with nothing but trivialization and alienation."
At this point, it's unclear how the legal situation will turn out, but it looks like Jill and Mike will be going back and forth for quite some time.