Lil Mo Hates That Many Judging Fabolous After He Reportedly Knocked Out Girlfriend's Teeth
Posted On : April 4, 2018
Some things are better left unsaid and for singer/reality star, Lil' Mo,' that time is probably now. She recently spoke out about the violent altercation that was caught on camera and landed rapper, Fabolous, with one count of third-degree aggravated assault and one count of making terroristic threats in the third degree. The altercation was between Fabolous, his longtime girlfriend/mother of his children, Emily B.; her dad and brother. Lil Mo is now defending Fabolous and many are shocked.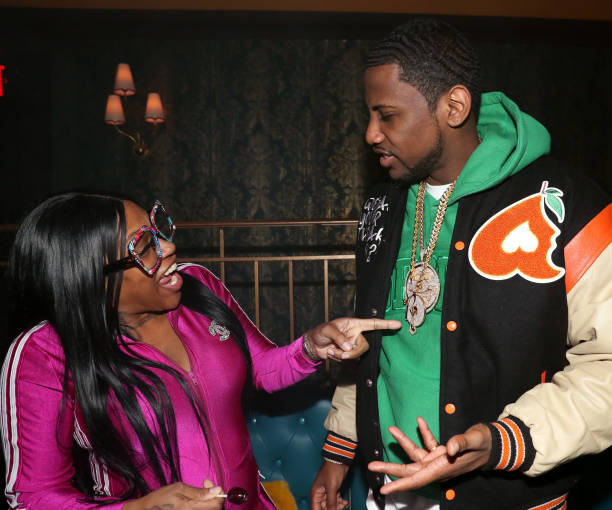 Recap of Violent Altercation
In case y'all have been outta the loop for the past few days, here's a quick recap. Fabolous and Emily B.'s 12 year relationship has long since been rumored to secretly be plagued by domestic violence. It was also first reported by NorthJersey.com, that Fabolous was arrested on March 28, 2018, for badly beating Emily B., allegedly knocking out her two front teeth and threatening to kill her dad, who came to her rescue:
Via NJ- Englewood Police said in a statement the rapper [Fabolous], whose real name is John Jackson, turned himself in at 8:30 p.m. Wednesday on a domestic dispute and making a terroristic threat charge. … Court documents show the alleged crime stemmed from an earlier incident on March 7, when Jackson while in Los Angeles on a business trip "became enraged" when he found out via Instagram the victim [Emily B.] was also in Los Angeles.

According to an affidavit of probable cause, while on a flight back from Los Angeles, the victim told police that Jackson, 40, said via text he wanted to hit her in the head with a baseball bat and that he would kill her but he "did not want to go out like that." The victim told police she was scared because of the March 7 incident. The victim was later punched by Jackson seven times in the face "causing severe damage to her two front teeth." She ended up losing her two front teeth, according to court documents.

Because of the incident, "the victim called her father to remove two handguns from the residence due to her fear that they may be used against her," according to the affidavit. When Jackson arrived at the Kenwood Street residence, he confronted the victim, her brother, and father, but then went to the upstairs of the residence looking for the handguns, which had been removed. "When he could not locate the guns, the defendant left the house, but not before informing the victim, her father and her brother that he had a bullet for them," according to court documents.
Wow, so Fabolous really did threaten Emily B and her dad. You can tell he probably put his hands on her by the way he approaches her. pic.twitter.com/Z23VAM2rWT

— I Luh God ✨ (@aVeryRichBish) March 31, 2018
A few days later, video (above) surfaced of Fabulous reportedly holding a sharp object in his hand on the day of the alleged altercation, as he threatened to shoot and kill Emily B.'s dad. He was also seen charging after Emily several times, spewing all kinds of hostile words toward her, as she screamed and ran from him. Emily's dad was pissed off after learning that Fab' reportedly punched Emily at least 7 times and allegedly knocked her teeth out.
Lil Mo' Defends Fabolous
It sounds and looks ALL bad, right? Well, not according to Lil Mo. She thinks that despite the police report and video footage, people are taking it way too hard on her homie, Fab.' Here's what she had to say in a Revolt TV interview:
"I was just talking to him [Fabolous]. … "He's good. I hit him up and said 'I love you.' He hit me back and said 'I love you too and I appreciate you, Mo.' I don't know the logistics. Honestly, even though I'm a part of the culture, I don't get involved in [gossip]. I know a lot of stuff is hype. How did they get this information? People have turned this thing from one thing to another. What the f—k is going on?"

"I'm not letting him go out like that. … I'll 'Olivia Pope' this situation before I let somebody take my brother down. Something don't seem right."
Thoughts on this ILOSM fam?'