Meshell Ndegeocello Sparks Racial Debate After Slamming The Hell Outta Bruno Mars, Fans React
Posted On : March 9, 2018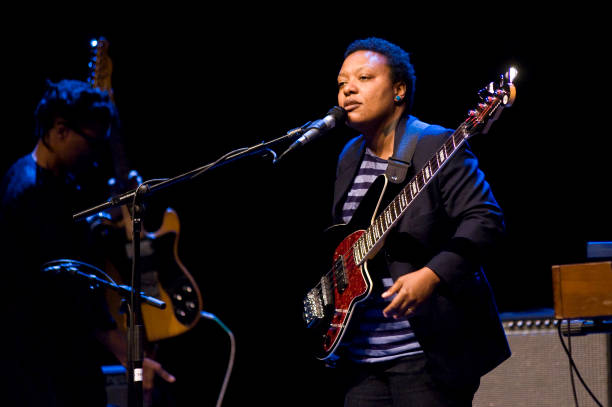 Meshell Ndegeocello usually stays under the radar, but today, she's a trending topic. Why? Because she opened a big can of worms with her recent interview. As expected, the hella talented 90s musician/singer discussed her career and the moves she's making these days: new music, great covers, and other opportunities are on the horizon. But the part of her interview that really turned heads, centers around her brutally honest opinion of one of todays biggest pop artists in the game- Bruno Mars. Apparently, Ndegeocello ain't moved one bit by Bruno, no matter how many records he sells, or how many awards he wins. Her words were loud and clear. In a nutshell, You Made A Fool Of Me" singer doesn't see the "24K Magic" singer as an example of originality. She broke it all down during her recent interview with Billboard.
All Karaoke, Nothin' Real:
During the interview, Ndegeocello was asked about Bruno Mars. For those who don't know, Bruno racked up at the 2018 Grammy's, taking home six awards for many of the major categories, including Best R&B Performance, Best R&B Album, Best R&B Song and Best Engineered Album, Non-Classical. In fact, his 24K Magic album even won "Album of the Year." With more than two million records sold, Bruno Mars' third album has been certified double platinum. We all know with the digital world we live in, it's hard for a talented artist to get a certified gold album. So, it would seem like Bruno is an exception to the rule, right? Apparently, not to Meshell Ndegeocello. She made it clear she isn't too impressed with the Bruno's modern-day version of 'New Jack Swing' and other 80s and 90s elements. In a nutshell, she sees it as "karaoke."
Meshell Ndegeocello: "What he's doing is karaoke, basically. With 'Finesse,' in particular, I think he was simply copying Bell Biv DeVoe. I think he was copying Babyface. And definitely there were some elements of Jimmy Jam & Terry Lewis back when they worked with Human League. I feel like there's just all these threads running through there but not in a genuine way."
When asked about the thin line between karaoke and artistic freedom, she admitted there's a way to manipulate elements of the past and make it your own but you have to find that balance:
"It's really a matter of musicality and being able to manipulate the tropes in a way that makes it feel personal. It can't just be a pastiche, where you're copying or mimicking an old sound or just doing karaoke. There has to be a form of sincerity."
Fans' Reaction:
Of course, Ndegeocello has opened the door for a huge debate. While many people have agreed with Bruno Mars' ability to slip through the cracks because his music caters to urban culture, others actually defended him, arguing Ndegeocello is intimidated by the singer's success. However, many social media users are on the fence about the issue, because they feel Bruno just played his cards right by catering to a specific group of listeners. So, it's obvious there's a little love/hate goin' on where Bruno Mars is concerned.
One reader wrote:
"The petty part of me just can't stand him. I also hate when people use the Puerto Rican defense when way more than half of Peurto Ricans identified themselves as White on the census. Bruno Mars is mediocre in every way, and his love of R&B and soul never seems organic. He, like many of the White artists who do the same thing, know they can become more successful doing that type of music because they aren't Black. Anybody who is not Black who puts on a Black costume to appropriate the culture can be called out. The fact that Bruno even has an AOTY Grammy proves he's not Black because some of the most revolutionary Black artists (Prince) of all time never won it. Also, 'The Story of O.J.' and 'XXX' alone are better than anything Bruno Mars has released in his whole career."
In Bruno's defense, another fan wrote:
"I find Meshell's comments to be hella petty & jealous. Look: Bruno Mars has admitted to admiring and intentionally sounding like lots of artists that pre-date him. But as a true-blue-music addict, a fan of various genres and artists, as a 40-something with musical tastes that go back to the 50's, I truly do not believe that Bruno is mimicking or doing karaoke-ish replications of anyone's music. Part of the problem is that those of us on the other side of 35, 40, have a wider range of music in our memory banks than the under 30 set. Whereas everything Bruno does may sound new to them, from start to finish, we are reminded of similar artists & songs from the past. What's wrong with that? It's no different from wanting to be an actress because you like Angela Bassett or wanting to cook because you like Rachel Ray. Choosing the same career as an idol doesn't mean that you're trying to be them. Damn, let the man live!"
Do you think Bruno Mars (1) straight up jacked 80s/90s legends as Meshell Ndegeocello stated; (2)  just played his cards right, or (3) is he original? Talk to us ILOSM fam.'
Join us on Facebook for the most engaging discussions from the Old School! Old School News With A New Point Of View!