Mo'Nique's Husband Breaks Down In Tears Over Netflix Deal As Mo'Nique Takes Shots At Oprah Again
Posted On : January 25, 2018
Comedian and Oscar award winner, Mo'Nique, is not backing down from her boycott of Netflix. Recently, on her podcast, Mo'Nique was joined by her husband, Sidney Hicks, as they chopped it up about race and gender inequality. Hicks, who is also Mo'Nique's manager, became so emotional that he was moved to tears. He shared that his tears were not due to sadness, but due to the adversity that he has faced as he stands by his wife's side.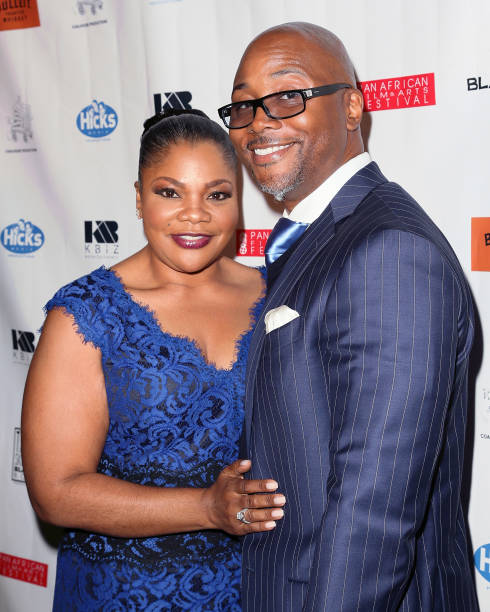 Hicks revealed that he made a promise as a husband, that he would support his wife in following her dreams. With supporting his wife, Hicks is prepared to face the criticism that often comes with standing against the injustices of the world. For Hicks, it's not about the money, but it's about the principle because he is committed to doing what he believes is right. **Scroll to bottom to see the video**
Apologizing for his tears, Mo'Nique celebrated her husband and praised him for being a gentleman. Calling her man "Daddy," Mo'Nique explained that she refers to her man as "Daddy" because he is raising her. Mo'Nique stated that the old Mo'Nique would have really put some people in their place. However, Mo'Nique said Hicks is teaching her empathy and helping her to show love towards people who are not supportive.
Speaking on their Podcast, Mo'Nique and Sidney explained that they are not budging from the Netflix boycott because they feel that the issue is bigger than Mo'Nique. To them, it's about bringing awareness to the racism and sexism that occurs in the entertainment business. Mo'Nique shared that two white men understood her plight as African-American men, such as Tony Rock, Steve Harvey, and Charlamagne Tha God are questioning Mo'Nique's views. She even mentioned that Charlamagne Tha God gave her 'Donkey Of The Day' on The Breakfast Club's radio show. Stating that the Netflix offer bothered her conscious, Mo'Nique is speaking out against Netflix for allegedly offering her $500,000 for a stand-up comedy special while offering millions to Amy Schumer, Dave Chappelle, and Chris Rock.
"If you keep taking less, when can you get more?," Sidney Hicks stated.
Feeling violated, Mo'Nique stated that she had to take a stand because she believes that she has been treated unfairly. Calling herself 'the most decorated comedian,' Mo'Nique believes that she is as much of a legend as Rock and Chappelle. Stating the names of African-American comedians, Mo'Nique and her husband shared that they aren't questioning the millions that Amy Schumer, Dave Chappelle, and Chris Rock were offered, they simply believe that Mo'Nique deserves those same offers. They also feel the same way about other comedians who are women of color.
"I couldn't accept that low offer, because if I did … I couldn't sleep at night," Mo'Nique told 'Sway in the Morning' radio show. "I say this humbly: I am the most decorated comedian alive, but if I accepted $500,000, what does Tiffany Haddish have coming? If I accept that, what does the black female comedian have coming? Because what they'll say is, 'Mo'Nique accepted this and she's got that.' So what do they have coming?"
In the podcast, Mo'Nique stated that she and Jada Pinkett-Smith are from Baltimore and understand what it feels like to be treated unfairly. She then shifted the convo' to Oprah Winfrey, whom she's had issues with in the past. While people many praising Oprah, Mo'Nique implied that Winfrey has done nothing for black women because she remains silent on many issues that affect them. Calling people "uncourageous," Mo'Nique shared that change doesn't happen with silence. Overall, despite all the backlash that she has received, as you can see, Mo'Nique is not standing down. Check out the video clip below…
Watch Mo'Nique's Husband Get Emotional About Netflix Boycott
Go Here For The Full Podcast! https://www.pscp.tv/w/1djGXMrDbEvJZ