Moving On Already? Usher Reportedly Had His Eye On An Actress Before Announcing Split From Wife
Posted On : March 8, 2018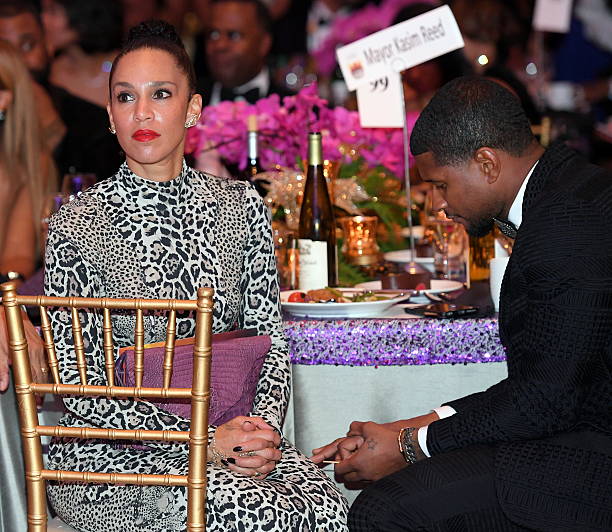 A couple days ago, Usher and his wife Grace Miguel made an announcement that actually didn't come as much of a surprise to fans. As we previously reported, just months after Usher's highly publicized Herpes scandal, he and Grace have announced they're parting like the Red Sea and moving on. Although Usher reportedly does not have Herpes, that doesn't mean he wasn't creepin'. It was reportedly confirmed that he actually did hook up with his accuser, Laura Helm, last year in New Orleans, LA. So, it's probably safe to say that may have caused a stir in his home. But despite the split from Grace, it doesn't look like Usher has skipped a beat. According to several reports, the "You Make Me Wanna Leave The One I'm With" singer already has his eye on another woman. All the chatter began when Usher stepped out for a Black Panther premiere party in Los Angeles.
The Black Panther Party: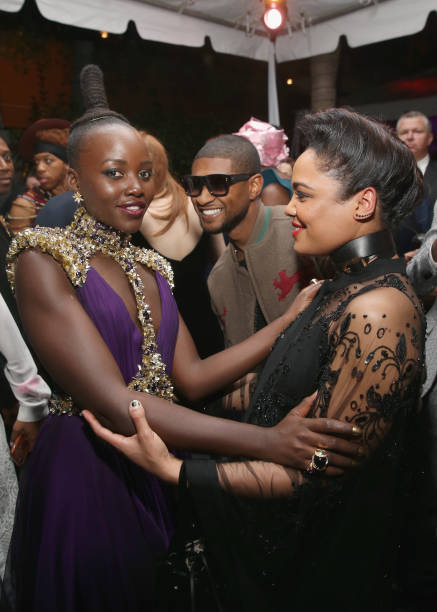 According to Page Six, Usher had his eye on Tessa Thompson when he spotted her at the Black Panther premiere party in January (2018). A few partygoers have revealed Usher was quite taken with Tessa. "Usher looked to be on the prowl," one partygoer reveals to the site. "They were talking to Janelle [Monae] and he and Tessa had flirty body language…then he seemed to be following [Thompson] around like a lost puppy."
Another insider claimed Usher "followed like a puppy looking for more attention." The insider also revealed "he was attached at the hip" and "seemed in pursuit of Thompson all night." At the time, partygoers "were confused by Usher's apparent interest" in Tessa, according to the report. But now that he and Grace have announced their split, his alleged attraction to Thompson seems to make sense.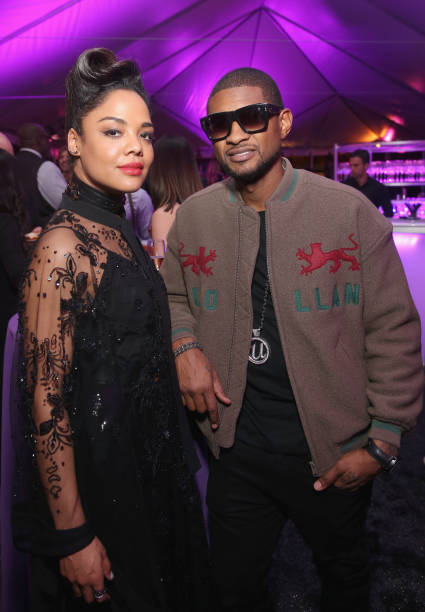 **FYI: There was also another report, stating that just last week (in March 2018), Usher and Grace looked like a happy-go-lucky couple, when they took Usher's sons to the movie theater to see Black Panther. Then days later, they announced their split. Confused much? We are too. Anywho, moving on…
Now, after the flirtatious report about Usher at the BP movie premiere, the hypothetical question is:  Is Tessa Thompson interested? For those who don't know, the For Colored Girls actress has been linked to another celebrity and it's actually not a man. The woman in question is actually the one she was with at the Black Panther premiere party.
Tessa Talks 'Sexual Liberation':
For months now, Tessa has been linked to Janelle Monae and the singer's new bisexual anthem, "Make Me Feel," has only raised more speculation about her possibly being involved with Tessa. Although the two women are very close friends, according to Vibe magazine, the Dear White People star claims the Internet has used the video to paint a romantic picture of their friendship. However, she never directly confirmed, nor denied, the possibility of them being romantically involved.
"It was so fun to get to collaborate with her. Janelle is somebody who is interested in really empowering not just women, but people to be who they are in the full expression of who they are," Thompson told ET. "The truth is when people look at me and Janelle and these characters that we play in the music video, people have called it a bisexual anthem, if it makes people feel liberated in their skin and feel closer to who they are than I think we did our job."
During an interview with The Guardian, she offered details about the meaning behind the song:
"It's a celebratory song," she shared with The Guardian. "I hope that comes across. That people feel more free, no matter where they are in their lives, that they feel celebrated. Because I'm about women's empowerment. I'm about agency. I'm about being in control of your narrative and your body. That was personal for me to even talk about: to let people know you don't own or control me and you will not use my image to defame or denounce other women."
A Closed Chapter:
The latest news about Usher and Tessa Thompson follows the release of his statement with Grace Miguel, announcing their divorce. On Tuesday, March 6, the pair revealed they mutually agreed it was time for them to go their separate ways:
"After much thought and consideration we have mutually decided to separate as a couple," Usher and Grace said in a joint statement via Us Weekly. "We remain deeply connected, loving friends who will continue supporting each other through the next phases of our lives. The enormous amount of love and respect that we have for each other will only increase as we move forward."
Usher and Grace Miguel dated for many years, before tying the knot in September of 2015. For those who don't know, Grace started out as Usher's manager and their relationship reportedly evolved from there. In fact, Usher discussed their professional relationship during a previous interview with Billboard.
"I have an incredible partner and manager. She has helped me through some of the hardest times in my life and my career. She's someone who's been able to support and understand all of who I am. Not just as a dancer or as a performer or as a singer, but as a humanitarian and a businessman and as a person."
Although they did not have children together, they both have a total of four from previous relationships. Usher has two sons from his previous marriage to Tameka Foster and Grace has two teenagers – a son and a daughter. Best of luck to Usher and Grace Miguel as they start their new chapters living the "Single Life" like Cameo.
Join us on Facebook for the most engaging discussions from the Old School! Old School News With A New Point Of View!