Nia Long & Chris Rock Recall The Time They Tried To Date & Rock Explains Why He Dissed Her
Posted On : March 10, 2018
ILOSM fam,' you ever went on a date and wished that you could get those hours of your life back? Or maybe you've gone on a date and thought that everything was all good, only to find out your date felt the complete opposite? Depending on which of them is telling their sides of the story, both of those dating disasters apply to the time actress, Nia Long, and actor/comedian, Chris Rock, tried to date each other. They revealed their hilarious dating nightmare in two prior interviews and get this, Chris Rock had the nerve to diss the hella beautiful, Nia Long at that time. Check out what they revealed below…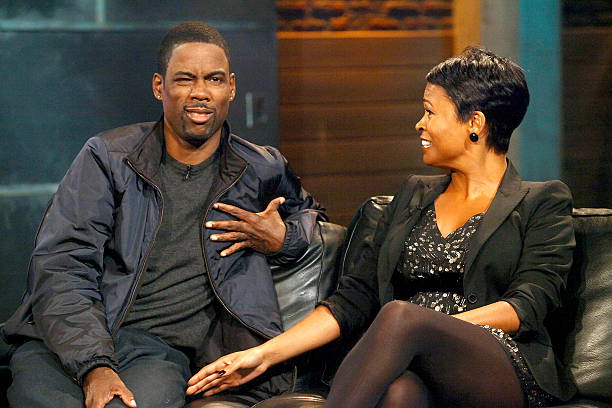 Nia Long's Side Of The Story
In an upcoming interview on TV One's Uncensored, the 47 year old actress, told her side of the story as she recalled her date night wit Chris Rock:
"I remember Chris Rock and I were set up on a blind date. He was on Saturday Night Live. We went out. We hated each other. I was like, 'This dude is not even that fu*king funny.' And he's the only dude that has ever given me a false number [laughs]."
In a prior interview that Rock and Nia did together on the Wendy Williams Show Nia gave even more intricate details about their blind date back in the day. She recalled how even though she didn't think Rock was funny, she still felt that their date went well. She was also under the impression that they would probably be going on date number 2 and that she didn't realize Rock wasn't feelin' her until days later, when she first discovered he'd given her the wrong number…
Nia Long: "We went on a date and after we kinda hung out, and then he took me back to Brooklyn [where Nia was living at the time] and I'm like 'Okay, so I guess this is the part where you exchange numbers.' Make a long story short and a week goes by and I didn't hear from him, he gave me his number and I gave him mine, and I'm like 'God, he didn't call me.' And um, finally I call him and I dial the number and this…man, gave me a wrong number!"

Rock had a different perspective though, see what he had to say below…

Chris Rock's Side & Why He Dissed Her

During that same Wendy Williams Show interview, Chris Rock revealed that everything was all good with their date, until Nia said this one thing that completed turned him off. He said when he'd asked her if she was seeing anyone at that time, Nia's reply was "No, but I know where to get some di*k if I need it." LOL.

Gotta love Nia Long for her realness and Chris Rock for his willingness to not just be persuaded by the pretty face and sticking to his personal likes and dislikes when it comes to his choice in women.
Watch their hilarious interview clip below…

Since their date from hell years ago, both of the legends have moved on. Nia Long is happily married to her NBA husband, . While Chris Rock is with his girlfriend of two years, actress Megaglyn , whom he's been with ever since divorcing his ex-wife, Malaak Compton. Speaking of Rock's ex-wife, as we-previously reported, Rock recently shook up the internet when he revealed some interesting cheating details about his failed marriage…

Serial Cheater?

In case you haven't caught Rock's latest Netflix special, Chris Rock: Tamborine, he touched on a few interesting topics. He admitted that he actually cheated on his ex-wife repeatedly with three different women. He explained why some men cheat and how it changes the dynamic of the relationship:

"It's f**ked up. When guys cheat, it's like we want something new," Rock said in his special, according to E News. "But then you know what happens? Your woman finds out, and now she's new. She is never the same again. So now you have new, but you have a bad new."

He admitted that their failed marriage was mostly his fault and that he "brought this sh*t on myself. Nobody told me to go ho up. … It's my fault, because I'm a f**king a**hole. I didn't listen. I wasn't kind. I had an attitude. I thought, 'I pay for everything, I can do what I want.' That sh*t don't fucking work! I just thought I was the sh*t."

Rock Blames Porn?

Rock went on to share details about a few other aspects of his marriage. He also revealed he was addicted to pornography during his marriage. That addiction also created more problems on the home front:

"When you watch too much porn, you know what happens? You become, like, sexually autistic,' Rock said. 'You have a hard time with eye contact and verbal cues. You get desensitized. When you start watching porn, any porn will do. Then, later on, you're all f**ked up and you need a perfect porn cocktail to get you off."

And there ya' have it ILOSM fam.'

Join us on Facebook for the most engaging discussions from the Old School! Old School News With A New Point Of View!