Obama Delivers Touching Eulogy At Civil Rights Icon John Lewis' Funeral
Posted On : July 30, 2020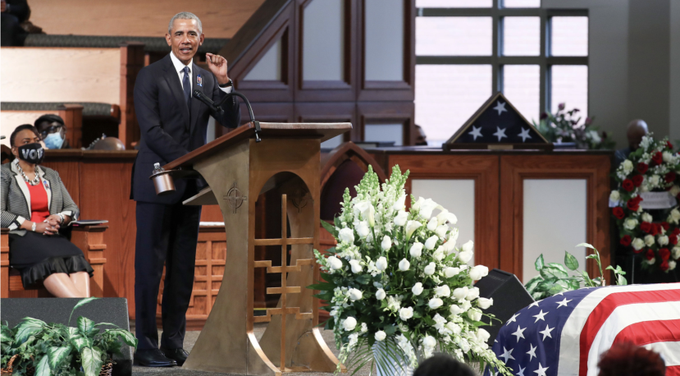 When news spread that the iconic civil rights leader and congressman, John Lewis, passed away from pancreatic cancer, at age 80, on June 17, 2020, our country was forever changed. Mr. Lewis was a brave soul with a very compassionate heart, as we all know. He deeply impacted President Barack Obama's, who during Lewis' funeral today, had the opportunity to pay tribute to his hero. Obama delivered the eulogy during Lewis' homegoing service. It was held in Atlanta, GA, at Ebenezer Baptist Church- the legendary church of his iconic friend, Dr. Martin Luther King.
Obama: "Let's honor him by revitalizing the law that he was willing to die for."
"It is a great honor to be back at Ebenezer Baptist Church, at the pulpit of its greatest pastor, Dr. Martin Luther King, Jr., to pay my respects to perhaps his finest disciple," Obama said. "You want to honor John? Let's honor him by revitalizing the law that he was willing to die for."
CBS reported that Obama 'called on Congress to pass reforms including allowing felons to vote, making Election Day a federal holiday and implementing automatic voter registration.'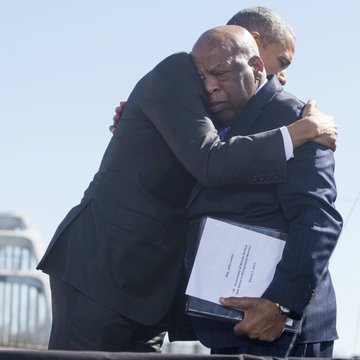 Mr. Obama also spoke about the countless injustices against African Americans, police brutality, and of those who are speaking out and protesting along with us against police brutality:
"Bull Connor may be gone, but today we witness with our own eyes police officers kneeling on the necks of Black Americans," Mr. Obama said. "George Wallace may be gone, but we can witness our federal government sending agents using tear gas and batons against peaceful demonstrators. We may no longer have to guess the number of jelly beans in a jar in order to cast a ballot, but even as we sit here, there are those in power who are doing their darnedest to discourage people from voting."
Obama said John Lewis knew that "democracy isn't automatic; it has to be nurtured, it has to be tended to. … Like John, we don't have to choose between protest and politics. It's not an either/or situation, it's a both/and situation," Obama urged. He called out states that are intentionally making the voting process very difficult, now that the Supreme Court has weakened the Voting Rights Act. It is "not a mystery or an accident" that those states are mostly making it hard for people of color to vote.
John Lewis "knew that every single one of us has a God-given power and that the fate of this democracy depends on how we use it," former President Barack Obama says in his eulogy for the late congressman. https://t.co/8ku3MJNaM0 pic.twitter.com/Eakdoqir3S

— CNN (@CNN) July 30, 2020
The former president referred to John Lewis as "perhaps (Dr. King's) finest disciple,"  and stated:
"I, like so many Americans, owe a great debt to John Lewis and his forceful vision of freedom. … John was only 20 years old, but he pushed all 20 of those years to the center of the table, betting all of it" in his quest for civil rights, as a freedom rider.
Obama also spoke of Bloody Sunday, when at "the ripe old age of 25," John Lewis, Dr. Martin Luther King, and many other civil rights activists were brutally beaten by police officers, during a peaceful protest in Selma, Alabama. A tragedy that left Mr. Lewis with a fractured skull:
"This time, the world saw what happened, bore witness to Black Americans who were asking nothing but to be treated like other Americans," said Obama. "When John woke up, and checked himself out of the hospital, he would make sure that the world saw a movement that, in the words of Scripture, was hard-pressed on every side but not crushed."
John Lewis' life "vindicated the faith in our founding, redeemed that faith, that most American of ideas: The idea that any of us, ordinary people without rank or wealth or title or fame, can somehow point out the imperfections of this nation and come together and challenge the status quo," Obama stated. He also said that when America becomes the free and fair country it's long proclaimed to be, Mr. Lewis will go down in history as a founding father of that "fuller, fairer, better America."
Obama::
"He was a good and kind and gentle man. And he believed in us. Even when we didn't believe in ourselves. … What a gift John Lewis was. We are all so lucky to have had him walk with us for a while, and show us the way."
John Lewis Wrote This Message 2 Days Before Passing

John Lewis wrote a New York Times op-ed pice TWO days before his passing, and requested that it be published on the day of his funeral. Here's what he wrote for us all:
"Though I may not be here with you, I urge you to answer the highest calling of your heart and stand up for what you truly believe. In my life I have done all I can to demonstrate that the way of peace, the way of love and nonviolence is the more excellent way. Now it is your turn to let freedom ring." – John Lewis
Rest in peace and power Mr. Lewis…job well done king.