Oprah Buys Multiple Breonna Taylor Billboards In Louisville Demanding Arrest Of 3 Officers
Posted On : August 7, 2020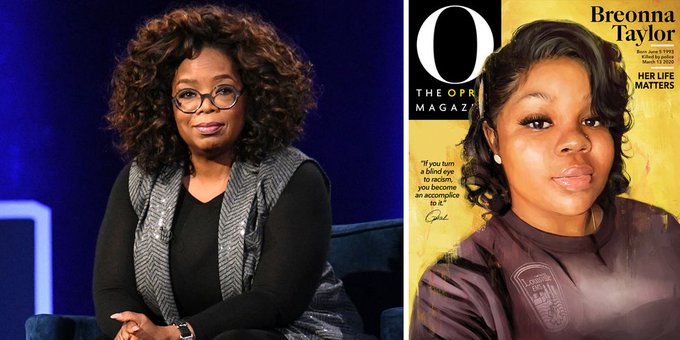 It's been approximately 5 months since police officers barged into the Louisville, KY home of Breonna Taylor and her boyfriend, Kenneth Walker, on a no-knock warrant, in which they unjustly shot and killed Breonna. It's also been nearly 5 months since not one of the 3 officers involved in the murder, have been arrested and charged. Now -like most of us- media mogul, Oprah Winfrey, done had it up to HERE with the apparent procrastination in the case…therefore, she's putting her money where her mouth is.
Breonna Taylor Billboards, Courtesy Of Oprah…
On Thursday, August 6th, Oprah purchased 26 (the number of years of Breonna's life) billboards in Louisville, to bring the heat to District Attorney Daniel  Cameron and demand justice for Breonna's brutal killing. On the billboards, Oprah included the website for social justice organization, Until Freedom–  the organization that protested for justice for Breonna Taylor outside of D.A. Cameron's home, in which 87 protestors were arrested.
Breonna was only 26 when police KILLED her in her home. Thanks to @Oprah for amplifying our fight for JUSTICE, putting Bre's face on 26 billboards across Louisville –one for each year of her life. We will NOT stop until the Louisville officers who killed Bre are FIRED & ARRESTED! pic.twitter.com/YabNV7nDfh

— Ben Crump (@AttorneyCrump) August 7, 2020
Oprah Dedicates Front Cover Of O Mag To Breonna Taylor
In addition to the 26 billboards, for the first time in it's 20 year run, Oprah changed the protocol of only featuring herself on the cover of her O Magazine, by instead featuring Breonna Taylor on the upcoming September 2020 issue. On the front cover, is a quote from Oprah that reads:
"If you turn a blind eye to racism, you become an accomplice to it." These words are emblazoned on the cover … "HER LIFE MATTERS."
On Instagram, Oprah announced the news and had this to say:
"She was just like me. She was just like you. And like everyone who dies unexpectedly, she had plans. Plans for a future filled with responsibility and work and friends and laughter. … I think about Breonna Taylor often. Imagine if three unidentified men burst into your home while you were sleeping. And your partner fired a gun to protect you. And then mayhem. What I know for sure: We can't be silent. We have to use whatever megaphone we have to cry for justice. And that is why Breonna Taylor is on the cover of @oprahmagazine."
As  of today, the only legal actions that have been taken against the three trigger happy officers, is that Det. Brett Hankison was fired from the job…but never charged. Neither were his fellow colleagues, Sgt. Jonathan Mattingly and Det. Myles Cosgrove, who were simply placed on desk duty.
Stop saying "arrest the killers of Breonna Taylor" and start saying "arrest JONATHAN MATTINGLY, MYLES COSGROVE, AND BRETT HANKINSON." pic.twitter.com/ez5L17O5fs

— Harry Styles. (@alwxysyouljp) July 30, 2020
On March 13, 2020, the three aforementioned officers barged into Breonna's and Kenneth's home unannounced, in plain clothes, with weapons drawn, while the couple were asleep. Upon hearing the commotion, Kenneth ran toward the entrance, believing the plain clothed officers were intruders. The officers shot Breonna 8 times and killed her, while Kenneth shot back at them in self defense. Turns out, the officers actually barged into the wrong home. The suspect they'd been seeking lived at a different address, and was reportedly already in custody (by other officers), prior to them even going to Breonna's home.
Breonna Taylor's Mother Gives More Details
Breonna's mother, Tamika Palmer, has spoken out in an interview with Angie Martinez and Angela Yee, exposing several more unknown details about the case, including why Breonna's boyfriend was legally forced not to speak publicly about her murder, as well as the lies she says she was told by several officers on the night that her daughter was killed. It is extremely heartbreaking indeed. Watch the video above to see the details that Breonna's Mother has so bravely shared.
ILOSM fam,' lets continue to demand justice for Breonna Taylor. May that queen rest in peace and we're sending love and light to her Mother and family.