R. Kelly Gets Evicted From Home Where "Sex Cult" Allegations Were Sparked
Posted On : February 18, 2018
These days, R. Kelly's been having more trouble than a little bit. Ever since the "sex slave" rumor was sparked last year, regarding his many lady friends he allows to live at his homes in Atlanta and Chicago, it's been nonstop. Now, he has a new issue to face head on- the big fat eviction notice that was reportedly placed on the door of one of his ATL cribs at the center of the "sex slave" controversy. That's right, apparently he's being told to 'Get tuh steppin'…in the name of love.' Okay, I admit that was corny, but I couldn't resist, let's continue, shall we?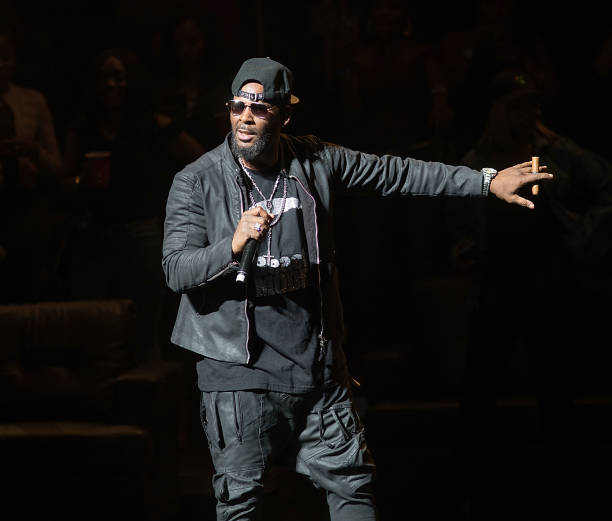 Via DailyMail: The eviction notice, obtained exclusively by DailyMail.com, was filed on Tuesday for Kelly's home in the Johns Creek neighborhood of Duluth after the singer racked up $23,084.90 in unpaid rent and $2,308.49 in late fees. Criminal charges are expected to be filed due to damage done to the suburban Atlanta property, which has a $11,542.45-per-month rent, sources tell DailyMail.com.

When the notice was served at the Old Homestead Trail house, no one was home and it appeared as though the property might have been abandoned.
Many of y'all may recall when Kelly posted video online, inside one of the homes that had just been wiped clean by his longtime "associate," while he was away on tour in New Orleans, La. last year. The ATL home where he was served the eviction notice, is said to be one of those homes. It was also reported that the "the owner is believed to be asking the court to hold the release of insurance money Kelly could receive until everything else is resolved." So far, Kellz has given no response to the eviction notice, but based on the home being abandoned already, he probably expected that to happen any day now.


Overall, R. Kelly's income took a hit over the past year, due to the unproven sex slave allegations and bad press. His tour didn't sell out the way it was originally predicted to as a result and now, here we are today, watching him get served eviction notices. Damn.