R.Kelly's Young Girlfriend Tells Why She Left Him For A Rapper Who Has Kid With A Famous Singer
Posted On : April 6, 2018
It looks like R.Kelly was recently faced with the reality of the lyrics to his own song: "when a woman's [or in this case, a very young, barely legal woman, but I digress] fed up, it ain't nothing you can do about it." That is apparently the message the 51 year old R&B legend's now ex-girlfriend, Halle Calhoun (22), gave him. At least according to her account of why she's no longer letting Kellz give her "toot toot" that "beep beep." In fact, she's moved on to a rapper…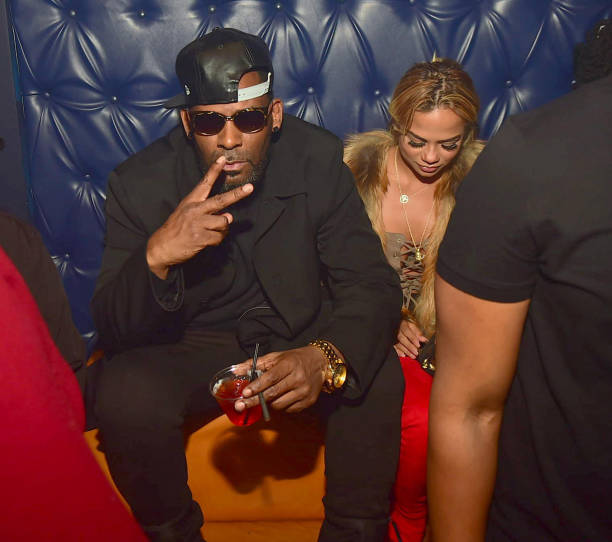 R. Kelly's Ex Tells Why They Broke Up
Word has just gotten out that Kelly's 'Tender Roni' ex has confirmed she left Kellz, whom she'd reportedly began dating at age 19. According to The Shade Room, here's what she had to say:
Via TSR– …She [Halle Calhoun] told us she's no longer affiliated with R. Kelly in any way.When asked exactly what caused the breakup, she said, "I wasn't with his type of bulls**t he be on."
Kellz's Ex Now Dating Ex Of Popular Singer
Halle Calhoun's new man proves she still has a thing for older cats, because although her current rapper beau is younger than Kellz, he's still pushin' 40- he's 38 to be exact. Without further ado, Kelly's ex is now dating rapper, Rocko. Here's what Halle had to say about her new man:
Via TSR- "I am dating Rocko and I am VERY happy," she told TSR. In a recent IG post, she also gushed, "God blessed me with a real one."
Many of y'all may know him as the longtime ex-boyfriend/baby daddy of singer, Monica, with whom he shares two sons: 10 year old son- Romelo Montez Hill and 12 year old Rodney Ramone Hill III…
It Was All Good Just 5 Months Ago
After hearing about R. Kelly's break-up from his 22 year old girlfriend, I did a quick scan of Halle's social media accounts. I couldn't help but notice that, just like many dearly departed couples, Halle has wiped all memories of her and Kellz clean off of her pages…even the time he paid for her birthday party 5 months ago. Well, the pics from that party are still up, she's just removed the ones with Kellz in the shot…ouch.
In case y'all missed our prior report on the romantic b-day surprise Kellz gave his then girlfriend in October 2017, here it is: Things seemed to be very serious between Kellz and Halle, because she's been the only woman R.Kelly has voluntarily gone public with, ever since divorcing his ex-wife/reality star, Andrea Kelly, in 2009. He obviously had so much love for his former young bae, that he took the time to plan a surprise birthday party for her. He even allowed her to share the moment on social media…

In her October 2017 Instagram post, Halle showed up at an undisclosed location, rockin' an all red, low cut outfit and cozied up with Kellz in a few of her photos. She captioned one of them with a simple message, thanking her then bae, R. Kelly, for throwing her the party:
"Thank you for such an unbelievable birthday!!!! @rkelly ☁️#suchasurprise #rkelly #hallecalhoun"
**

Meanwhile Back At The Ranch…Kelly's Subliminal Shady Message
After news broke, that his ex had moved on to her new rapper man, R.Kelly took the liberty of posting this message on Twitter- which could or, could not be directed at Halle:
Don't wait for the applause of the audience. Follow purpose and the real audience always shows up.#morningswithkellz pic.twitter.com/QW6YTaWTsP

— R. Kelly (@rkelly) April 6, 2018
Random Fun Facts:
In 1995, the year his ex-girlfriend was born, R. Kelly had already achieved many impressive feats in his career, which Halle Calhoun has zero recollection of, given that she wasn't even able to digest solid foods at that point…but I digress. Anywho, in '95 Kellz gained two Grammy nominations for writing Michael Jackson's hit, "You Are Not Alone"; and his second album, titled "R. Kelly," sold 4 million records.
No matter how much I may joke about Kellz' and his attraction for younger women, as long as he stays in the legal lane when it comes to the 'women' he dates, he'll be alright.