Remember Soul II Soul's Jazzie B? His Famous Kids Are Making Their Own Mark In The World
Posted On : October 21, 2021
The year was 1989, when the British R&B soul band, Soul II Soul, bursted onto the U.S. music scene, dominating the charts for a while. The late '80s/early '90s eras of R&B wouldn't be the same hadn't Soul II Soul founder, Jazzie B, created one of the dopest groups at that time. Back in the day we couldn't turn on the radio, or watch "Video Soul," without hearing the lyrics, "Back to life, back to reality, back to the here and now… yeah…" blasting through the speakers. But then, just as quick as they hit the U.S. scene, is as quick as they seemed to vanish from it in the late '90s.
We were wondering what Soul II Soul has been up to lately and found out they've been up to a lot. As a matter of fact, Jazzie B. isn't the only famous person in his family…turns out, his two children are too.
Meet Jazzie B.'s Son
Jazzie B.'s son, Mahlon Romeo (26), is a professional soccer player in London, and making major noise on the field. He plays for the London based Portsmouth Football Club, as a defender.  Mahlon became a pro-player at the age of 17, and word on the Old School curb is that in his defender position, he's a serious threat to the opposing teams.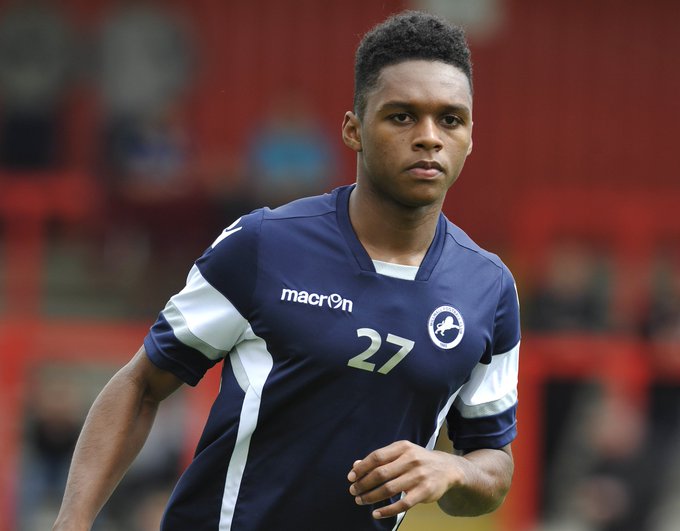 Although the Westminister, England born soccer pro' has chosen the pro-athlete route, his Pops' deep love of music did not skip over his offspring. In an interview with Beats And Rhymes FC, Mahlon admitted that not a day goes by without him divulging in music:
"I'd say music's most of what I do outside of football; listening to it, studying it, it takes up all of my time really. There's not a day where I don't go through at least a few hours of listening to it. I love finding music, whether it's old or new, music that's been sampled. I just enjoy it; always before and after games, just in general," Mahlon Romeo said.
Meet Jazzie B's Daughter
We first introduced Jazzie B.'s daughter, Jessye Romeo (age unknown), to our ILOSM fam' in 2015. At that time, the 5'8″ musical offspring had already made a name for herself as a British model. She was cast member on the popular UK/Canada reality show, "A Model Life." These days, she's worked with the infamous, Idris Elba, in his British-based sitcom, "In The Long Run." Jessye's most known work is in the Epix network series, "Pennyworth"; and the films, "Lucy Break" and "Curfew."
Her most recent work is one she holds close to her heart, her self-produced/writtten/directed short film, "Home," which is currently up for a 2021 British Film Festival Award.
As y'all can see, Jazzie B.- the man largely responsible for bringing Black British acts to the forefront with not just Soul II Soul, but many other acts as well– has molded his kids to strive for greatness. That's a beautiful thing.
What Soul II Soul Members Are Doing Now
Speaking of Soul II Soul, we can't end this article without letting y'all know what's been up with them lately.
Jazzie B. is the co-founder of the Featured Artists Coalition (FAC), a UK-based nonprofit organization that protects the rights of featured musical artists. FAC pushes for British artists to have more control of their work and to also gain fairest share of their musical profits. In other words, he's out here trying to make sure artists don't get got by large corporations and anyone else who typically is known for trying to stick 'em for their paper.
Although several Soul II Soul group members have changed, a few years ago, Jazzie B. and lead singer, Caron Wheeler, linked back up and they, along with the rest of their band members, perform regularly across the world. They're are just as polished as they were back in the day and Carol's voice is still smooth as silk!