This 'Gangsta' From "Boyz N The Hood" Lives An Incredibly Different Lifestyle In Real Life
Posted On : March 1, 2018
Ok family, here's a shocker for you. Remember the gang banger character,"Ferris," in Boyz N' The Hood, who was always rockin' the skull cap? He was cat who bumped into "Ricky" at that Crenshaw spot, then fired a round of shots in the air, causing everybody to run for their lives. Later "Ferris'" homie/gang member, "Knucklehead" (Lloyd Avery II), later shot and killed "Ricky."
To seek revenge for his brother "Ricky's" (Morris Chestnut) death, "Doughboy" later sought and found "Ferris" and his boys in that burger joint's parking lot. But after Doughboy kicked "Ferris" in the a$$, literally, just before shooting him to death, it seemed like the "Ferris" actor's career died too. We didn't really see him in much else afterwards. However, we did some diggin' and found him…y'all have GOT to see him now…
No More Jheri Curl!
And here he is! Meet former actor, Raymond D. Turner. Nope, this is not a case of mistaken identity, this is really "Ferris," the gang banger from "Boyz N' The Hood!" He looks so different from his 'uzi strapped, skully wearing' character, that we hardly even recognized him, especially without his Jheri curl!
In REAL LIFE He Is NOT A Gang Banger
Fast forward to today and times have definitely changed for this 'movie gangsta'. Raymond ain't shooting up anybody nowadays! The only thing he's shooting out, are some religious words for the Lord. What we learned about Raymond is that his character couldn't be farther from his real personality. He is very devoted to his Christian faith now and just to give you an example of how different he is from "Ferris," check out the video clip of him below…
Helping Aspiring Business Owners
The most recent info we have about Raymond D. Turner is that this Shreveport, La. native has now relocated to Las Vegas, where he's the owner of Turner Marketing Group International L.L.C., which helps business owners and aspiring business owners develop their business strategies. Here's what he said about his business:
"My business is helping people, if they choose, to leave corporate America and build a home based internet business that gives them time freedom as well as a 6 figure income just working part-time. I coach people in developing winning strategies." – Raymond Turner source
To get a better example of exactly what he does, check out his Youtube business video clip…

Facts Many Never Knew About Boyz N The Hood
Since we're on the topic of the 90's classic that set a new standard at that time for Black films, we wanna share with y'all some very interesting facts about the film that many never knew existed…
1. Boyz N' The Hood's Gross Profit Proved Haters Wrong
At the time Boyz N' The Hood director and writer, John Singleton, released his film in 1991, there were many whispers that it would be a flop at the box office. That assumption was bred from the ill informed, who at that time, believed that an African American film of that nature would not draw many to the 829 U.S. theaters it opened in. The naysayers were straight up wrong though, because the film that cost between $5.7-$6.7 (there are conflicting reports on exact amount) to make, ended up grossing $10 million it's first weekend and an eventual total gross of $57,504,069. Source
2. Violence Erupted In Theaters & Injuries Were Plenty
Boyz N' The Hood experienced two different dynamics in the responses it received, based on the two very different audiences it was presented to. In May 1991, two months before the film's July release, a then 23 year old John Singleton, presented his film at Cannes film Festival. By the end of the film, starring a then largely unknown Black cast, the Cannes crowd gave it a 20 minute standing ovation.
Unfortunately, things were totally different with the audience reactions, once the film hit theaters nationwide. While most of the U.S. audiences loved the film, there were very violent altercations that took place during the showings. Apparently, some of the audience attendees totally missed the "Stop the violence" message of the film and instead took the violent parts of the plot a tad to seriously. It was reported that 30 people were seriously injured nationwide, after fights broke out during the Boyz N' The Hood showings. The violence prompted several theaters to start cancelling their Boyz N' The Hood showings:
"When the violence erupted in theaters, it was like a stab in the heart," remembers producer Stephanie Allain, who was instrumental in getting the movie made at Columbia Pictures. "It was such the wrong thing to come of it." -Via LATimes
3. Singleton Said 'Hell No' To $100K Offer To Walk Away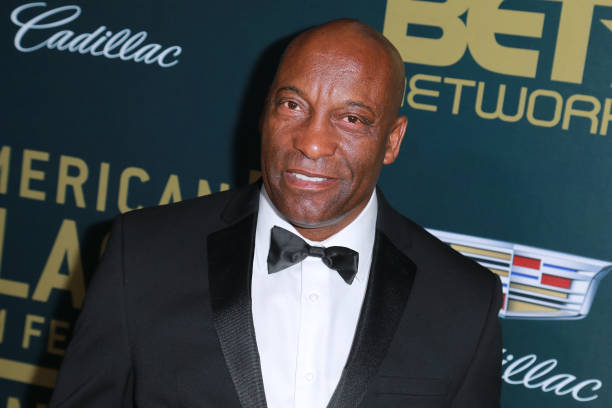 At the time that Singleton had written Boyz N' The Hood, he was a college graduate, fresh outta USC's film school, with no previous directing experience. Therefore, Columbia Pictures viewed him as inexperienced and offered him $100K to walk away from the film and make way for an experienced Hollywood director to take over. After pouring his blood, sweat, and tears into the project, the then aspiring director was like 'Hell nah!' (not in so many words), but he still came out on top n the end:
Via Mental Floss- "I said, 'Well, we'll have to end this meeting right now, because I'm doing this movie. This is the movie I was born to make,'" Singleton recalled. … Columbia's response was to give Singleton the green light and $6 million to make the movie.
4. Boyz N' The Hood Was Largely Autobiographical
John Singleton's goal, when writing Boyz N' The Hood, was to make it as real as possible. So what better way to do it that to pull from his own upbringing, growing up in L.A.? Like the character, Tre (Cuba Gooding Jr.), Singleton was sent to live with his Pops across town as a child, while his mother worked and went to school. He also said, just like Tre's dad, "Jason 'Furious' Styles" (Laurence Fishburne), his real father actually had to shoot at robbers who tried to break into their home.
5. Cast's On-Screen Gunshot Reactions Were Real
When we watched the cast members running and ducking for their lives throughout the film, their reactions were said to be 100% real because of the tactic Singleton used on set.
Via Pop Matters: Singleton said in a 2011 interview with MTV, "…if I can get this in a film, a little bit of what this is, that life on film, then I think I'll have something that will have a hard effect on people." At 23, directing his first feature film in South Central with a young cast, Singleton did everything he could think of to get realistic performances, reportedly firing gunshots on set without warning.
And there ya' have it ILOSM fam.' Surprised or nah?