Secret Daughter Of Joe Jackson Tells How He Hid Her For Years & What Katherine Surprisingly Did
Posted On : March 7, 2018
ILOSM, a few years ago, we first reported on the secret daughter of the Jackson family patriarch, Joe Jackson. Her name is Joh'Vonnie Jackson (43) and her daddy, Joe, kept her and his mistress- her mother- hidden from the Jackson family and the public for most of their 25 year affair. Nope, that was not a typo- Joe and Joh'Vonnie's mother, Cheryle Terrell, were really together that long, according to Joh'Vonnie…and she has 'receipts' to back that up.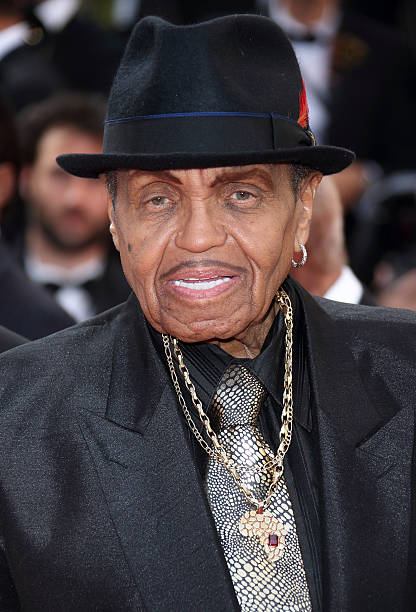 Joh'Vonnie Jackson was born in 1974 and surprisingly, Joe managed to successfully keep her a secret for years, while being very involved in her life ever since birth. Even more surprising, was what Joh'Vonnie revealed about what Katherine did for her, that most wives would never do for their husband's side baby, or as Katherine once called her, the "Bastard child."
My Mother is Cheryle Terrell. My Father is Joseph Jackson. This is my autobiography. pic.twitter.com/I264o4MZfR

— JohVonnie Jackson (@JNJJackson74) January 28, 2017
Speaking of Joe's "bastard child," that is exactly what Joh'Vonnie decided to name her tell all memoir, in a playful-yet-hurtful ode to what the Jackson matriarch once called her. It was during a recent interview of about that memoir, that Joh'Vonnie dropped a bunch of gems about what it was like growing up as the hidden child of Joe Jackson's mistress.
Joe's Great Lengths To Hide Mistress & Love Child
One thing we found interesting, were the exhausting lengths Joe took back in the day, to hide Joh'Vonnie and her beloved mother, who lived just 5 miles away from the Jackson's Encino, Ca. family home. Based on what she revealed, Joe was pulling off some covert, Navy Seals Type missions just to take them to grocery stores and such:
Via Daily Mail: "My life was hush-hush, there was grocery stores we couldn't shop at, there were places we couldn't go in our own neighborhood," recalls Joh'Vonnie. "If we went to watch a movie we would have to go miles out, my dad loves to watch movies, it was a real inconvenience when there was a movie theater right down the street. Joe was scared of a reporter seeing us, somebody taking pictures and putting it in a news article and then have to go home to discuss this with an angry wife."

"Every time I went somewhere he would drum it into me that I shouldn't talk about our family's business," said Joh'Vonnie. "I wasn't allowed to have anyone over to the house, I complained and stomped my feet and told him, 'Daddy I don't have any friends.' So he took me to a dog kennel and we bought two German Shepherd puppies called Lady and Big Foot. He said 'There you go, there's your friends, play with them.'"
Joe Visited His 2nd Family Most Days Of The Week
Despite the trouble they'd have to go through just shop for groceries, Joh'Vonnie has very happy childhood memories of her dad. She said Joe would usually spend time with her and her mom most days throughout the week.
"Daddy would come zooming through the gates in his two-seater Mercedes or Rolls Royce," recalls Joh'Vonnie, 43. He'd be hungry and his dinner would be cooked. My mother was an excellent cook. He would come round most days sometimes without warning, he was very much a presence in my life, I was a daddy's girl."

Joh'Vonnie fondly remembers watching 80s TV show Kung Fu Theater and professional wrestling with her dad while sat on the sofa eating popcorn together.
Joe Jackson was so settled into his double life, that Joh'Vonnie says he even had a garden in there backyard, that he tended to every Sunday:
"We had over an acre and we would tend the garden together," she recalls. "Daddy loved to cook the vegetables he had grown, he'd bring them right in the house real fresh, green beans everything. Daddy and I did a lot together. Every Sunday we were at the lake fishing on daddy's boat. I would sit in the sun while he fished, it was wonderful."
He Lavished Secret Daughter With Gifts
In addition to spending quality time with his second fam,' Joh'Vonnie also said Joe would shower her with gifts most of the time and she loved it:
"I would be so excited, he would bring me presents, my favorite black walnut ice cream. I was spoiled rotten," she said. "He was very loving and nicknamed me 'Jobie' and often called me sweet-potato or Sally-Mae."

Joh'Vonnie said her father would bring her a different doll back from every one of his globe-trotting trips.
They Vacationed & Spent Holidays Together
Joe Jackson seemed to have it all perfectly planned out, because surprisingly, he was even able to get away with taking his second family on Christmas trips to Florida, without Katherine Jackson ever finding out:
"We went to Orlando most years, we'd go to Disney, exchange gifts and had a great time," said Joh'Vonnie…."Katherine doesn't celebrate Christmas because she's a Jehovah's Witness, that made it real easy for him.'
Joh'Vonnie then recalled how Joe surprised her for one Christmas, when she was sick and he tried to cheer her up:
"Daddy got me out of bed, marched me around the house like in the Nutcracker, then we went back to my room and there was a tree he had decorated in my closet. He can do a lot of nice things, he was a good father."
By the time Joh'Vonnie reached her 20's, Joe Jackson moved out of the Jackson family home and she went to live with him in his Las Vegas, NV crib. Joh'Vonnie and her 23 year old daughter, Yasmine, now live just a few miles away from Joe in Vegas and sees him at least once a week. Even though she's had a great relationship with her Pops, Joe Jackson, Joh'Vonnie also said that she thinks what her father and mother did, by have=ing an affair, was wrong.
What Katherine Jackson Did For Joe's Live Child After Her Mom Passed
As we previously reported, Joe Jackson finally took Joh'Vonnie to meet her famous siblings and his wife at their Encino, CA home years ago. She says her brother Michael Jackson, barely spoke to her, and the rest were somewhat cordial, with the exception of Rebbie, whom she still has a relationship with today.
Even though Katherine Jackson once called her the 'bastard child,' throughout the years, she became very kind to Joh'Vonnie. In fact, Joh'Vonnie said that when her mother passed away a couple years ago, it was Katherine- not her siblings- who called to check on her to see how she was doing.
Wow! So, Mama Katherine found a way to move past the pain of her husband having a love child, to ultimately having great concern for the child's well being, following the death of her husband's mistress. Talk about a TRUE class act indeed. And much respect to Joh'Vonnie for sharing her story with the world.