Many Intrigued By The Real Reason Denzel Refused To Kiss White Women In Movies
Posted On : October 10, 2016
Throughout the years, Denzel Washington was often questioned about why he never kissed White women in his films and eventually the real reason came out. He's been known to turn down scenes that required him to kiss Julia Roberts and other White female co-stars in the past, while accepting scenes that called for him to kiss his African American co-stars. Denzel had his reasons for stepping away from on-screen kisses with his sistas from another mista. See what he revealed about this below…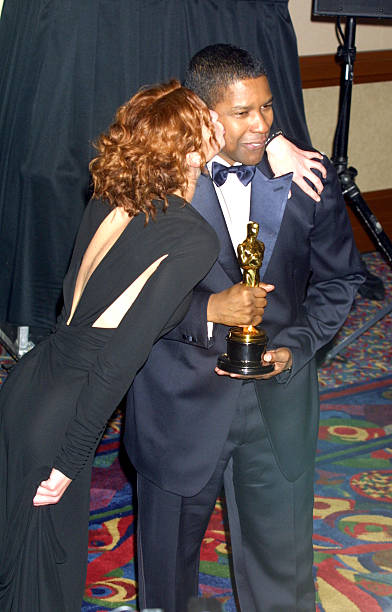 It had been twenty years (in 1992's Malcolm X) since Denzel had kissed a White woman on screen until more recently in the 2012 movie, "Flight." He had his reason for not doing so and it had nothing to do with him disliking White women or anything like that, but it apparently had a lot to do with with his respect for Black women and his disapproval of how Black actresses were all too often not seen as the object of affection when it came to major motion pictures, so he didn't want to feed into that stereotype.
NYDailyNews reported this about Denzel's choices to keep his on-screen kisses off limits with his White female co-stars:
Denzel Washington once turned down a love scene with Julia Roberts out of loyalty to his female African-American fans, Allison Samuels reveals in her new book, "Off the Record" (Amistad). Washington nixed the steamy segment even though Roberts insisted that he be cast as her co-star in "The Pelican Brief," writes Samuels, a respected Newsweek reporter. Washington explained: "Black women are not often seen as objects of desire on film. And they have always been my core audience."
Today.com also quoted Julia Roberts as saying this about Denzel's refusal to get lovey dovey with her on-screen:
"Don't I have a pulse? Of course I wanted to kiss Denzel. It was his idea to take the damn scenes out."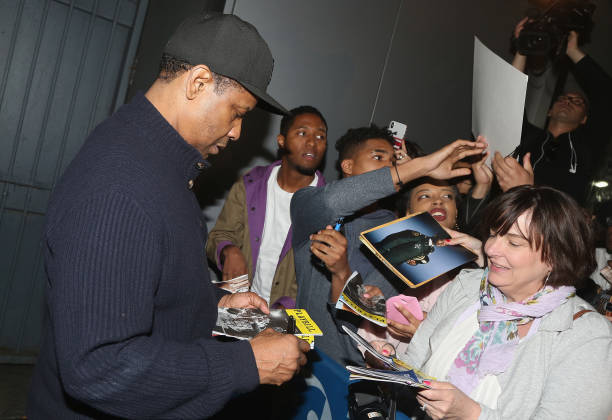 In recent years, Denzel also stated this about the plight of actresses overall:
"Black or white, there seems to be a cut-off for women," he said. "Don't have a couple of kids; you're out the door. They're constantly looking for the younger one, the younger one, and for African American women, women of color, it's doubly hard. And then for dark-skinned African American women, it's even more difficult."
So to sum it up, Denzel didn't kiss White women in his movies because he refused to disrespected his core fans by playing into Hollywood's one-sided view of beauty; and he also empathizes with actresses of All colors because again, he doesn't agree with Hollywood's unfair double standards regarding beauty and marketability.
One person who isn't worried about him kissing Black women, White women, or any other women for that matter, is his beautiful wife of 35 years, Pauletta…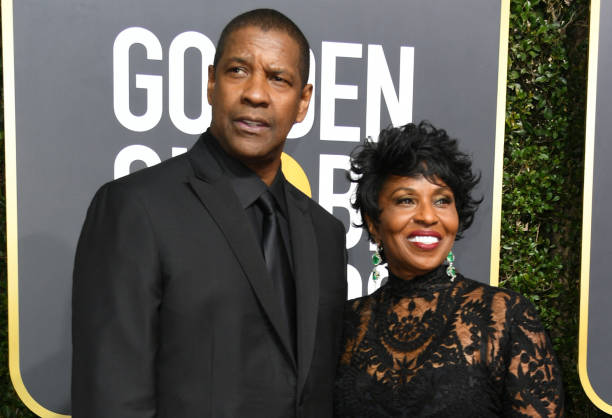 Via Heavy.com: Two years ago, in an interview with Wendy Williams, Wendy asked Pauletta Washington how she deals with all the women who want her man Denzel, and Pauletta replied:
"I am secure as to who Pauletta is. My mother raised me in a way to know who I am and actually, he married me for who I am."
In a recent interview with Ebony Magazine, wife Pauletta revealed some inside info on why she sticks around: "He has and knows he has stability in me as his wife. That's what gives him strength, regardless if he misuses it… I can't dwell on that. But I do know that gives him a great platform to go and fly."
Well alright Mrs. Washington!!!
OLD SCHOOL FUN FACT ABOUT DENZEL AND PAULETTA:
Pauletta turned down Denzel's marriage proposal TWICE! You say come again? Okay, Pauletta turned down the dude who many women dream of marrying, THE Denzel Washington, not just once, but twice, when he asked for her hand in marriage. Not sure why, but here is what Denzel and Pauletta revealed to Access Hollywood in 2013:
"Three times he proposed to you," Access Hollywood asked Pauletta, 62. "Yes," the actor's wife told Access. "Twice!" Denzel interjected, "It was three times?"
"It was three times. I know with age sometimes things [go], the mind," Pauletta joked with her husband… Denzel, still unsure about the details, asked, "Why was it twice… Why would I have to ask again?"
"Because I said no," Pauletta told her husband.
"You heard it here first," Denzel said. "She turned me down, she said no. And since it was three times, that means she turned me down twice."
"That's true. I turned you down twice and the third time we did it," Pauletta, who has four children with the actor, added.