Soon After 'Praying' For La Toya's Prior Recovery, Secret Sister Blasted Her As 'Worst Sister Ever'
Posted On : October 21, 2021
So…this fiasco all went down in 2018, and it's still quite interesting nonetheless. Why? Because seemingly to this very day, things are not all peachy between Joe Jackson's secret daughter Joh'Vonnie Jackson (46) and her iconic siblings…especially La Toya Jackson (65).
Back in May 2018, only a few days had past when at that time Joh'Vonnie had publicly sent prayers up, after publicly revealing that La Toya had reportedly suffered a stroke. The only other Jackson who'd confirmed that info, was La Toya's niece (Joh'Vonnie's daughter), Yasmine Jackson. Although La Toya hadn't confirmed that she'd suffered a stroke, she has yet to deny it as well.
Fast forward to a few days afterwards – as the famous Jackson sibling was allegedly recovering, her out-of-wedlock sister, Joh'Vonnie, gave an update on La Toya's health status, while simultaneously throwing a lil' shade her way.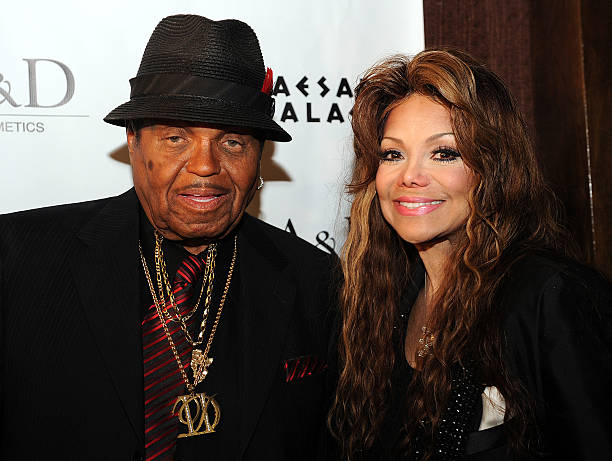 (Video) Joh'Vonnie Jackson's Update About La Toya
Following La Toya's supposed stroke, Joh'Vonnie took to Instagram Live to left folks know that La Toya was recovering, while also politely informing her followers that the elder Jackson sibling is a horrible sister to her:
Joh'Vonnie Jackson – "You know, I just wanted to take a moment and talk about my sister La Toya. … It's very unfortunate, she's 62 years old and she had a minor stroke. And I personally want her to know, that even though that you have been the worst sister …to me, I want you to know that I still love you…"
View this post on Instagram

Two days after the 'stroke' revelation, La Toya had received a great outpouring of well wishes from fans online. In return, La Toya posted a 'thank you' message…without denying that she'd had a stroke, which led everyone to assume it was true:

"I wish to thank every last one of you for your THOUGHTFULNESS , your CARING and the LOVE you have expressed. IT IS EXTREMELY APPRECIATED!!! I am well and I thank you so much for your prayers. 🙏 I LOVE YOU ALL! Have a beautiful weekend!😘"

https://twitter.com/latoyajackson/status/992816446164975617

BUT lo and behold, 10 hours later La Toya, posted a new Twitter message to prove that her sister's stroke report was not even an alternative fact…but that it was not a fact at all:

"Again thank you for your prayers and thoughtfulness, but guys, to make it clear I DID NOT HAVE A STROKE!!!!"

Although Joh'Vonnie didn't go into detail about why she labeled La Toya "the worst" sister, I'm willing to bet it probably has something to do with their past rocky history; and also Joh'Vonnie's willingness to let the world know about La Toya's health condition at that time. It seems that La Toya doesn't even get down with her Daddy's love-child like that. See why below…

Joh'Vonnie's Rocky History With SOME Of Her Famous Siblings

As we previously reported, Joh'Vonnie is the late Joe Jackson's love-child, but he was still a very hands-on father to Joh'Vonnie.

Though Joh'Vonnie is an innocent bystander – in regards to Joe steppin' out on his wife, Katherine, and having a 25-year affair with Joh'Vonnie's mother – there are several reasons why La Toya may not like her: (1) She's the result of their Pops' infidelity; and (2) Joh'Vonnie is the only Jackson sibling granted the privilege of calling Joe "daddy." The other siblings were forced to call Joe by his first name.

Joe Jackson with daughters, Joh'Vonnie Jackson (L) and Rebbie Jackson (R)

During a prior interview, Joh'Vonnie revealed what it was like the first time she met her siblings years ago. Joe Jackson brought her to the Jacksons' Encino, CA home to meet all of them…including his wife, Katherine Jackson.

Surprisingly, Mama Katherine took a liking to Joh'Vonnie, which was a shock to Joh'Vonnie … because prior to meeting Katherine, La Toya had written, in her autobiography, that Katherine referred to Joh'Vonnie as "the bastard child."

Joh'Vonnie is reportedly very close to sister, Rebbie. However, Joh'Vonnie says her other siblings were cold toward her…but that Janet Jackson eventually loosened up years later.

Via The Mirror: "I met Janet when I was 15," [said Joh'Vonnie]. "I saw her that one time and it was clear she never wanted to have a relationship with me. I couldn't really understand why. […] "I would be shopping in a department store and would see La Toya, but I couldn't go to talk with her because I didn't feel she wanted to talk to me."

Joh'Vonnie may be getting the cold shoulder from some of her siblings, but she still maintains relationships with Katherine, Rebbie; as she also did with her dad, Joe Jackson, up until his death in June 2018. She's also written all about the many must-read incidents between her and her fam' in her new memoir, "The Bastard Child."