Stevie Wonder's Now-20-Year-Old Son Is A Big Money Makin' Model And His Mom Is So Proud
Posted On : August 12, 2022
ILOSM family, in case any of us needed a visual reminder of just how Old School we really are, get ready to receive that affirmation. The iconic Stevie Wonder (72), as we all know, has nine children by five mothers. He clearly loves the idea of building a tribe, or at least a small Wonder football team, and we ain't mad at that one bit. Due to the fact that most of his children stay away from the spotlight, his 20-year-old son, Kailand Morris, has grown up hella fast, right up under our noses. Wait 'til ya'll see Stevie's not-so-little son now. He's doing BIG things by the way…
Stevie Wonder's Son Is A Model!
Kailand is the result of his Pops' marriage to his mother, Kai Millard Morris. They were married in 2001, had two kids, separated in 2011, and ultimately divorced in 2015. When most of us last saw them together as a family, Kailand and his brother, Mandla (16), pretty much looked like this…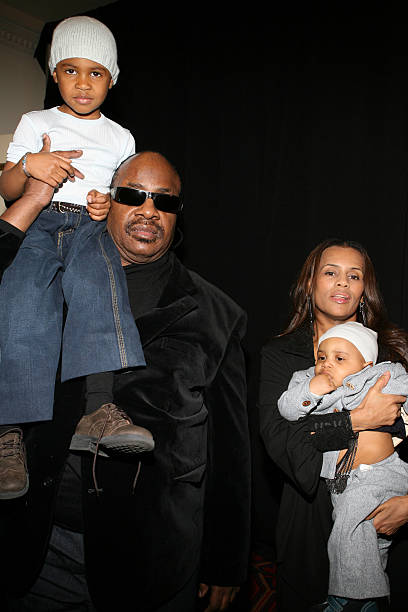 Fast forward to now, and Kailand is a professional fashion model for major designer brands.  Here he is today (swipe left)…
View this post on Instagram

And here…

View this post on Instagram

Of course his parents couldn't be more proud of him for pursuing his dreams. Matter of fact, his mother, Kai, has her fair share of proud mommy moments on social media. She often shares Kai's modeling gigs, including this mommy-son duo photoshoot of the two of them gettin' their modeling on together…

View this post on Instagram

In 2018, well-known fashion industry photographer, Tobyn Nguyen, labeled Kailand as the "kid" who "is going far" in the fashion game…

View this post on Instagram

Wonder Parties With Son & Ex

Although Kailand – who turned 20 in September 2021 – looks like he's all business in his photoshoots, let's not get it twisted, he still likes to get his party on, just like he did with his parents for his lavish 16th birthday a few years ago. From the looks of it, Stevie jumped on the mic that night to grace the crowd; Kailand got a new Mercedes truck; and rapper, Travis Scott, performed. Kailand's parents also showed that even though they're divorced, the family that parties together, stays together. Check out how the happy fam' was living it up for Kailand's 16th below…

View this post on Instagram

Fast forward to Kailand's 20th b-day, and he's now amped things up with his car game. He's just copped a new whip. Feast your eyes on this…

View this post on Instagram

Stevie & His Current Wife

As we previously reported, Stevie and his current wife, Tomeeka Bracy (46), began dating back in 2012, shortly after Wonder and Kai Millard Morris separated.  Stevie and Tomeeka have two kids together, and they officially said "I do" in 2017 during a private, plush ceremony at Hotel Bel-Air in Los Angeles, CA.

Stevie Wonder (R) with current wife,  Tomeeka Robyn Bracy (Photo by Mike Windle/Getty Images)

Their wedding stirred up a lotta hype in the press, because the Mr. and Mrs. reportedly took great lengths to keep it on the hush. According to reports, their 160 guests had to sign a $1 million confidentiality agreement, which prohibited them from sharing photos and video with the public. Stevie Wonder's kids range in age from 7 to 47 (yep, Stevie was -and likely still is- a busy dude) and according to People Magazine, all nine children participated in Stevie's and Tomeeka's wedding.

Overall, Stevie Wonder is close to all of his children and clearly has long ago made the decision that no matter how demanding his career is, he will always see to it that his kids are his top priority.