Stevie Wonder's Wife Painfully Recalled Horrific Tragedy Of Losing Her 2 Year Old Son
Posted On : October 20, 2020
ILOSM fam,' we always say that we just never know what celebs are dealing with behind the scenes, but in this case it's about the woman beside the celeb,' who has gone through some horrific tragedy- Stevie Wonder's wife, Tomeeka Bracy. Stevie (70) and Tomeeka (46) said "I do" in their private June 2017 wedding ceremony. What Tomeeka didn't keep private though, is the extremely heartbreaking tragedy she revealed about her deceased son. The newlyweds share two young children together; Stevie also has seven prior kids; and Tomeeka has three more kids from her previous marriage to Terry Lee Junior Fair. One of her three children, Izaiah Lee Anthony Fair, passed away at just 2 years old.
Heartbreaking Details On How Tomeeka's Son Passed Away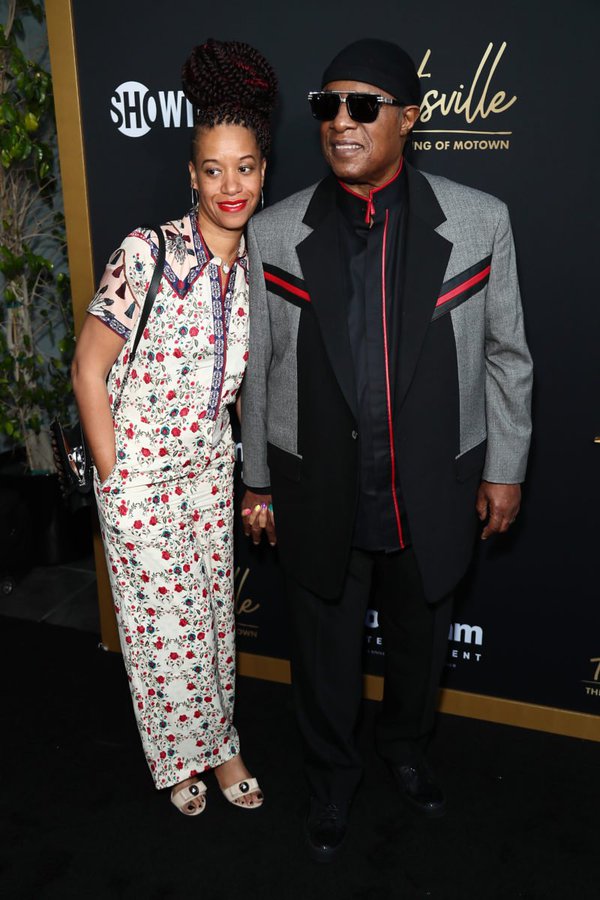 Tomeeka was 31 when she lost her son in 2005, due to a freak accident that could have happened to any child. Izaiah sadly died after accidentally falling from her and Terry's third floor apartment window:
The news report via Izaiah's tribute site- 'City police spokesman Jim Shelhorse said the boy fell backward through an open, screened window. He didn't have to climb to reach it because it was 8 inches from the floor, Shelhorse said. The child's mother, Tomeeka Bracy, was in the kitchen cooking when she heard the blinds moving in Izaiah's room, Shelhorse said. She rushed to check on him, only to find him on the ground outside. The mother, 31, had one of Izaiah's sisters run to the management office to call 911 while she rushed downstairs to the child, who suffered severe head and facial injuries. She picked up Izaiah and was holding him when police and rescue workers arrived a short time later. Shelhorse said police checked the apartment and found no wrongdoing on the mother's part. "It appears to have been just a horrible, tragic accident," Shelhorse said.'
Tomeeka has dealt with the gut wrenching pain of losing her child, by creating her own online tribute website for Izaiah, where she can go and journal her sorrow, beautiful memories of her son, and regrets at any given time…
Tomeeka Pays Emotional Tribute To Her 2 year Old Son
Six months after losing her precious baby, Izaiah, Tomeeka wrote this heartfelt message to him on her tribute website:
"Hi Baby…in a few days it will be six months, that you went home to be with the lord. This has probably been the most confusing six months of my entire life. You see I am a firm believer in god does not give us what we cannot bear. But it's really hard to understand why god thought that I, your father, Bri Sche', Kenaya, and anyone who ever met you could bear to live life without you. Izaiah I never imagined in a million years that I would have to bury one of my children. I automatically assumed that you both would out live me. Now that god had a different purpose and plan for our lives, I'm finding it difficult to adjust to his will. I miss you so much! It hurts so bad at times. I think of you obsessively. I am sorry that I took having all the time in the world with you for granted."
"If I knew that we only had two years to be mother and child together I would have done a few things different. I would have given you a birthday party when you turned two. We would have taken more pictures of you after you turned two. I would've let you play outside when you cried because you were not finished playing.[…] I would've let you play in the kitchen with your toys on the floor while I cooked and cleaned. We would've taken a trip to Georgia to see my friends and family there."
"I wouldn't have changed your relationships! You loved everyone after you warmed up to them. Especially Daddy, and Bri. […] I wouldn't have changed how you would throw your balls all over the house " talking about catch." You use to even throw your pampers to me saying "catch mama." […] I would not have changed the fact that you slept with me, and daddy. […] You would hold onto my back tight and kick me all night long. But I loved it anyway. I would not change how you would automatically say your prayers at each meal without prompting. And at bedtime how you could not wait until I finished the prayer so you could hurry up and say amen. ( You looked so cute with your hands folded.) I wouldn't change how every evening on the way home…you would wait until we get on the Wilson bridge to say "Wa ta mama" and I would say 'yes wa ter baby'."
"Izaiah what I'm trying to say is that this life will be most difficult without your presence. I loved being your mommy. I'm trusting that God will see our family through this most trying time.[…] The selfish mother in me wants to lay down and die. But the God in me will live and trust that he is in control and that weeping may endure for a night but joy comes in the morning. Izaiah you will always live in my heart and mind. I will live a life with much focus and purpose. Until we meet again. Your Mommy!"
Our continued condolences go out to Tomeeka on the loss of her child, because that is a pain that we're sure she feels just as fresh as if it happened yesterday. We also wish she and Stevie Wonder great happiness in their marriage.